---
Style / World of Watches (WOW)
Arbutus: New Watches for the Festive Season
Although it began as a fashion-oriented watch brand that used quartz movements in the early 1980s, Arbutus transitioned all of its collections to mechanical movements by the end of 2000. The brand has grown significantly since then by launching a limited edition collection annually from 2005 onwards, and has plans to diversify into men's accessories […]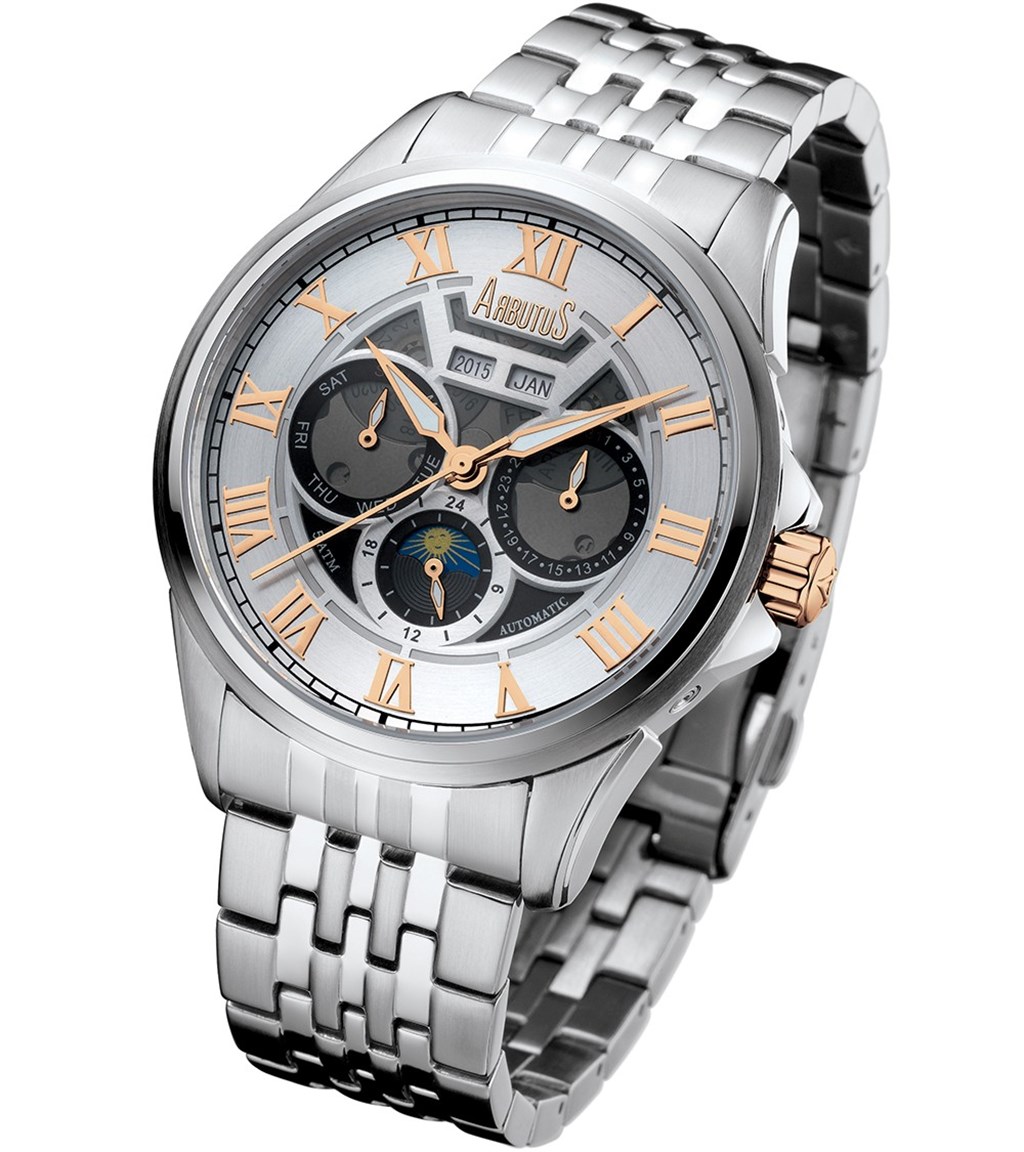 Although it began as a fashion-oriented watch brand that used quartz movements in the early 1980s, Arbutus transitioned all of its collections to mechanical movements by the end of 2000. The brand has grown significantly since then by launching a limited edition collection annually from 2005 onwards, and has plans to diversify into men's accessories such as writing instruments and sunglasses. In light of the upcoming festive season, Arbutus has unveiled three new models, with several references each.
Of the three, the La Luna Day-Date Automatic sports the busiest dial. It has a triple calendar, plus year, 24-hour and day/night indicators. The plethora of information is organised into three sub-dials at three, six, and nine o'clock, and two windows at 12 o'clock. These have all been arranged around the middle of the dial, and are rimmed by Roman numeral hour markers and a railway track chapter ring. The La Luna Day-Date Automatic comes in either a stainless steel or rose gold plated case.
The Minuteur Open Coil is next. It has two overlapping sub-dials positioned at 4:30 and nine o'clock, for the small seconds and 24-hour indicator respectively. In turn, an overlapping aperture has been cut into the dial to show the balance wheel and escapement off. Like the La Luna Day-Date Automatic, the Minuteur Open Coil comes in either stainless steel, or rose gold plated cases.
Last but not least, we have the Skeleton Automatic Series AR811. As its name suggests, the watch features a skeletonised movement, and a large portion of the dial has been removed to show it off. Many components of the movement are clearly visible here, including the escape wheel and mainspring. The watch has a small seconds sub-dial at six o'clock, and the partial skeletonisation preserves legibility as hour and minute markers remain intact on the edge of the dial. Once again, the case is either stainless steel or rose gold plated, depending on the reference.
---