---
Style / World of Watches (WOW)
Luminescent Watches: Functional And With Glowing Concerns
Telling time in the dark is a big business that also transcends functionality. In addition to giving you a sense of assurance, a watch with excellent low light legibility can also be quite playful.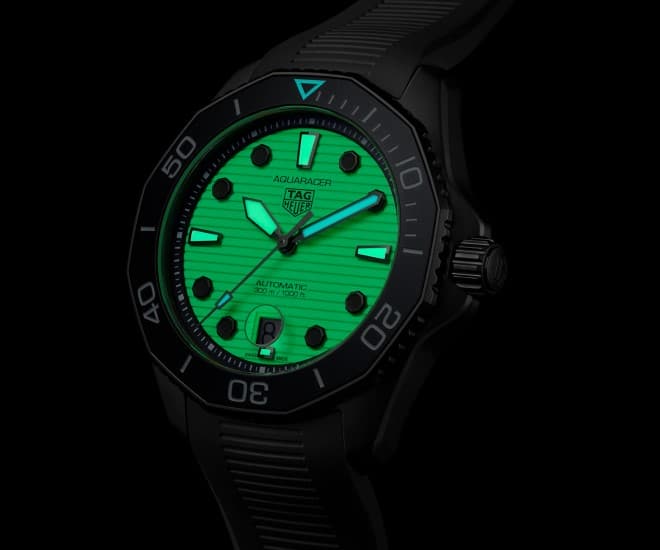 If, it seems, there is one experience that unites all watch designers — indeed, many of those working in any capacity in the watch industry — it is the one that happens as a child, under the duvet. "One of the earliest memories of my dad is him saying goodnight and me quickly charging up the 'lume' on my watch under the bedside lamp, so I'd see it glow under the covers for a while when the light went out," recalls Maximillian Busser, the founder of MB&F. "It was reassuring then — and I still get some pleasure out of seeing a watch glow. It's a little presence, a little life."
Time and again grown men will speak of their love of a watch at night. Of course, as Don Cochrane, founder of Vertex watches stresses, that many watch hands and indices have been given a lick of some luminescent substance since World War I — when a mix of radium and zinc sulphide was used — is primarily for its obvious practical benefit: so the dial of a mechanical watch is visible in the dark, or deep under water. But, he adds, luminescence also does much to define the appeal of a watch — it provides the other side of a watch's personality, a second character that only comes out in the dark.
"It appeals almost at some neanderthal level, as though some brain chemistry is triggered by things that glow," he says. "And it's an appeal you can't get from a battery-powered watch light. It's just not the same."
Indeed, the science of watch luminescence has progressed only in small, imperfect if important steps towards achieving the perfect glow — bright and long-lasting. That radium that was once used now seems incredible. After all, it is radioactive, making for watches that were harmless to their wearers but likely shortened the lives of those on the assembly line. Radium's use was widely banned in 1968, to be replaced in most instances by a substance called tritium — see dials marked with a T, TT or H3, typically found on US military service watches of the Vietnam era — which unfortunately had a half life of 12 years, meaning the glow eventually stopped, well, glowing. On the plus side, it did turn to a lovely sepia colour that watchmakers today have a fondness for recreating.
Replacing tritium led to a variety of experiments with luminous concoctions, yet culminated in what can seem like today's near-monopoly. Although it is not alone, it was the invention of Super-LumiNova by Japanese chemist Kenzo Nemoto in 1993, and the subsequent license to produce and later develop it by Swiss family company RC Tritec, that would see it come to overwhelmingly dominate the watch market.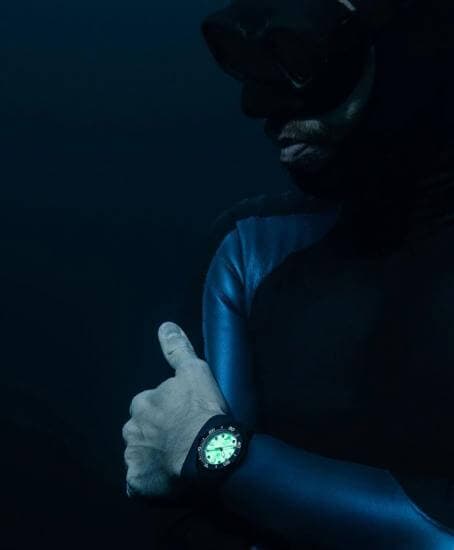 A Heroic Name For An Heroic Product
Super-LumiNova is not a product without problems, even its maker concedes — it still has to be exposed to a light source to charge up its ability to glow in the dark. So, if your watch sits under your sleeve all day you may be in trouble come bed-time. And its maker is constantly juggling chemical parameters to alter its decay characteristics — you can have a high brightness initially with lower performance over time, or lower initial brightness with high performance over time, but the best of both worlds is elusive. You can now have any colour you like, but the darker the shade, the more charging is blocked and the less effective its luminescence.
And yet grade by grade, this luminous material — an inorganic 'high performance afterglow pigment' made by doping strontiumaluminate oxide powder with Europium, then adding a rare earth material to smooth out the mixture — has improved such that its latest incarnation, X1, launched five years ago, is twice as bright as previous materials and requires less up-front charge to see you though the night. RC Tritec is now running a project using the latest research techniques to explore new chemical compounds for their luminosity.
"We started out using radium too, but my grandfather found that there wasn't a big market for radioactive compounds in watches," chuckles Albert Zeller, the fourth generation of his family to work in the business. "We tried tritium too. But we've continued to advance the Super-LumiNova product and we're now working on X2. In fact, we only called the latest product X1 because we made the mistake of calling the previous one Grade A, which left us with nowhere to go. But just using Super-LumiNova and expecting the best luminescence performance, well, it's not as simple as that. There are so many parameters – volume, application, how it's machined. It's complex."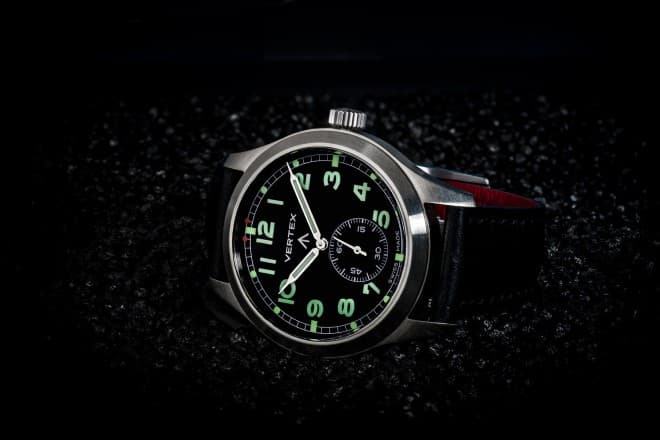 RC Tritec, which works in the security and aviation industries, among others, and about half of whose business is in watch dials, is now aiming for a big push on Lumicast — this is a moulded, 3D Super-LumiNova originally created for industrial use, from which Vertex has carved entire numbers for its dials, providing the brand with a signature look in the process. And the greater the mass of the luminous material used, the better the brightness, each crystal within the pigment working like a small battery; the more batteries, the higher the light storage capacity.
All the same, concedes Don Cochrane, it is strange that SuperLumiNova has not inspired challengers, something he attributes to the fact that you need such a tiny amount of the material to produce a glow – indeed, a single gram, which costs just CHF15-55, is enough for between 100 and 300 dials, the real cost of the product being in its application. This makes working with it relatively affordable and easy and, perhaps, stunts demand for an alternative.
The Shadow Of Competition
Yet there have been other, technologically pioneering options. Not long ago the independent brand HYT developed a system that allows energy stored in a mechanical micro-generator to illuminate a cluster of tiny LEDs, and hence the whole dial. And then there is the return of tritium, this time contained in tiny glass tubes – made any colour you like without loss of potency.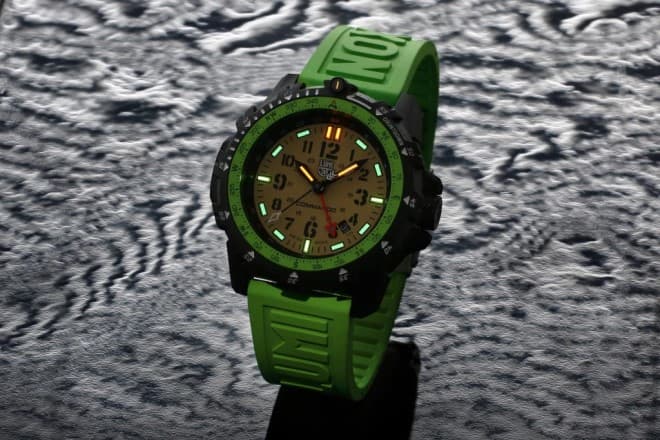 Remarkably among major brands, only Ball Watch and Luminox have opted for this technology, in part perhaps because it is well protected by patents and can be expensive; because of tritium's shorter working life issue – now around 25 years before the light fades; and because of occasional regulatory hurdles. The decision by the Swatch Group not to use tritium any more was one key motivation for the development of Super-LumiNova. Country to country there is a limit as to how much tritium can be used in any one watch model too, and consumer goods using tritium cannot be sold at all in France.
"And that's the country of my birth," laughs Luminox's head of marketing Pierrick Marcoux, "but we sell everywhere else, stressing the benefit that tritium offers – because that's in our name, after all. It's the kind of benefit that you need if you're, say, a Navy SEAL."
And the fact is that tritium is far by far the brightest option when it comes to illuminating your watch dial — it is claimed to be around 100 times brighter than Super-LumiNova — and does not require pre-charging by exposure to a light source. That is because tritium has its own energy supply — like radium, it too is radioactive, but harmless ("if you inhaled all the gas from every tube in your watch, you'd still be taking in less radioactivity than you get from eating a banana," Marcoux explains, imagining what would amount to a seriously bizarre accident). Indeed, RC Tritec still works with tritium, using it to devise systems to help the pharmaceutical sector trace the path of a drug through the body.
"Most people are aware that it's a radioactive material before they buy, and it doesn't dissuade them, because what they really want — especially if it's for professional use — is the brightness. Go to the cinema and you have to be careful to cover your watch, as it's bright enough to be a light source in its own right," says Nick Wiseman, UK brand manager for Ball Watch, which has recently managed to introduce the tech into its bezels too. "It's really surprising to me that the technology isn't more widely used."
Look at the rainbow dials on Ball's Engineer III Marvelight, for example — in which each of the indices lights up a different colour, enough to light up any small boy with delight — and another question entirely arises: if, aside from its practical benefit, the appeal of the glow is so psychologically deep-seated, why have watchmakers not used it more creatively? Certainly, it is only now that, it seems, they are waking up to luminescent paint as a material with its own expressive potential.
Light, Colour, Action!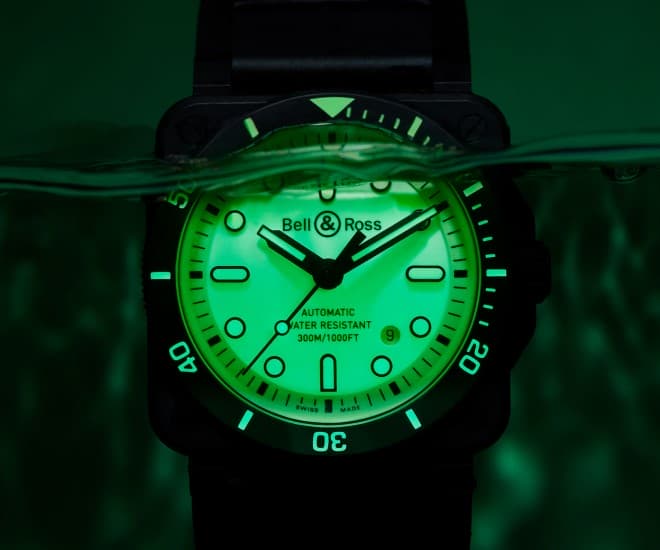 Of course, there are those practical watches that have employed entirely luminiscence-coated dials, reversing out the hands and indices. But Super-LumiNova is increasingly cropping up as a subtle, but alluring design detail – on the bezel, crown and even the strap stitching of Panerai's Marina Fibratech, for example, or to give the dial of Bell & Ross's BR03-92 HUD the effect of a fighter pilot's head up display. Even a more classical brand such as A. Lange & Sohne has liberally splashed Super-LumiNova over its Datograph Up/Down Lumen.
But now other watchmakers — although typically still the smaller, more niche, more progressive ones are turning to luminescence for purely aesthetic results. Thomas Hohnel, senior product designer for Nomos, for example, speaks of how the clever use of Super LumiNova can give even the most minimalistic of watch designs what he calls "a cinematic effect, like looking at the dashboard of your car at night". It's an effect achieved most notably in the Neomatik Autobahn model designed in collaboration with Studio Aisslinger and characterised by a semi-circle of outsized blocks of coloured Super-LumiNova, milled into the dial to afford more depth to the material.
"The result is something magical and somehow for many watch fans the kind of detail that never gets boring," he says. "I think the way a watch looks in the dark is something customers think more about when they buy a watch now, even if they can't always see the effect at the time."
Check out, for further instance, Ming's 17.09 or Ouj Celestial, with hands boldly outlined in lume (as watch types refer to luminescent material), but with it also etched into the underside of the sapphire crystal glass — giving the brand a distinctive style in the process.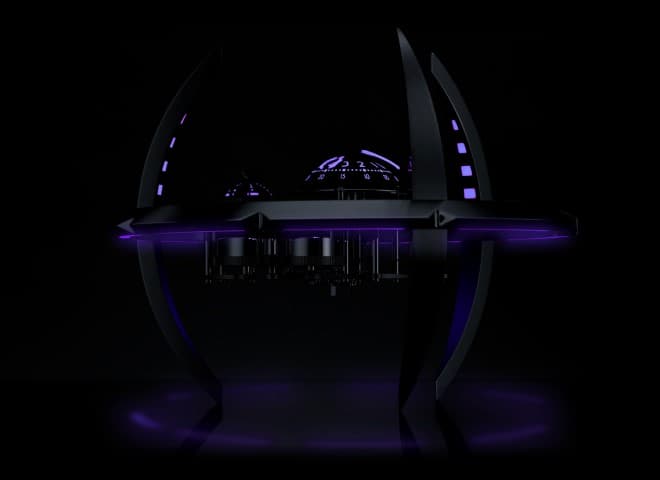 Or MB&F's HMX — created in collaboration with James Thompson, the accessories designer behind Canadian company Black Badger, which specialises in using a photo-luminescent composite called Ambient Glow Technology (ATG) Ultra in its products — or its HM6 Alien Nation, with hand-painted lume on its 'turbines', its tourbillon bridge and its glass.
"We're now starting to see lume used in a new way that brings the mechanical sculpture nature of a watch alive — it brings an added dimension to the watch, a way of changing its personality at night," says Busser. "It's been a long time coming but we're moving beyond just the practicality offered by luminescence."
A New Creative Material
That is why the likes of Roger Dubuis — which gave the double flying tourbillon of its Excalibur Twofold a glowing green trim in X1 — has signed a 12-month exclusivity agreement on a Super-LumiNova product, and plans to launch some four new watches next year with a strong show of luminescence, in what product director Gregory Bruttin predicts is set to be a major trend for the industry. This is especially so, he says, as Super-LumiNova extends creative possibilities through, for example, new colours, or formulae that allow luminescence to be put into materials such as rubber or ceramic. But, as the examples above suggest, he sees the driving force for this trend being the more independent brands — Fiona Kruger, for example, has used Super-LumiNova detailing on her skull watches.
Unsurprisingly, Finnish watch designer Stepan Sarpaneva agrees. Like MB&F, he was ahead of the curve when, six years ago, he launched the Korona KO Northern Lights, capturing the spooky glow of the Aurora Borealis by creating a luminous sandwich dial in a proprietary mixture that lights up the whole watch face. While some creative applications of Super-LumiNova take painstaking effort — the likes of Bovet's Papillon, with its butterfly motif in part painted, very very carefully, in the luminous material — the Korona takes more the appliance of science: the lume is produced as a hardened composite to form an entire plate, sitting under an open-worked steel overlay. Sarpaneva has also used lume in his recent Moonin-themed watch, a new eight colour rendition of which will be launched later this year.
"The fact is that you only have to come to Finland to see how dark it is here for half the year, so anything that brings light is welcome," Sarpaneva jokes. "I've tried for years to create something interesting using luminescent material but the fact is that it isn't easy to use — put it on a movement, for example, and it becomes difficult to clean or can affect tolerances, while different colour combinations get delicate and expensive. And thicker pieces of Super-LumiNova still have a plastic feel to them, so when they're not glowing they can look super ugly. And yet luminescence is a whole product in itself and I want to go bigger on the idea. It's a missed opportunity for the big brands too, the ones that think changing the colour of a dial is big news…"
It is a little dig, naturally, but Sarpaneva also makes a serious point about the risk that the more conservative brands make in looking increasingly pedestrian as the creative possibilities afforded by materials such as luminescent pigments come increasingly on line. If watches are not really about time-keeping any more, but are about expressions of artistry, then can they afford to ignore a new medium in its entirety?
Radium — A Dark Story Of Light
Radium was never a health concern for anyone who wore a watch whose indices glowed in the dark thanks to its radioactive properties. But that could not be said for the factory workers — mostly women — who painted the dials. Radium had only been discovered by Pierre and Marie Curie in 1898 – indeed, her work around such radioactive materials is what would eventually cause her death. But by the early post-World War One years, the luminous dial it made possible was the must-have accessory. And not just dials — radium was used to make glow-in-the-dark cosmetics, toothpaste, even Radithor, an early energy drink billed as 'perpetual sunshine'.
But then radium produced energy and energy was a positive thing, right? It was also the most expensive substance in the world at the time. So, while the dangers of radium were well-known in the scientific community, commercial interests fudged any public uncertainty about radium's danger to health — if they had, managers of the United States Radium Corporation might not have encouraged their workers to lick the tip of their brushes in order to bring them to a finer point, all the better for producing a precision finish on the dials it made.
Ironically, the so-called Radium Girls thought they were ingesting something healthy for them, not something that attacks the bones — especially, most grisly, those of the jaw — and which is often fatal. Even as the medical cases piled up — thousands of women were likely affected — it took two years for the Radium Corporation to take action. A number of the women later sued, the case being settled in their favour.
For more watch reads, click here.
---