---
Style / World of Watches (WOW)
New Roger Dubuis Excalibur Diabolus in Machina is the Watch for Ballers
Roger Dubuis' Watches & Wonders 2020 Minute Repeater with Flying Tourbillion blends contemporary design codes with two classical high complications: the very reason why at least two NBA-All Stars are wearing the Geneva manufacture's timepieces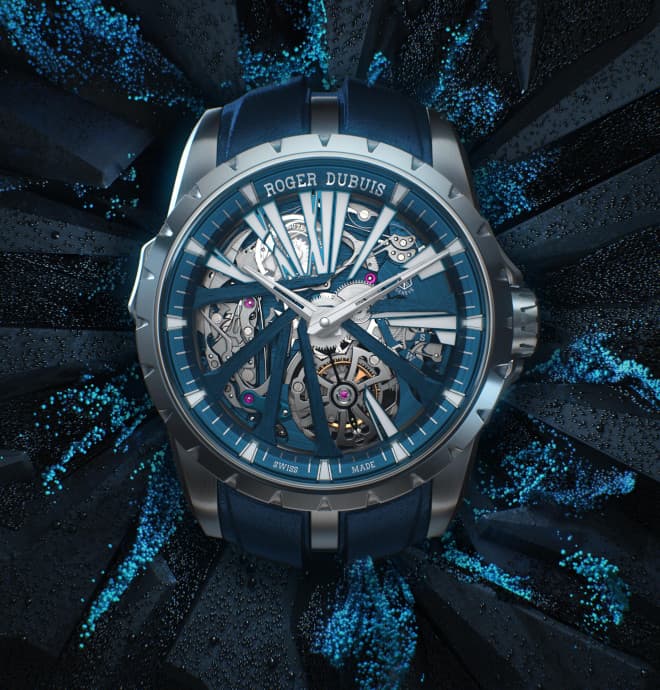 Roger Dubuis is a niche brand says Gregory Bruttin, Roger Dubuis' head of product strategy and the new Roger Dubuis Excalibur Diabolus in Machina, a minute repeater combined with a flying tourbillon, puts the specialist watchmaker and its unique avant garde aesthetics into an even smaller genre of fine watchmaking. Not because Roger Dubuis hasn't made minute repeater flying tourbillons (namesake watchmaker, Mr. Dubuis himself made them) but because such high complications don't usually come with the build and bold aesthetic presence of the new Roger Dubuis Excalibur Diabolus in Machina.
Fine Watchmaking and Bold Wrist Presence equal partners of desire for Roger Dubuis
It's no coincidence that Roger Dubuis has attracted the attention of high profile 'ballers' like His Airness, the greatest basketballer of all time, Michael Jordan. In the hit Netlfix docuseries on Jordan's life and his time playing for the 1990s Chicago Bulls, Jordan is seen on-screen with his Roger Dubuis. A mere appearance with a quarter million dollar timepiece on the wrist of someone with $2.1 billion net worth, typically shouldn't give the viewer a pause or even notice. But when Roger Dubuis appears on the wrist on fellow teammate Scottie Pippen, one sits up and takes notice. Jordan is immensely influential, even Kobe Bryant credits Jordan for his career accomplishments, "What you get from me, is from him."
Jordan was wearing a Roger Dubuis Excalibur Spider Pirelli with a skeleton dial, one of the newest 2019 novelties from the brand.
Pippen, along with Michael Jordan, played an important role in transforming the Bulls into a championship team and in popularizing the NBA around the world during the 90s. The number 33 NBA All-Star has a $100 million net worth
Originally referring to ball players who made it out of the streets to make millions as a pro ball players, the term "baller" is now used to describe any one in any profession who manages to become financially successful and now lives large. A baller, the fourth-richest African-American, behind Oprah Winfrey, is himself a prolific watch collector but when one is a rich man in a crowd of other rich men, the lure to be individualistic (which explains the popularity of bespoke luxury goods) stands out – so much so that two ballers of the stature of Jordan and Pippen wearing the same niche brand highly improbable, highlighting just what a phenomena Roger Dubuis has become for ultra high net worth individuals who want a fine timepiece with a connoisseur's complication without the look of classicism which permeates the segment.
New Roger Dubuis Excalibur Diabolus in Machina is the Watch for Ballers
Roger Dubuis has never been one to play by the rules. From the never-seen-before Excalibur Quatuor with four sprung balances set at 45-degree angles to  the Knights of the Round Table, the Geneva manufacture asserts its uniqueness by combining the mysterious secrets of the noblest traditions with visionary flashes of genius which has given it a peerless, well-earned reputation for being  a master of expressive and contemporary watchmaking, and a magnet for the ultra-wealthy with the need for recognisable distinction: the new Roger Dubuis Excalibr Diabolus is emblematic of that conspicuous watchmaking philosophy.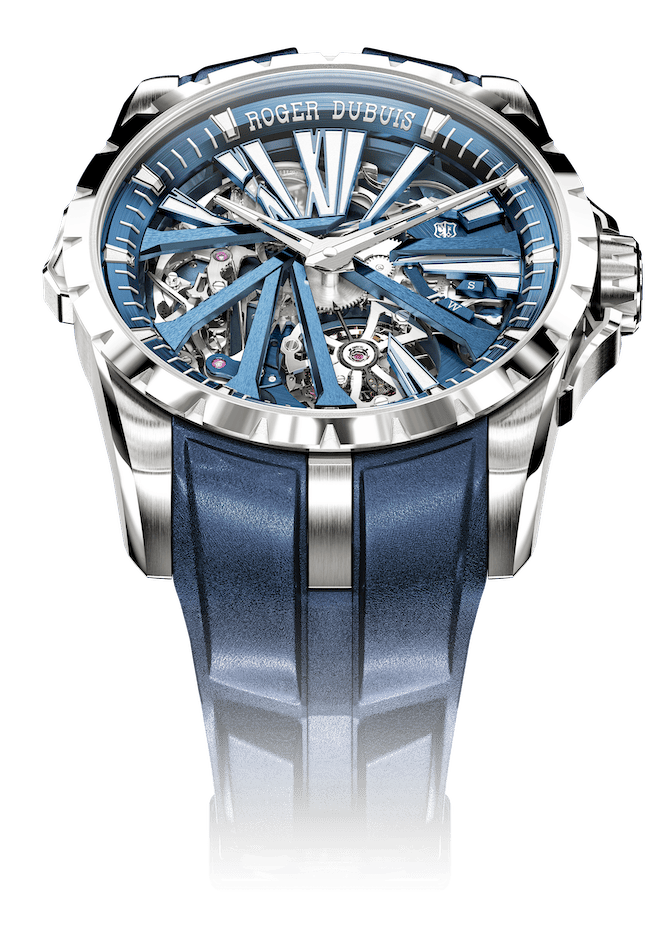 For Watches & Wonders 2020, the new Roger Dubuis Excalibur Diabolus in Machina makes juxtaposition of the mechanical wonder that is a traditional minute repeater and flying tourbillon with inventive modern techniques and avant garde aesthetics. The new Excalibur Diabolus takes a futuristic approach to the minute repeater complication and it is easy to see from past iterations like the Hommage Minute Repeater Tourbillon and exaggerates design elements into its most expressive.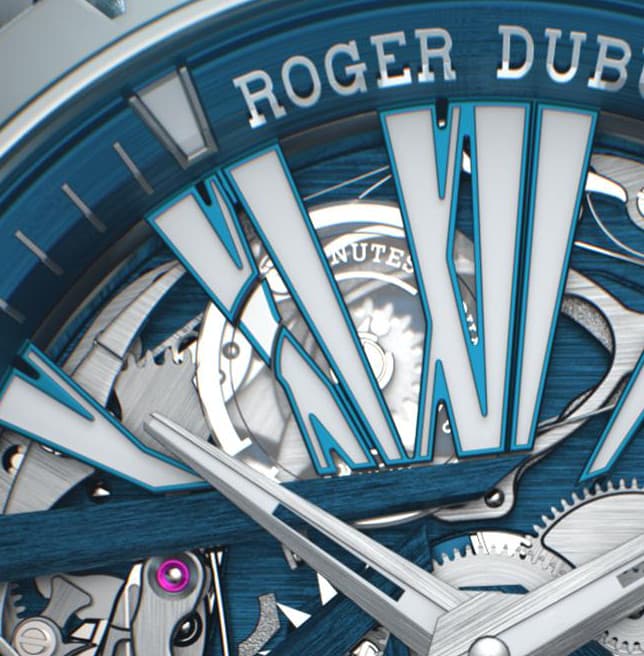 Perched high at 11 o'clock is a disc that has been artfully blended with the signature large Excalibur Roman numerals 11 & 12. Marked with the words Hours, Quarters and Minutes, the disc starts to turn as soon as the minute repeater is activated, visually illustrating the time intervals being chimed. To achieve this, the watchmakers have enriched this second visual indication with the minute repeater's main feeler-spindle system, which requires mechanically seeking information on the time before striking it.
A second indicator takes the form of a lever between 3 o'clock and 4 o'clock, acting as a safety feature of sorts by letting the wearer know whether the watch is in "manual winding" or "time setting" position: an important feature considering that a minute repeater chiming while at the time setting position can potentially damage the movement. As a final user-friendly function, the minute repeater's pushpiece can only be triggered if the pusher has been fully and completely pressed, another safety feature which prevents the mechanism from being accidentally triggered or providing merely a partial indication of time.
The Diabolus in Musica: Sound of the new Roger Dubuis Excalibur Minute Repeater
Diabolus in Musica means "The Devil in Music" and in an act of creative rebellion, the Geneva watchmaker has chosen the tritone, a discordant set of notes, outlawed in medieval religious music because of its association to the devil but really, simply a set of notes uncomfortable to the unaccustomed ears of people from a classical age. In truth, the tritone was a technique used with modifications by experienced singers of church polyphony, where they would occasionally sharpen or flatten a written note, on the fly, thus beautifying their own vocal line.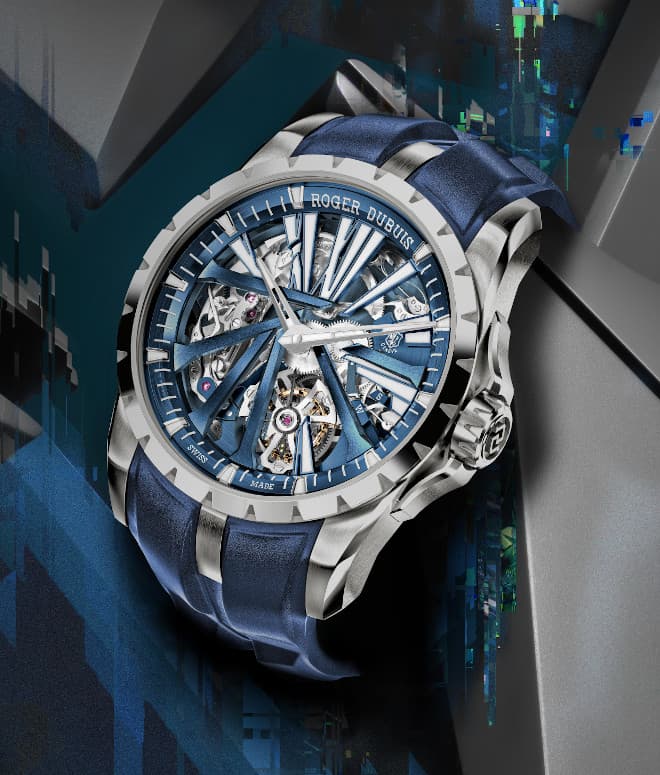 This primordial dissonance is the secret key to all complex melodic harmony, tuned in the new Roger Dubuis Excalibur Diabolus in Machina to C and G flat, wtih tones further enhanced by the nobility of the materials through which they resound, offering listeners an enchantingly sensory experience. Hence, the new Excalibur Diabolus in Machina is much more than just a watch. It is a manifesto for an exclusive tribe of pioneering minds on an incessant quest to constantly reinvent their own game just like how men like Michael Jordan whose style and substance in basketball, have expanded the scope and meaning of athletic achievement, forever changing the electrifying game – just as how Roger Dubuis has given us a vision of contemporary watchmaking.
Latest Roger Dubuis Excalibur Diabolus in Machina Price & Specs
Movement Automatic calibre RD107 with 72 hours power reserve
Case 45mm CarTech Micro-Melt BioDur with 30 metres water resistance
Strap Silicon rubber
Price US$571,500
---