---
Style / World of Watches (WOW)
Roger Dubuis all-black Excalibur Quatuor Carbon
The ultimate paradox between a 'heavyweight' movement and a 'featherlight' ultra-modern timepiece.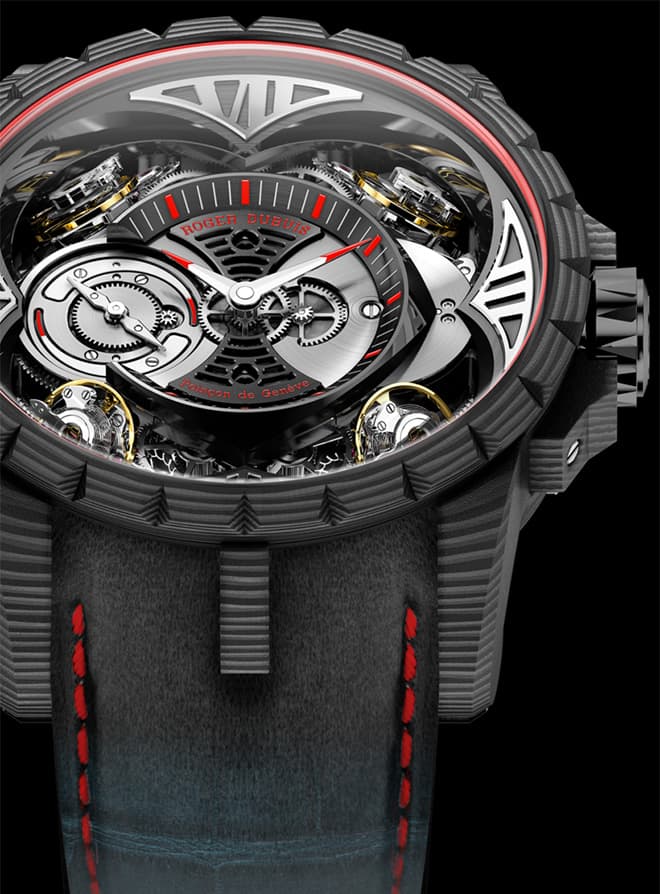 Released in 2013, the Roger Dubuis Excalibur Quatuor was akin to its legendary Sword in the Lake namesake (Ed's note: contrary to popular belief, the sword in the stone is a whole other sword), a objet d'art of mythic proportions with four sprung balances set at 45-degree angles, stemming seven years of R&D. According to Gregory Bruttin, Roger Dubuis Product Director,  "The four balances set at 45 degree angles and work in tandem for unprecedented accuracy, compensating not just for gravity but also your own movement." Thus, the fabled chronometric precision of the calibre gets a skin – the all-black Excalibur Quatuor Carbon.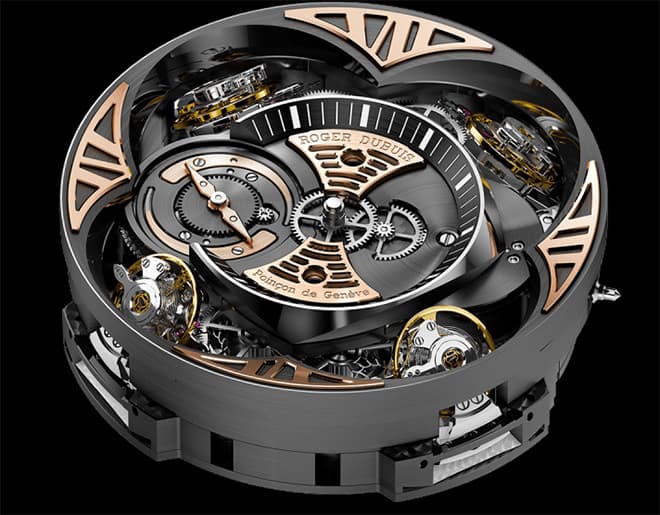 Roger Dubuis all-black Excalibur Quatuor Carbon is combination of technical bravado and creative aesthetics
While many brands can claim to be disruptive with materials and progressive with complications, Roger Dubuis stands singularly in pioneering technical developments and creative aesthetic options; what the new Excalibur Quatuor Carbon is, is both. Five years ago, unparalleled technical prowess gave rise to the four balance Quatuor, today, the brand combines heavyweight high horology with the lightweight nature of carbon. What results is an ultra-modern all black timepiece with a revolutionary engineering response to the challenges of gravity and arm swings.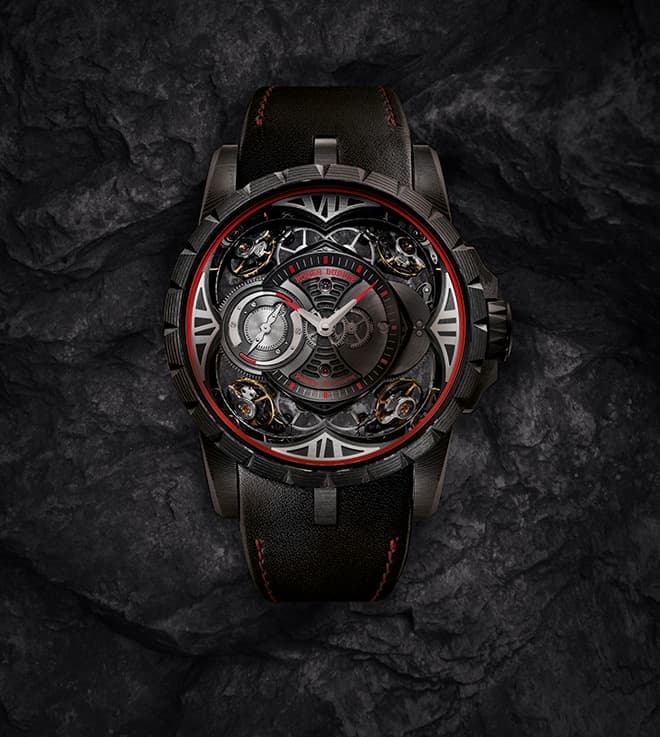 Carbon is not a difficult material to machine but the aesthetic demands of the unique Excalibur case and fluted bezel make it a remarkably challenging material to cut precisely, thus, the Roger Dubuis Excalibur Quatuor Carbon is available only in eight-piece limited edition; radiating not just exclusivity but the quiet confidence of tech-backed endurance and strength.
Materially, the black Roger Dubuis Quatuor is testament to the brand's avant garde vision of watchmaking but horologically, the calibre is still the revolutionary – instead of ticks, you get the whirring of a fine tuned engine, the result of the four sprung balances humming in synchronicity (pulsing four times a second) but not simultaneously – more accurately, it is a cacophony of oscillation.
New Excalibur Quatuor Carbon Price and Specs
Movement Manual winding Quatuor with 40 hours power reserve
Case 48mm black carbon with 30 metres water resistance
Strap Rubber
Price On application
---