---
Style / Beauty & Wellness
The Organic Cosmetics Market and Éclat
The plant and fruit extracts are key players that brand Éclat uses and it combines these natural ingredients with smart science to create solutions for the face, body and hair.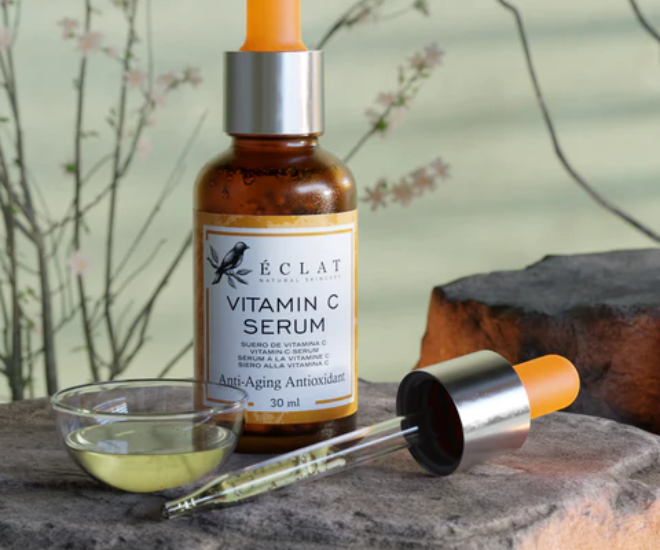 The organic cosmetics market size is estimated to grow at CAGR of 5.0 per cent throughout the forecast period 2021-2031. Natural claims have sparked the sustainability quotient in addition to being significant product purchase drivers when paired with product efficacy claims and brand identity.
Consumers now expect complete disclosure from cosmetics manufacturers about their sourcing procedures, products, ingredients, and environmental policies. More cosmetics manufacturers and companies are looking for ways to redefine their own brands through sustainability-focused goods, services, and customer experiences as the demand to demonstrate their social and environmental credentials grows.
The plant and fruit extracts are key players that brand Éclat uses and it combines these natural ingredients with smart science to create solutions for the face, body and hair. Their organic-focused products are very much loved by Amazon users:
Éclat Vitamin C serum works wonders and has a number of proven benefits; it boosts collagen production, reduces brown spots caused by sun exposure, and is also an antioxidant. Enriched with 20 per cent sodium ascorbyl phosphate, a more stable and gentler form of vitamin C that's less likely to cause irritation, Éclat's facial serum is designed to protect skin from free radicals (such as sunlight, smoke, and pollution) and create a visibly smoother and more luminous complexion all year round.
Éclat Organic's natural-focused product with cold-pressed vitamin C means that no heat or chemicals were used to extract it. Éclat Vitamin C serum has received 69,668 positive ratings on Amazon and is offered at reduced prices: US$7 to US$5.68 during the Cyber Monday Sales.
Éclat Aloe Vera Gel can help you put on that radiant glow. This soothing gel calms skin, hydrates, and reduces irritation. The solution for stressed-out skin. Éclat's gel is formulated with the highest possible concentration — 99.75 per cent pure aloe leaf juice, and no diluting water — for prolonged potency. This gel calms inflammation, sunburn, and irritation, delivering a dose of hydration with instant benefits.
The amino acids and polysaccharides in this aloe vera gel provide a double dose of cooling and soothing benefits to calm skin, encourage healing and draw moisture to the skin's surface to repair its barrier. Another perk is its non-sticky formula, which allows it to absorb instantly and without any residue.
This botanical blend of aloe vera is great for anyone looking to tone down redness, increase hydration and get back that youthful glow. Made with the purest levels of aloe to supercharge, hydrate, and nourish dry skin, this amino acid and vitamin C packed gel has over 5,000 Five-Star Amazon Ratings — the answer to stressed-out skin.
Éclat Anti-aging Face Cream contains clinically studied Matrixyl 3000 and Argireline (known as 'natural botox') for rapid wrinkle repair. They're shown to reduce deep-set wrinkles up to 197.3 per cent more than common anti-wrinkle ingredients like retinol.
This rejuvenating cream fights fine lines and sagging skin with our peptide-powered anti-aging face moisturiser, featuring natural antioxidants and age-erasing peptides. In one study, 94 per cent of users said skin radiance was restored, and 92 per cent saw improvements in fine lines and wrinkles after six weeks.
The advanced complex contains six age-erasing peptides. While most face creams and moisturisers for deep wrinkles release immediately, Pep-Boost delivers encapsulated molecules slowly to the dermis, providing anti-aging action for 12+ hours after application.
The firming face cream contains plant-based hyaluronic acid, vitamin C, collagen, and six antioxidants (including organic green tea and jojoba oil) to accelerate anti-aging. Other anti-aging creams only have 2-3 ingredients in low concentrations. This anti-wrinkle cream is suitable for all skin types. It's free from fragrance, parabens, and silicones. While another collagen face moisturiser degrades after opening, our UV-resistant FrostProtect jar preserves the potency of our night cream for up to 63 per cent longer.
For more beauty reads, click here.
---