---
Properties / Interiors & Decor
Space Popular Crafts Infinite Wellness in The Heart of Bangkok
Characterized by soothing green and white treatment rooms, Infinity Wellbeing was designed to create a comforting sense of escape and privacy.
Directed by graduates of the Architectural Association in London, Space Popular is an architectural firm dedicated to constructing and designing futuristic realms for work, life, and play. Of their innumerable buildings, exhibitions, public artworks, furniture collections, and interiors across Asia and Europe, as well as virtual architecture in the Immersive Internet, Space Popular's most notable creation exists in Sukhumvit, Bangkok.
Characterized by soothing green and white treatment rooms, Infinity Wellbeing is easily distinguished by its luscious garden of dragon trees and lipstick palms, strategically planted to offset the area's cluster of shops, food vendors and towering skyscrapers. Beyond presenting a strong contrast to the city's chaotic streets, the leafy plants help obscure views through to the interior of the spa, creating a comforting sense of escape and privacy.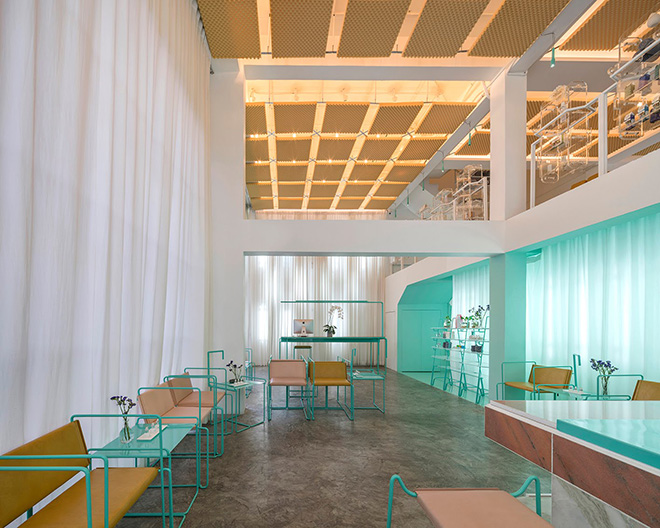 Centered by a fluted white service counter, and sheer white curtains, the spa is fully furnished with accompanying armchairs, recliners and bar stools courtesy of the firm's latest furniture range, dubbed 'The Second Collection'. Featuring tubular mint-green framework and petroleum-blue upholstery, Infinity Wellbeing showcases a uniform theme throughout with the occasional contrasting pop of colour provided by copper-tone grids which run across the reception's backlit ceiling, unto overhead lamps.
Lined with mint-colored timber louvres, the spa's corridors lead into white-painted treatment rooms, complete with vanity stands and washbasins crafted from green terrazzo. Offering a variety of atmospheres to cater to each individual mood, the garden-facing massage rooms take on a slightly moodier tone, with walls clad in dark teal acoustic panels, Space Popular has incorporated packaging foam in the creation of its coffered ceilings.
In their one-and-only diversion from a uniform palette, Space Popular includes one sandy-pink treatment room with a dramatic tiered ceiling which staggers upwards into a cone-like shape. Isolated from the surrounding gardens, this room takes a life of its own, making it one of the spa's most notable concept.
---