---
Properties / Hotels
St Regis New York Opens Tiffany Suite
The St. Regis New York has unveiled a one-of-a-kind Tiffany Suite on its 14th floor – a marriage of the classic Tiffany look with the glamour of the St. Regis. The Tiffany Suite consists of an entryway foyer, one bedroom, two full baths, a large dining room and a living room complete with a fireplace […]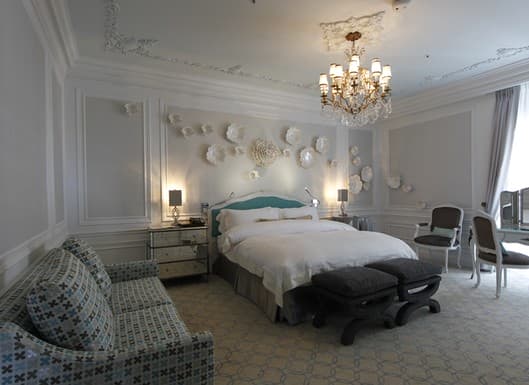 The St. Regis New York has unveiled a one-of-a-kind Tiffany Suite on its 14th floor – a marriage of the classic Tiffany look with the glamour of the St. Regis.
The Tiffany Suite consists of an entryway foyer, one bedroom, two full baths, a large dining room and a living room complete with a fireplace and large windows overlooking Fifth Avenue up towards Central Park.
The 1,700-square-foot suite features neutrals such as whites, beiges, charcoal gray and silver accented with the signature Tiffany blue.

The foyer features a Tiffany-blue glass beaded and silver leafed handmade wall covering, which enhances the stunning architecture of the entryway.
The entry console's design is a subtle reference to one of Tiffany's most iconic pieces, the engagement ring.
Accent pieces include an intricate jewel-shaped mirror hangs on the wall and a silver leafed table.
The living room, with a nonworking fireplace, showcases the suite's floor-to-ceiling windows overlooking Fifth Avenue with views of Central Park.
The furnishings mix modern, deco and classic pieces, including precious Macguire jewel shaped armchairs, a contemporary coffee table and desk with white lacquer and chrome accents and mirrored side tables.
The bar cart will boast a wide array of Tiffany crystal barware and accessories. Large archival Tiffany photos will adorn the walls.
The bedroom has an expansive porcelain flower installation; a bright, contemporary floral patterned love seat; a Tiffany blue striped upholstered headboard, and a lush white comforter.
The stunning dining room has been created to resemble a signature Tiffany blue box. The walls and ceiling are painted a Tiffany blue, and the crown moldings and doors are a contrasting crisp white.
The 10-seat dining room table will be a glossy white , and the chairs will be upholstered in a luxe silver fabric.
The crown jewel of the room is a shimmering and sparkling crystal chandelier, which resembles dripping gems.
An ideal setting for hosting a glamorous soiree or chic dinner party, the Tiffany Suite dining room will \feature Tiffany china, silverware and classic barware.
The new Tiffany suite boasts a nightly rate of US$8,500 (plus tax) and is already booked for most of the summer.
This is not the first Tiffany suite at The St. Regis. In 1991, Tiffany designer John Loring outfitted a Tiffany suite that featured a more masculine aesthetic, with more focus on jewel tones and heavier woods, according to Women's Wear Daily.
---