---
Cars
Yacht Industry in Asia: Interview with Pen Marine's Oh Kean Shen on the yachting business in Penang
Pen Marine's Oh Kean Shen divulges his secret to success in the boating industry: choose a job you love. Simple.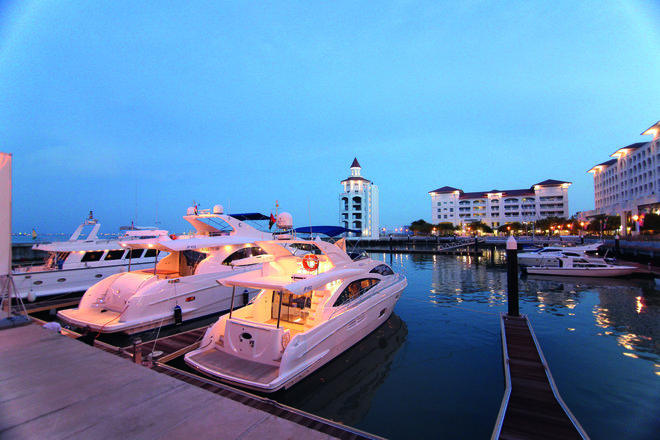 Oh Kean Shen is one of the stalwarts of the leisure boating industry in South East Asia, passionate about boating and a dynamic personality. Shen always has a ready smile and a cheery greeting for anyone, not just his customers. Spending all his life in Penang, but having studied and obtained a degree in mechanical engineering in Australia and having travelled a lot in Asia and Europe, Shen has a vast knowledge and understanding of boating in Asia. He has been one of the key personalities behind the growth of the industry, not only on his home ground of Malaysia, but across other South East Asian countries where he is well respected.
The brainchild of Shen and his friend Pheh Hoe Huat, Pen Marine is a leading player in the pleasure boat industry in the region, representing leading international shipyards as well as manufacturing its own boats to meet the specific needs of its clients. Born out of a common love for the sea and for the potential of the pleasure boat industry in the region, Pen Marine today continues to marry clients with the perfect boat and promote education and boating knowledge.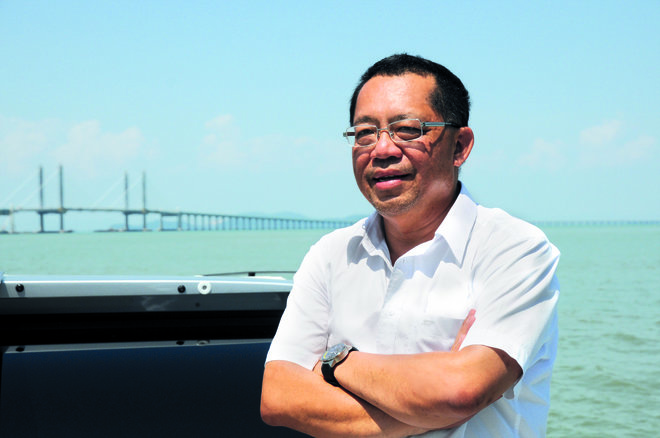 What is your first recollection of being on the water?
I don't swim, but I don't seem to have any fear of the water even though I had a bad experience when I was young. Our family was having a beach party and I went swimming along the shallows, backstroking and occasionally floating, but soon got out of my depth. I then realised that the non-swimming members of my family were shouting from the shore because they saw I was in danger. The realisation that I was in deep water forced me to hastily improvise a swimming style stroke to return to the safety of the beach!
How did you get into the leisure boating business and what were your first memories?
My father had a new shipyard in Penang that was started in 1982. Two years after I graduated from university in Adelaide (1980) I was working at a steel factory in Penang. In 1984 my father asked me to manage the shipyard at Batu Maung in Penang Malaysia, this involved the repair of military boats. When I arrived at the shipyard,I remember one Royal Marine Police patrol boat, and a 40 ft wooden hull motor yacht on the slipway. My first impression was that I should expand from military craft to the pleasure and commercial market. While repairing military boats I began to research pleasure boats and eventually advertised to sell small outboard motor boats, Yamaha hulls from Japan. I was joined by Pheh Hoe Huat, an automobile engineer and keen angler to promote pleasure boating, and so in 1988 Pen Marine was formed.
What was your first leisure boat experience?
I wanted to tender for a government order to build a 17 ft outboard motor boat for the Customs and Excise. I bought a boat from Gordon Robinson of Marlborough Fibreglass in New Zealand and took the boat out to a nearby island. On the way back to Penang, a storm kicked up and we couldn't see land. Friends who came along on the trip were white-faced, yet I was comfortable in the knowledge that I had bought a good seaworthy boat and should not worry. We got back to Penang safely, but it was a rapid learning curve for me. Remember, during that time, there was no GPS and we only had a compass. I had never had any navigational training or idea of navigational rules!

When did you make your first leisure boat sale?
We started a boatel for storage of small boats and bought a 14 ft Yamaha outboard motor boat which we sold within a week to a dam operator. In 1989, I sold my first Grand Banks 49 motor yacht to a banker in Penang, I'm still the dealer in Malaysia for Grand Banks today, and am proud to be one of the longest serving Grand Banks dealers.
How has the business side grown for you?
I have been involved in an advisory role with the banking and yachting industry to remove the import duty on boats and help the industry grow, and it has. I was also involved in the formation of AMIM (Association of Marine Industry Malaysia) and was Honorary Treasurer for eight years. I assisted the Malaysian Government in the formation of Langkawi International Yacht Registry and was an advisor to the EPU (Economic Planning Unit) on the development of marinas in Malaysia. A big move for Pen Marine was when we went into the superyacht business as an area representative for the Dutch builders Heesen. I sold the first yacht in South East Asia for them in 1996, with an additional four more since. I have always felt that being a direct representative for a shipyard presents a better picture to a prospective customer than being a broker with no strong ties to any shipyard.
Your daughter Shi is now involved in the business and you have been developing the Princess brand now for some four years. How is that working out?
Shi is a mechanical engineer, having graduated from Imperial College in London four years ago. She has fitted into the yachting industry like a pea in a pod, which I suppose is not surprising as she has grown up with boating! When she joined the business three years ago, I immediately placed her as the Princess Yachts manager for Pen Marine and she handles most aspects of the business including dealing with customers. She is at home on a boat and is well liked in the industry and by our clients.
Where do you see the industry and Pen Marine going in the future?
35 years ago, Pen Marine set a goal for five years, then another five years and another five years. We may not have been completely accurate with our forecasting, but the yachting industry has grown and we will continue to grow. I am confident that our range of products and our outreach across the region will continue to be our focus at Pen Marine. There are several challenges to overcome and the next generation will need to work on them. In the near future, there is a need to develop yacht financing for the middle class market, provide professional captains and crews to satisfy the yacht owners, and develop a world class infrastructure for yacht repair, skills and knowledge.
The world is becoming smaller and more global and many people in Asia are looking for new activities that have an element of challenge and adventure. A prime example is the growth of scuba diving. I see leisure boating following this trend, but we need to make it easier to participate, this is the challenge that we in the industry must face.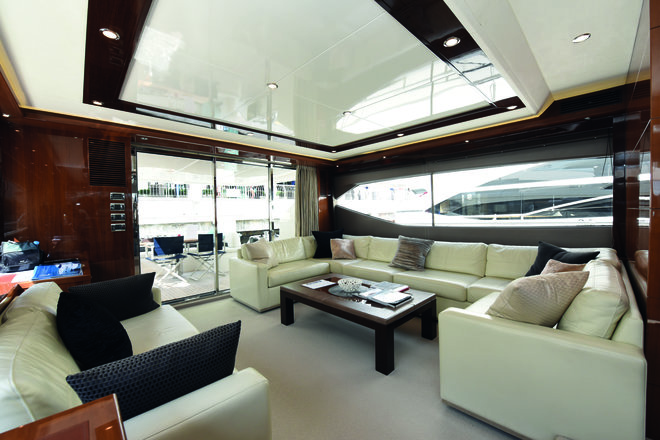 What are your memorable experiences in the industry?
I shall start with the bad and get that out of the way first! I ordered a stock boat and it was on a trip to Penang from Singapore with a delivery skipper (I was not on board) just before Chinese New Year in the early 1990s. Unfortunately the boat caught fire due to a fault in the engine room and sank some 40 nm from Kuala Lumpur. But the gods shone down as everyone on board was rescued by a US Navy ship passing by the Malacca Straits.
Moving on to the good things, everything else in my career in the industry has been wonderful. Meeting interesting people, visiting the best yacht builders in the world, sailing in a mega yacht in Mediterranean waters, spending quality time with clients who are all wonderful and successful people and most of all having the ability to go yachting, snorkelling and diving.
I have owned my own yacht, sailed as far north to the Similan Islands in Phuket and as far east as the Anambas Islands. All these experiences are mild in comparison to many others in this industry, but what counts is the enrichment to my yachting lifestyle. This couldn't have been achieved without some of my yachting friends, some of whom were with me when we went through the Tsunami in Phuket and we now refer to ourselves as the Tsunami brothers. I have also had the opportunity to travel all over the world to visit boat shows and meet manufacturers, designers and yachting personalities. I can say that all the experiences have been really valuable and have helped me develop my business. Travel certainly broadens the mind far more than books, films or the internet.
In the 25 years that we have known each other, you always have a ready smile and I know you are passionate about the leisure boating industry. Do the two go together?
I'm always grateful for the opportunity to be involved in the fascinating boating industry where you meet such interesting people. I heard a saying once, "find a job that you love and you will never have to work a day in your life!" And that's exactly how my life has worked out. I am fortunate to have been and still am, the owner of a shipyard at the right period when pleasure boating was born in Malaysia and is still developing.
This article was first published in Yacht Style 37
RSVP at RSVP@penangrendezvous.com
For more information, click here. 
---