---
Every Rolex Tells a Story Through the Hands of Famous Actors
The appearance of those watches in those films not only reflected the actors as the people they were, but even at times quintessential to the characters they played. Contributed reporting by Lynette Kee and Terence Poh
In the early days of film when product placement was not lucrative, actors often seen with accessories of their own choosing, particularly timepieces. Thus, as a method of theatrical crafts, you could telegraph the personality traits of a celluloid character based on the choice of watch. The actor's personal proclivities aside (we'll get back to that in a moment), the appearances of those watches in those films not only reflected the actors as the people they were, but even at times, were even quintessential to the characters they played.
Today, when product placement has become virtually commonplace, lines are blurred. When personalities are paid to endorse brands, it becomes difficult to know whether they truly like the products, let alone whether they felt that a particular accessory was an accurate representation of the characters they portrayed.
In cinematic history, there are 8 iconic instances where Rolex's timepieces appeared on actors as an extension of the characters they played, and at times, these Rolex watches even served as a plot device or extensive storytelling element.
Every Rolex Tells a Story Through the Hands of Famous Actors
The Color of Money (1986) – Paul Newman
Thanks to constant auctions, Paul Newman is arguably the Rolex Daytona's most closely associated man on earth. The dynamic American entrepreneur, multi-hyphenate movie star, director, and race car driver became the embodiment of the Rolex Daytona thanks to his cool, sporty, and charismatic personality both on-screen and off.
In The Color of Money, Paul Newman flashed a Rolex 36mm Datejust with a silverstick dial on an iconic Rolex jubilee bracelet complete with polished bezels. Newman played a wealthy pool hustler who was mentor to his student, played by Tom Cruise.
The 36mm Datejust played a significant role as visual signifier for the character's class and perceived position in society, arguably more important symbolically than the Cadillac he drove in the movie, exemplifying societal acceptance and perception of the prestige of Rolex timepieces beyond mere timekeeping instrument.
L.A Confidential (1997) – Guy Pearce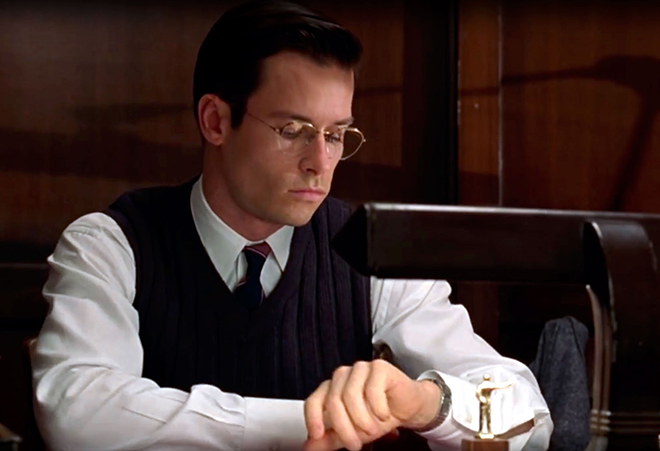 Casted when he was relatively unknown in the US, Australian actor Guy Pearce played self-righteous detective Ed Exley in the 1997 Neo-noir crime film L.A. Confidential, which placed a group of LAPD officers in the crossroads of police corruption and Hollywood celebrity. Growing up in admiration his father, a slain, revered LAPD detective. Ed's sense of justice and his need to make the world right comes directly from his old man including the vintage Rolex "Bubbleback". As a result, he lives constantly in the shadow (and wrist-worn reminder) of his father.
In a scene, Pearce checks the time on a Rolex Bubbleback on his wrist. The nickname of "bubbleback" came from their distinctive case backs, which are of a "bombé" or bubble in shape, in order to accommodate the "automatic rotor" which protruded from the early automatic movements developed by Rolex.
I Love You Phillip Morris (2009) – Jim Carrey
In this adapted fictionalised true story, Jim Carrey portrays the real-life con artist and prison escapee, Steven Jay Russell.  Carrey is a well-liked, talented artist whose attributes were greatly showcased playing the inveterate conman who made a series of daring jail breaks to rejoin his lover in the film – the fictionalised Russell is brought to life with great aplomb- a mix of old-school Carrey outrageousness with a genuine compassion and affection.
The fictional Russell is constantly on the hunt for money to fund a lavish lifestyle of Mercedes-Benz cars, jet-skis and matching Rolex watches for him and his lover. A yellow gold Rolex Submariner was given special cameo appearance in the film to accentuate the prestige he went to great lengths to attain.
The Fugitive Kind (1960) – Marlon Brando
As one of the greatest movie stars of our time, Marlon Brando remains a cultural icon for his realistic portrayals and deep commitment to film acting. In The Fugitive Kind, Brando plays Valentine "Snakeskin" Xavier, a guitar-playing drifter, flees New Orleans in order to avoid arrest. Finding work in a small-town five-and-dime owned by Lady Torrance, an embittered older woman with a vicious husband on his deathbed.
In a pivotal scene, Brando's Xavier hands a Rolex Moonphase Chronometer to Joanne Woodward, saying, "I run with nobody." The Brando's Rolex Moonphase becomes metaphorical, a symbol of his willingness to give up everything, embodying the character's lament and resignation with the state of affairs.
Frantic (1988) – Harrison Ford
In the 1988 film Frantic directed by Roman Polanski, Harrison Ford stars as a surgeon arriving in Paris with his wife for a medical conference. Due to a mix-up of suitcases, the pair gets embroiled in the crossfire between America's Israeli agents and Arab agents over a nuclear device switch concealed in a small replica of the Statue of Liberty.
Ford dons his own Stainless Steel Rolex Datejust with white dial and black Roman numerals in the film. It's a serious watch – while gold connotes perception of wealth and varying degrees of financial frivolity, a steel Datejust is essentially living prop and accessory which signifies almost every white collar professional's first serious watch (though argument can be made for the Submariner). With his movies grossing over US$7 billion dollars to date, Ford's Datejust is not only a super classic watch, but also an extension of his personality – subdued yet iconic, and masculine but not overly so (ahem, Daytona), fit for the legendary actor and producer.
Live and Let Die (From 1954) – Sean Connery, James Bond
Although Omega is now associated with the Daniel Craig-era of hyper-realistic 007 films, James Bond's first appearance on the silver screen in Dr. No. was matched by prominent placement of the Connery's own vintage stainless steel Rolex Submariner ref. 6538, albeit worn on an ill-fitting NATO strap. In Fleming's novels, 10 years prior to 007's cinematic debut, Bond was already characterised by undeniable good taste in style and cars but it was not until the second novel, Live and Let Die that he was finally identified as wearing a Rolex watch.
Fleming himself wore a Rolex Explorer Ref 1016, and his affection for Rolex has apparently translated in the film through Bond's character, and Connery's choice of watch or Bond's first cinematic outing has reverberated through pop cultural history since. Even Craig's Casino Royale re-boot of the franchise makes reference to this heritage.
Rain Man (1998) – Tom Cruise
In the 1998 Oscar-winning film Rain Man, actor Tom Cruise wore a yellow gold Rolex Daydate while portraying self-centered car salesman, Charlie Babbitt. The iconic watch was given a good cameo appearance throughout the movie – especially during a scene in which Cruise's character tries to pawn the solid-gold watch, referencing real-world reputation for Rolex watch's vaunted liquidity and perception as a cash asset as good as gold.
Titanic (1997) – Bill Paxton
Setting one of the best examples in this list, the iconic, award sweeping Titanic also features a yellow gold Rolex Submariner, worn by Bill Paxton as treasure hunter Brock Lovett. Paxton starred in countless iconic movies – Apollo 13, The Terminator and Aliens. But his outing as a supporting character in the epic romance-disaster film is surprisingly tied to the gold Rolex he wore throughout the film. While gold Rolex watches tend to connote financial frivolity and excess, Paxton's choice here gave his character, whose most famous discovery was Spanish gold, a certain synonym and resonance. While Lovett's critics challenged the salvage rights and his ethics, Lovett's claim to be supported by museum experts and respect for his vintage finds are made more believable because he's a professional is such demand that he can afford a serious Rolex.
Away from the camera, Paxton was also well known for his close friendship with Hollywood leading director James Cameron, who directed Aliens and Titanic. Both being Rolex fanatics, Cameron himself was also wearing a Rolex Submariner while shooting his epic film – which he also mentioned wearing during his Oscar winning speech.
Life of a celebrity is an interesting one. From the clothes they put on to the brands they endorse (and of course their work), each contributes to a significant degree of who they are or what sets them apart. At a time where product placement and brand partnership thrives in the media industry, what the actors choose to wear even after the camera stops rolling truly matters.
In the 8 instances that we listed above, the watches they donned extends beyond the big screen and reaches out to their personal preference, making Rolex a part of their individual characterization, just as how Ryan Gosling chose to sport a vintage Rolex Air King when he won the Golden Globe for Best Actor in a Musical or Comedy for his role in La La Land. In a sea of brand ambassadors, Gosling has clearly set himself apart by the watch he chooses to wear.
---