---
Cars / Cars and Bikes
Gooding & Co. Pulls Up To The 2021 Geared Online Scottsdale Auction in a Koenigsegg Regera
The 2020 Koenigsegg Regera is considered to be the ultimate hybrid hypercar, fitted with a rare Ghost Package and Tresex Aircore carbon wheels.
The innovative, and technologically-advanced 2020 Koenigsegg Regera, will debut on Monday, January 18th at the 2021 Geared Online Scottsdale Edition auction, alongside a trio of Citroën-based custom creations by Jerry and Sylvia Hathaway of SM World Ltd. Available online up till Friday, January 22nd 2021, the sale is expected to coincide with the Gooding & Company Arizona Auction Week.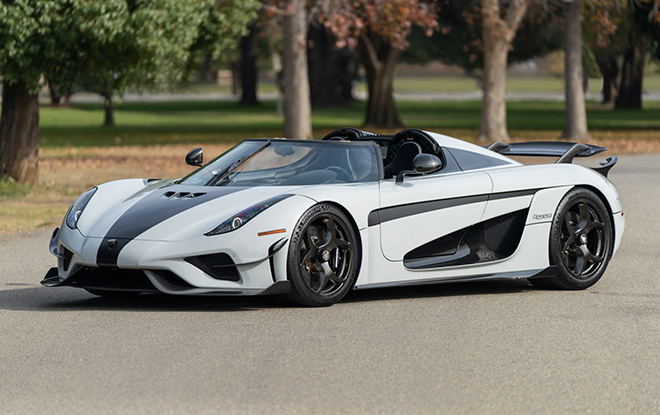 Accredited with producing one of the world's most advanced boutique cars, Koenigsegg Automotive AB was founded in 1996, with the sole purpose of building world class sports cars. Through applying creativity into more advanced powertrain systems, the Swedish manufacturer successfully launched the first hybrid-powered Regera, which sold out shortly after introduction.
Showcasing a pioneering propulsion system that combines a powerful Koenigsegg twin-turbo V-8 internal-combustion engine with three electric motors via a new powertrain technology dubbed Koenigsegg Direct Drive, the system completely replaces the car's transmission by placing an electric motor on the 1,100 hp engine's crankshaft and drives the differential directly through a fluid coupler. As the first production hybrid system to run at 800 volts, the Koenigsegg Regera utilizes a battery technology, first pioneered in Formula 1, with a total output of 1,500 hp.
Regarded a mere 369 miles from new, the Regera offered here is delivered directly from its original owner and is tastefully specified in a non-metallic Battle Grey over a Desiato Black interior, extensively accented with bare carbon fiber. Benefitting from $710,200 worth of refurbished compartments, this Koenigsegg Regera features an exclusive Ghost Package, which offers revised aerodynamics that add 20% more downforce, an Environmental Power Upgrade which boosts horsepower by up to 200hp on E85 fuel, optional exterior carbon fiber panels such as air intakes, roof panel and bonnet, Speedster Sides, and inner rockers, plus Tresex Aircore carbon fiber wheels which work to reduce unsprung weight and improve aerodynamics.
Worth an estimated total of $2,750,000 – $3,500,000, the Koenigsegg Regera alongside a carefully curated selection of lots, will be available at the Geared Online Scottsdale auction, with and without reserve, for every level of collector. Housing all available lots at the company's Southern California facility, Gooding & Company will provide all interested bidders the opportunity to conduct on-site inspections of the online offerings and for specialists to engage with the lots on behalf of clients. The auction house invites you to speak with a Gooding & Company staff member for more information on viewing and inspection, as well as on how to consign for upcoming 2021 Geared Online sales.
Geared Online | Scottsdale Edition
Online Catalogue Available: Monday, January 11
Auction Begins: Monday, January 18, 10:00 AM Mountain Time
Lots Begin Closing: Friday, January 22, 11:00 AM Mountain Time
---