---
Style / Fashion
Many Faces of Denim Fall 2016
Often seen as the material of choice for casual-day trousers, denim gets a fresh new update on the runways this fall.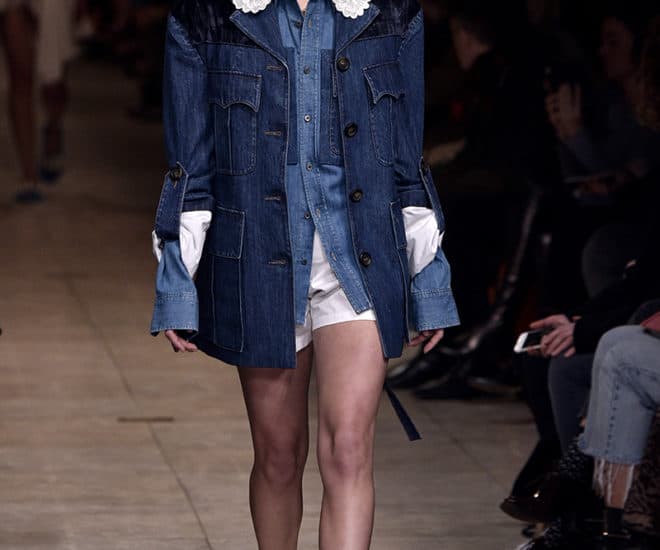 A wardrobe staple that can be worn for days (hygiene conditions permitting) and through almost any season, denim was a trend we recognized on the runways for fall. The unmistakable denim look was featured in both clothing and accessories. In fact, it was so unmistakeable that plenty of news outlets have pointed it out. We take a look at ways that the versatile and durable material has dominated the season's catwalk shows.
Even major-labels jumped on the bandwagon by featuring whitewashed denim either on its own or with a mix of materials such as tweed. Brands also crafted pieces such as long coats with the fabric. At Miu Miu, denim was everywhere, in various tones, from shirts to long skirts, jackets and light extra-long coats, which were then decorated with badges, pearls or lace. Paul & Joe opted for a more subdued look by using it in jackets and trousers resulting in a masculine style reminiscent of the late 1970s, while Stella McCartney honored the fashion perennial by showcasing it in washed-out form for a button-down dress and an oversized jacket worn like a coat.
One unexpected brand that featured denim was none other than Chanel. At its show in Paris, the French label brought out numerous pieces in the material, which is not something that Chanel typically does. Of course, Karl Lagerfeld added a modern twist by combining it with pink fuchsia tweed. At Chanel's show, denim had never looked so smart, finding its way into tailored jackets, bags, hats and gloves, and combined with tweed, silk, embroidery and pearls. The collection was anchored in the fashion house's DNA, but had a fresh, modern feel with touches of sportswear.
---