---
Style / Fashion
Welcome the Arrival of Spring with the Kenzo Boke Drop 1 collection
The limited-edition capsule collection features a red Japanese boke as the central motif.
Just in time for the arrival of the spring season, Nigo, artistic director of Kenzo, has released a limited-edition capsule collection inspired by the Japanese boke flower. It is said that this beautiful flowering quince blossoms every February, which also signals the start of the new season.
The red floral motif adorns the range of clothing such as the oversized hoodies, sweatshirts, long-sleeve T-shirts, jersey cardigan and nylon coach jackets. For this capsule collection, the designer designed two five-piece wardrobe for men and women. Despite the gender delineation, the brand described the drop as "genderless in spirit".
White is the colour du jour for this limited-edition collection and the brand said in a statement that: "The drop is largely retained in white as a nod to the image of a blank page: new beginnings." Nigo took over as artistic director of Kenzo in September 2021 and is most notably known as the founder of streetwear clothing brands Bape and Human Made. Styles familiar to the designer can be seen in throughout such as the Gurkha-inspired cargo pants and cargo skirts. Apart from the predominately white colour palette, there are the occasional navy and camel too.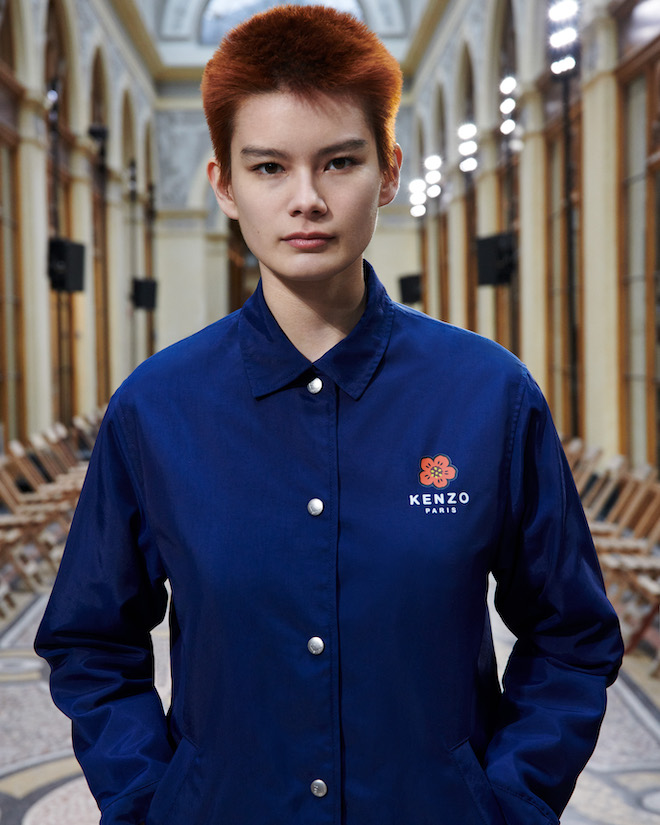 In paying homage to the late founder of the fashion house, Kenzo Takeda, all the other three upcoming drops for spring will feature other Japanese flora and fauna as signifiers of symbols and feelings. Incorporating natural elements have been a staple for the eponymous founder and Nigo intends to carry on this legacy.
Most recently, the DJ-cum-designer also co-designed the LV2 collection alongside the late Virgil Abloh. Just last month, Nigo has unveiled his Fall/Winter 2022 collection for Kenzo and many celebrities and musicians were in attendance such as Ye (formally Kanye West), Julia Fox, Pharrell Williams, Tyler, the Creator and others.
The Kenzo Boke Drop 1 is now available on Kenzo.com
For more fashion news, click here.
---