---
Style / Fashion
Dior's Kim Jones designing costumes for BTS World Tour was Marketing Genius
Largely shaped by Dior Menswear's pre-fall 2019 collection, Kim Jones has pulled off a great marketing coup in designing costumes for K-Pop BTS's world tour
It used to be common "knowledge" for becoming an influencer was to establish a presence on Instagram, amass a sizeable following and then "profit" from brands wanting to work with you. Then, when an Instagrammer @Arii said she failed to sell 36 T-shirts to her 2.6 million followers couldn't sell 36 t-shirts, all of the long held perceptions began to unravel. But, beyond the schadenfreude of "influencer bubbles bursting", there are actually real influencers out there. They may be hard to find, but they're relatively easy to spot – case in point: global K-pop sensation – BTS.
Real Influence: Why Dior's Kim Jones designing BTS costumes for their World Tour was marketing genius
The world tour for South Korean K-pop sensation BTS kicked off in Los Angeles last month and Dior's Kim Jones cemented his futurist, post-modernist vision on Dior's menswear with the world's most visible influencers by designing their world tour costumes.
The BTS A.R.M.Y. is real and BTS are real influencers. Arianna Renee may have failed to sell 36 t-shirts to 2.6 million customers but the ARMY is not only loyal but rabid. BTS concert tickets have not only been sold out but have been scalped for more than $10,000 at its peak. With an average price of $452, a BTS concert ticket isn't cheap and not exactly the cost of a t-shirt either. Now, with the BTS world tour, tens of-millions of fans are going to be exposed to Dior's menswear aesthetics thanks to Kim Jones' technical finishing and tailoring of the modernist BTS costumes.
Makings of real influence
In the 2010s, K-pop was largely dominated by PSY's Gangnam Style. But then, even with over 20 million views, Gangnam Style has never reached the levels of popular appeal and global cultural dominance of BTS. PSY hasn't been to the American Music Awards, BTS has. Nor have American musicians been chomping at the bit to collaborate with him but BTS has worked across multiple genres from the Chainsmokers to Steve Aoki in 2017.
BTS is an example of what happens when "manufactured marketing bands" give way to authenticity. For decades, K-pop was the result of three dominant music studios churning out carefully curated "idol groups". Almost like an assembly line, children are groomed for these idol groups, eventually auditioning before adulthood where if they're selected, they are subject to regimented training in not just grooming, vocal training and performance, but every aspect of their lives are dictated by their managing studios – so much so that this K-pop system of marketed bands and idols has led to suicides of prominent performers in recent years.
This led a man named Bang Si-hyuk to envision a different kind of studio. One where singers could truly express their personalities in their music. These teens would be "bulletproof", able to express the creative anxieties without fear of social pressures or pressure to confirm to a manufactured "ideal" – his Bangtan Boys would be authentic to themselves. By 2013, these boys would become BTS, not groomed but real. Real influencers.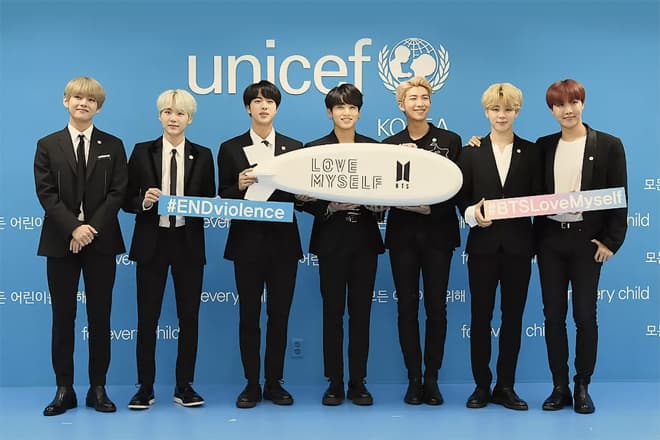 Social and cultural consciousness is part of BTS
There is a common theme with Korean idol groups and luxury brands – the constant projected appearance of perfection. BTS overturned K-pop conventions, talking about the pressures of their career and the challenges of constant performing, running contrary against the carefully manufactured perfection of the Korean idol groups before them. The BTS ARMY also interacts with each individual performer through social media rather than a carefully managed social media presence managed by agents. Where BTS excels is that they manage to reach into the hearts of everyone's anxieties and insecurities by sharing their own confessions of self-doubt, expressed either in their music or in interviews – a big no no for the traditional "slave contracted" Korean idols.
Such is their popularity and reach that it prompted social media platform Tumblr to stop tracking BTS within a separate K-pop category but to merge them with English-language categories so that their popularity can be compared relative to Western bands. In 2018, BTS broke new grounds by being the first K-Pop group to win a Billboard Music Award for Top Social Artist, beating names like Justin Bieber, Ariana Grande and Selena Gomez.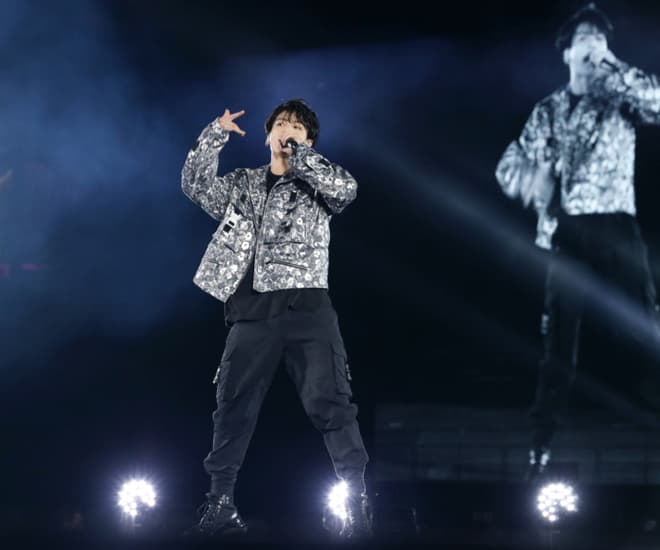 Authentic Influencers: Dior x BTS
Largely shaped by Dior Menswear's pre-fall 2019 collection centred around shiny and lamé fabrics, each of the seven outfits are then finished with details and patterns inspired by the different personalities of individual BTS members. Dior's Kim Jones designed utilitarian streetwear staples like bombers and cargo pants in the pre-fall collection's signature shiny fabrics. The BTS "look" was complete with Japanese artist Hajime Sorayama's cherry blossoms and dinosaur robots motifs.
Tellingly, BTS members have shown some sartorial flair, frequently spotted at airports with a mix of couture European brands like Saint Laurent, Gucci, Bottega Veneta and Givenchy matched with streetwear like Mastermind x Japan and Supreme. Donning Dior menswear for a global concert cannot be considered anything other than a marketing masterstroke orchestrated by Kim Jones.
---