---
Style / Fashion
Dior Glossy Gold Limited Edition Sunglasses
John Galliano marks the fifth anniversary of his top selling Dior Glossy sunglasses collection with a limited edition called Dior Glossy Gold. The Glossy line launched five years ago, inspired by the oversized shapes of the 1970s. The new limited edition glasses stay true to the original model. With its extralarge lenses and curved frame […]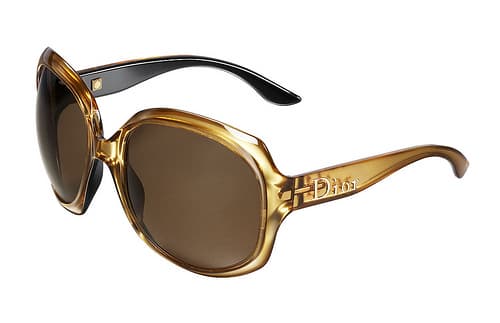 John Galliano marks the fifth anniversary of his top selling Dior Glossy sunglasses collection with a limited edition called Dior Glossy Gold.
The Glossy line launched five years ago, inspired by the oversized shapes of the 1970s. The new limited edition glasses stay true to the original model.
With its extralarge lenses and curved frame in metallic colours, the Dior Glossy was instantly adopted by countless stars, making it Dior's best seller.

The glasses have an amber-coloured frame that is made with a trademarked shape-retaining resin called Optyl.
The model features a black interior and dark brown lenses. The Dior logo in 18 carat solid gold lettering appears on each temple.
Only 500 pairs will be made and will cost $1,295 a pair. Via Fashionism
---