---
Properties / Homes
Live Luxuriously Through the Work of Karl Lagerfeld
We look back at some of the late German designer's luxurious houses around the world, reflecting styles from futuristic to Parisian inspired
Late German haute-couture fashion designer Karl Lagerfeld is best known to be a creative director at Chanel and Fendi and an influential icon of the fashion industry for more than a decade. Apart from being known for his creative direction for fashion and arts, he has a lifelong passion for interior design. According to Vogue, for many years Lagerfeld would live beautifully in rooms of that style on the rue de l'Universite, where he favoured candlelight over electricity, ate off Meissen plates, and walked on a rug that had belonged to Louis XV.
The luxury homes Karl has lived in reflects a visionary man's personality. It is obvious that Lagerfeld's interior designs are perceived from fashion and art and is beautifully translated into his homes, but no two homes are the same.
"Fashion is one thing, but I approach interior design as if I'm making it for myself," he says.
From a personal library with about 80,000 volumes to a neon-hued boxing ring in his living room, Karl Lagerfeld truly expresses his love for art into his living spaces. Here are 3 styles of houses the fashion icon lived luxuriously:
Up, up and away
Futuristic is the word to sum up the setting of the apartment. Not one bit is outdated in this 1820s building in Paris and Karl said his apartment is not a house but a "spaceship for the city where you don't feel bound by the earth."
Located in the Quai Voltaire in Paris, Lagerfeld reinvents the concept of the Parisian artist studio in the terms of twenty-first century by adopting contemporary designs. From coffee tables in aluminium and Jasper Morrison's leather sofa with futuristic shapes, this apartment exudes minimalism. Unexpectedly, this 1820 building gone through two and a half years of transformation to achieve the result of light, glass and metal. "It's a place to sleep, bathe and work,"says Karl Lagerfeld about his Paris apartment.
The Country Girl
Here Lagerfeld slept in a bedroom covered with a chintz fabric based on Louis XVI documents. Inspired by early 20th-century French fashion illustrations and decorative arts, this Le Mee apartment in Paris is furnished with contemporary pieces from futuristic mannequin by sculptor Rudolf Belling to crystal centerpiece is by Dubreuil.
Described in Vogue as "a fusion of neo baroque styles," the overall impression conveyed in photographs is one of airy coziness and is perhaps the homiest home of Karl's.
The Villa Fako
The fashion designer's extravagant Hamburg villa was named "Villa Fako" after his late, long-term partner who passed away in 1989. It was originally called Villa Schuler, a single-story home built in the 1920s. Lagerfeld occupied the villa between 1991 and 1998, located in the exclusive Blankenese district of Hamburg, Alemani. This Roman-style villa was bought by Lagerfeld in 1991 for 3 million Deutsche marks and was on sale for close to $10 million USD in mid-2018.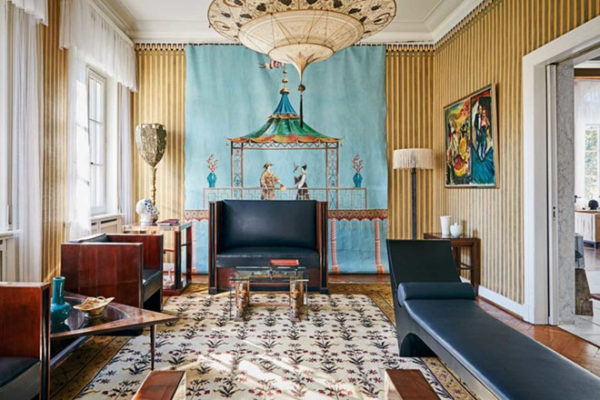 The 12,000 square metres property exudes a classic and elegant style. Marking haute couture, the villa is filled with lavish furnishing and grand designs from intricate celling and plasterwork to excessive gold leaves and marble all around. Every room speaks for Karl Lagerfeld. This lounge area spans the entire length of the building and boasts a six-metre high ceiling, decorated in gold with Rococo flourishes, experimental modern furniture and striking artwork.
Though the majestic home offers endless views over the surrounding landscape of Hamburg, Lagerfeld sold the house in 1998 as it was too tranquil for him. "It's impossible to live on the Elbe. You spend all your time looking out at the river. You ended up becoming lazy," Mr. Lagerfeld said in Engel & Völkers' proprietary magazine, GG.
---