---
Properties / Interiors & Decor
Kohler's Numi 2.0 smart toilet Asks You Bet on Privacy in Your Most Intimate of Spaces
Kohler's new Numi 2.0 Smart Bathroom fittings may be luxurious and exquisitely designed but they are also a potential invitation for Amazon and hackers into your most intimate of spaces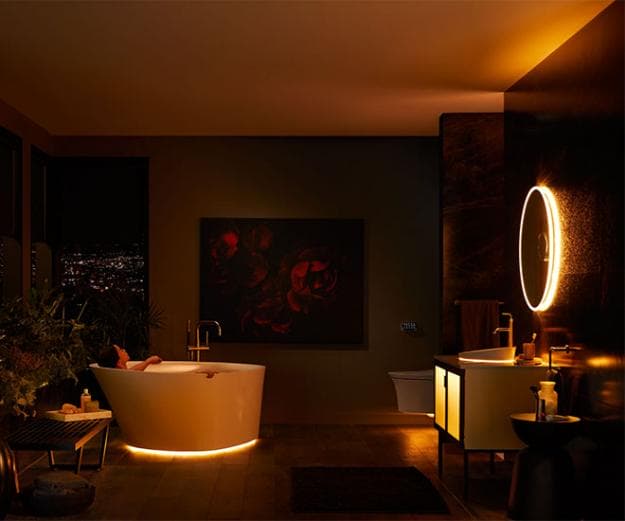 As smart speakers like Amazon Echo and Google Home to grow in popularity, Kohler's Amazon Alexa equipped smart bathroom and toilet fixtures are asking you to take a real risk of privacy invasion in your most intimate of spaces. In recent months, researchers and security experts have grown increasingly concerned about smarthomes and other assorted smart devices.
In May 2018, NBC News had reported that a woman in Portland, Oregon had discovered that Amazon Alexa had been been secretly recording private conversations with her husband — and sharing them with a random contact 176 miles away in Seattle. Hence, with built-in speakers, Amazon Alexa support, and the promise of smart integration in service to your desires, is the CES 2019 Kohler smart toilet promising an "immersive experience" such a great idea?
Kohler's Numi 2.0 Asks You Bet on Privacy in Your Most Intimate of Spaces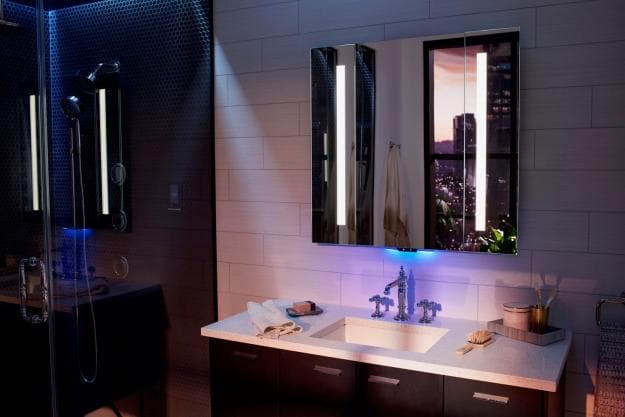 "We are basically testing fodder as they roll out more and more technologies that are based on artificial intelligence,"  Jennifer King, director of consumer privacy at the Center for Internet and Society at Stanford University to NBC
Kohler's Numi 2.0 Intelligent Toilet was launched by the 146 year old luxury fittings specialist at the latest edition of CES; promising greatly expanded Voice Control, Lighting and Music Experiences through the brand's innovative Kohler Konnect.
Kohler introduced the Veil Lighted Bathroom Collection at CES 2019; offering more voice control options through enhancements to Verdera Voice Lighted Mirror and Numi Intelligent Toilet on what is likely the the first-ever connected bathroom suite. But since mid 2018, with analysts anticipating the popularity of "Internet of Things" or smart devices projected to grow 20.4 billion devices in use by 2020, studies by computer scientists at The College of William & Mary point to a growing threat of smart devices because many of these products are tied to the user's security or privacy (e.g., door locks, cameras) but few of them understand the implications of providing smart apps access to them and the growing connectivity between these devices or the data provided to the companies which run them.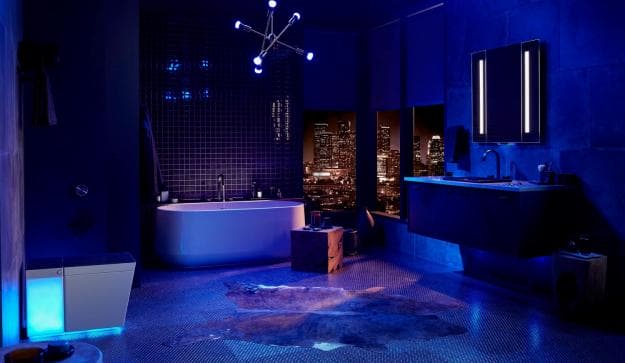 Simply put, because many of these devices are now controlled from a central app, changing the settings on one device might alter the settings on other devices, because they nature of a "smart" device hinges on user convenience. Hence, you might program your lighting fixtures to turn on at specific times before your arrival and that might consequently trigger a deactivation of your security system because the smart home assumes that you're already at home. A hacker could essentially operate various devices without your knowledge through one innoccous one.
"Connected technology is driving innovation in the smart home category, but connectivity alone isn't enough. We believe in leading with design and seamlessly incorporating the right technologies so that our customers can personalize their bathroom experiences to be just right for them," said David Kohler, President and CEO of Kohler Co
Introduced at CES 2018, Kohler Konnect joined the brand's innovative kitchen and bath products through voice commands, hands-free motion control, and personalised presets managed through the Konnect application, offering support for products like Amazon Alexa, Google Assistant and Apple Homekit. Thus, with an ever expanding amount of additional options for personalised control and whole-room solutions adding convenience and comfort, now extending to an immensely private space like your bathroom and toilet is a cause for concern.
The new Kohler Smart Products offered
Veil Lighted Bathroom Collection: The new Veil Lighted bathroom collection brings immersive, connected lighting into the entire bathroom space. The full contemporary suite of products includes an intelligent toilet, freestanding bath, lighted mirror, and lighted three-piece vanity that work together as a system with integrated lighting. Automated synchronized lighting options mimic nature to create various moods that enhance well-being. The Veil Lighted collection gives the power of personalization directly to the user and is adjustable with voice, motion-control, a physical remote controller, or the Konnect app. The collection embodies a beautiful modern design aesthetic and currently works with Amazon Alexa and the Google Assistant.
Verdera Voice Lighted Mirror: Verdera Voice Lighted Mirror with Amazon Alexa is available for purchase now. At CES, Kohler is announcing the next iteration of the Verdera Voice the Google Assistant built-in. Both the Verdera Voice with Amazon Alexa and Verdera Voice powered by the Google Assistant are first-to-market models, providing seamless integration of voice control into the bathroom space. The Verdera Voice is a thoughtfully designed and functional centerpiece of the smart bathroom featuring a high-quality grooming mirror, efficient adjustable LED lights for precision routines like makeup application and skin care, a motion-activated wayfinding nightlight, and hermetically sealed speakers that maximize stereo sound quality – all built-in to help reduce clutter and optimize user experiences.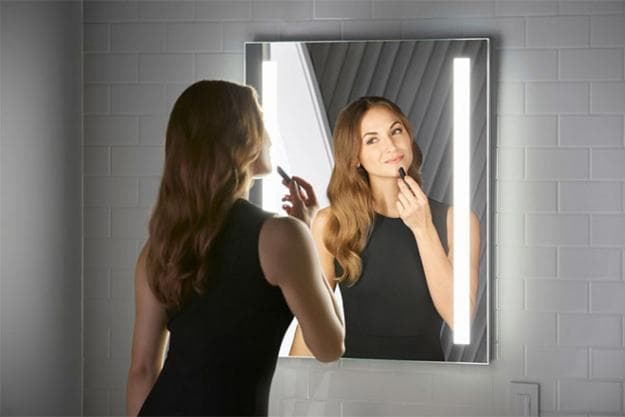 Numi 2.0 Intelligent Toilet: Numi, Kohler's most advanced intelligent toilet, offers exceptional water efficiency, personalized cleansing and dryer functions, a heated seat, and high-quality built-in speakers. The lighting features on Kohler's flagship intelligent toilet have been upgraded from static colors to dynamic and interactive multi-colored ambient and surround lighting. Paired with the new speakers in the Numi toilet, these lighting and audio enhancements create a fully-immersive experience for homeowners. Amazon Alexa built into the product provides simple voice control of Numi's features and access to tens of thousands of skills, as well as a seamless integration of voice control into the bathroom
DTV+ Shower System: Using the DTV+ system with Kohler Konnect, consumers can create presets for sound, water, steam and lighting, delivering the ultimate customized spa-like showering experience, placing it in a category all its own. Use voice, or a wall-mounted interface to access presets, make adjustments, and use the system's eco settings to control water usage. Consumers who already have DTV+ systems in their homes can upgrade by having a bridge module installed to their existing systems.
PerfectFill™ Technology (bath filler): PerfectFill technology can draw a bath to your preferred preset temperature and desired depth with a simple voice command or through the Konnect app reducing time spent monitoring the bath as it fills. PerfectFill will be sold as a wall-mount or deck-mount spout, or freestanding bath filler to fit a variety of bathroom designs and also includes a valve, drain, and controller.
PureWarmth Heated Toilet Seat: The PureWarmth heated toilet seat offers a slim design with three warm temperature settings for comfort and an integrated adjustable nightlight to enhance the user's experience. The PureWarmth heated toilet seat can be controlled using the Kohler Konnect app to adjust temperature, timing of the heat, as well as lighting duration and ambiance.
Are Potential Privacy Concerns Overblown?
An editorial by tech trade-zine, WIRED, appears to believe that privacy concerns involving Connected Home devices like Alexa might be exaggerated. Speaking to the tech publication, the Amazon spokesperson explained that in the case of the Portland lady, "Echo woke up due to a word in background conversation sounding like 'Alexa.' Then, the subsequent conversation was heard as a 'send message' request." In this case, the lapse was not a malicious hack but rather the futuristic equivilant of the commonplace "buttdial".
Nevertheless, it's still a scary thought if your private bath and sanitary activities are being monitored by third parties, even if they're just artificially intelligent.
---