---
Motoring / Cars and Bikes
Luxury Mercedes Pedal Car
Christmas is coming. You may say: "it's November! Why are you talking about Christmas already?", and of course you're right , but if you want to buy something special for your kids, you can't wait until last moment. Mercedes has unveiled an exclusive range of gifts for the upcoming festivities, like this cute Bobby Benz […]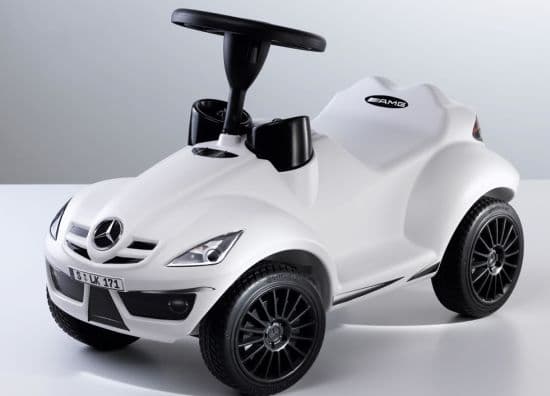 Christmas is coming. You may say: "it's November! Why are you talking about Christmas already?", and of course you're right , but if you want to buy something special for your kids, you can't wait until last moment.
Mercedes has unveiled an exclusive range of gifts for the upcoming festivities, like this cute Bobby Benz SLK AMG pedal car, for little fans of Lewis Hamilton.
This mini car, manufactured by toy maker BIG, is a special edition in white with production limited to 1,000 units and resembles the distinctive shape of its big brother on the roads, with a sports steering wheel which echo the aluminum counterparts on the original and two circular instruments.

It can also be driven in the home thanks to the new Direct-Steer system that reduced the turning circle, and the whisper wheels multi-spoke rims minimize the noise level.
---