---
Style / Fashion
London Fashion Week Versus Versace: Tough Love
The Versace diffusion line brought a tough, sexy and cocky angle to proceedings at London Fashion Week, with Gareth Pugh and Jonathan Anderson shining.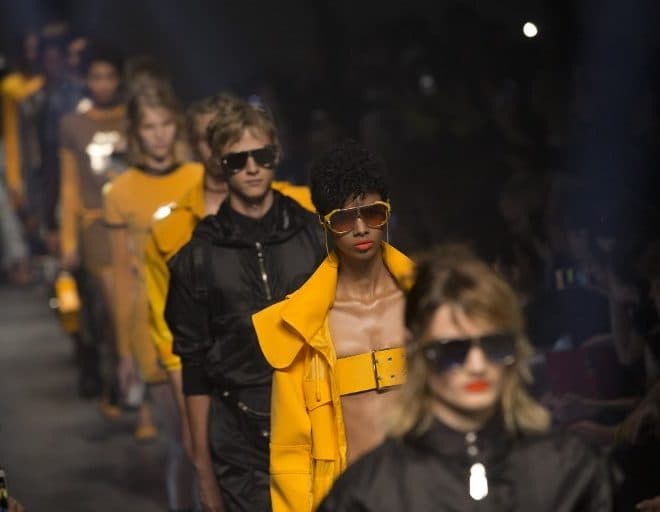 If swagger and intensity are your cup of tea (this is London Fashion Week so tea is literal and metaphorical) you could do worse than turn to Donatella Versace. Accompanied by a bludgeoning soundtrack, the Versus Versace street gang paraded in black leather and slouchy ripped denim. The diffusion line brought a typically tough, sexy and cocky angle to proceedings at London Fashion Week.
There were cutaway dresses exposing the shoulder and stomach, with a silver zip running down the back, and pleated and leather mini-skirts – one with the belt left provocatively open – matched with leather jackets.
Bonded mesh dresses and crop tops brought a sporty edge to the collection, which also featured cropped, zip-up bomber jackets, military-style knits and washed out ripped denim with metal and crystals sparkling underneath.
"This is about everything real. It's about how the Versus Versace generation live their lives, and the wardrobe that gives them power," Versace said in a press statement. We're not sure about the reality angle but it certainly brims with power.
Of course, this is London so things started earlier in the evening with local lad Gareth Pugh, who looked to ancient Rome for inspiration. His conceptual show was built around the narrative of an opera for which he created the costumes; it opened Paris on Friday.
"Eliogabalo" tells the story of a tyrant in imperial Rome, a self-proclaimed sun god who was represented in the London show in a repeating pattern of the sun and its rays that stretched across dresses, coats and trousers.
To the sound of loud drums beating, the first model emerged with a large sun behind her head, followed by others wearing black coats with a mosaic of gold triangles arranged at the breast and hems.
Two sides of the same
They were followed by unadorned, flowing gowns in vivid purple and then white, toga-style dresses, styled with lace-up leather boots and headdresses reminiscent of burnt wood.
"In one way the sun is a symbol of creation and warmth – an explosion of power and life – but it can also represent tyrannical power and destruction," Pugh said.
"I wanted to explore that duality, to show two sides of the same, but for grace to triumph over nature."
Saturday also saw the eagerly anticipated show by Northern Irish designer Jonathan Anderson, the creative director of Spanish fashion house Loewe who has his own label in London.
Like Pugh, he seemed to be inspired by historical monarchy but with an English bent. Basically, it was the House of Tudor, with a Jonathan Anderson twist. There were loose linen dresses, jumpers with oversized rolls of fabric at the sleeves and hem, and tops inspired by men's 16th century doublets with voluminous sleeves and quilting.
But where kings such as Henry VIII had their clothes made in heavy fabrics, Anderson's were in linen or hessian.
"I liked the idea of women wearing something that was so masculine, something that was really heavy but that is cut out of something incredibly light," he told reporters backstage.
This story is based on an AFP report and various Internet coverage of London Fashion Week
---