---
Culture / Design
Transparent Toaster
This concept is for anyone who loves to wake up in the morning; pouring themselves a cup of hot coffee and throwing in a couple of slices of bread into a toaster. This transparent toaster allows you to see the bread while it is toasting so you're never surprised by toast that comes out too […]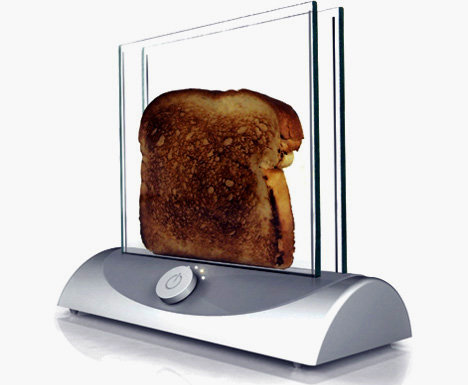 This concept is for anyone who loves to wake up in the morning; pouring themselves a cup of hot coffee and throwing in a couple of slices of bread into a toaster.
This transparent toaster allows you to see the bread while it is toasting so you're never surprised by toast that comes out too dark. This idea is based on a transparent heating glass technology.
Although the glass does not currently get hot enough to toast bread, the vendor explained with some R&D this application may be possible.

The concept was developed by the Inventables Concept Studio. Stay tuned!
---