---
Business / Collectibles
Winning Solutions Monopoly Luxury Edition is the ultimate board game heirloom
The Monopoly Luxury Edition comes with design elements often associated with 1% types, including a recessed leather dice rolling area with gold foil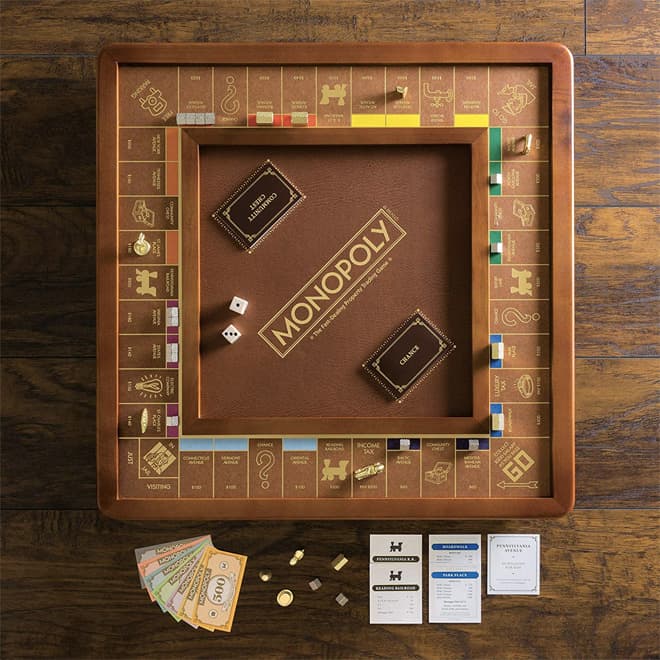 According to The Telegraph, the Duke of York was visiting Leeds Building Society's newly-refurbished Albion Street headquarters for an official celebration when Prince Andrew was presented with a collector's edition of the property board game, Monopoly, to honour his officiate of the ceremony. The Duke then responded, "We're not allowed to play Monopoly at home. It gets too vicious." Perhaps it was because it wasn't Winning Solutions editions of Luxury Monopoly.
Winning Solutions Monopoly Luxury Edition is the ultimate board game heirloom
Founded in 2000 by two former Parker Brothers/Milton Bradley/Hasbro Games employees, Winning Solutions, now called WS Games, had a vision to to immortalise the heritage of the world's most beloved games in the most stylish, luxurious and upscale editions.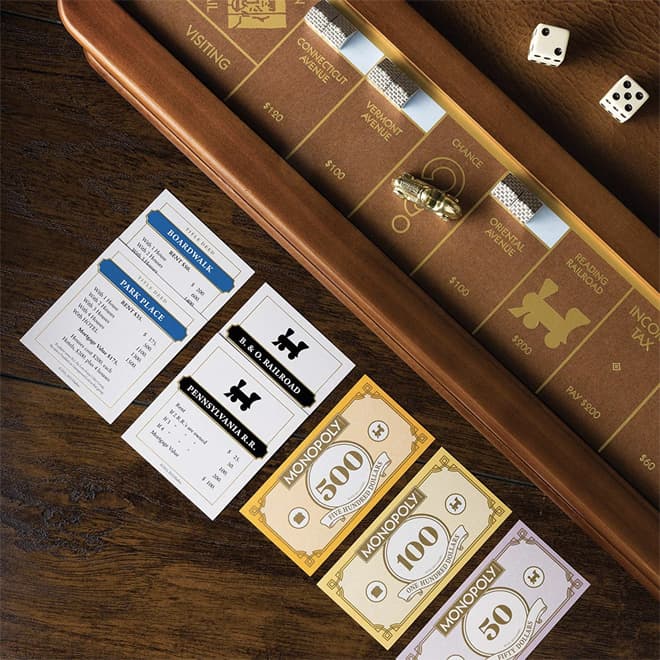 Indeed, the property board game set within a beautiful wood cabinet with burled veneer panels and decorative metal plaques is the kind of ultimate family heirloom version of the board game which will make one the envy of parties this Christmas season.
How far have we come, Monopoly was first marketed on a broad scale by Parker Brothers in 1935. A Standard Edition, with a small black box and separate board, and a larger Deluxe Edition, with a box large enough to hold the board; the Monopoly Luxury Edition comes with sophisticated design elements often associated with 1% types, here, a recessed faux-leather dice rolling area with gold foil stamping sets the Luxury Edition of Monopoly apart from the ubiquitous Parker Brother's versions found in almost every household.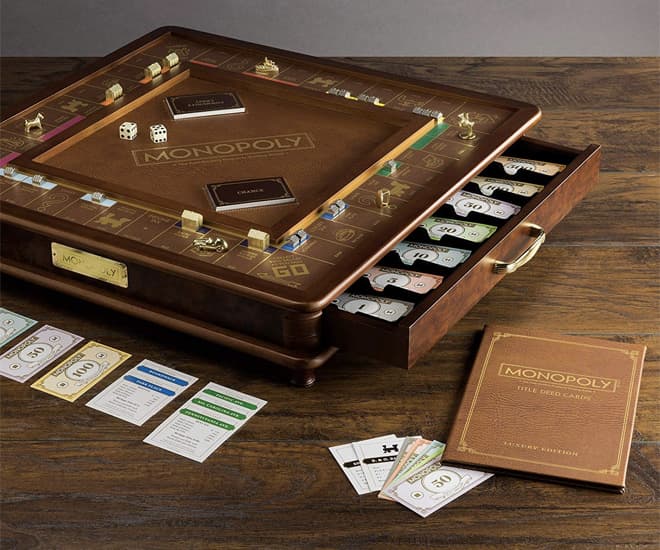 Two drawers with die cast handles and built-in storage are set within the opulent wood cabinet, keeping Premium Chance, Community Chest, Title Deed cards, Monopoly money, along with Plated die cast Monopoly tokens, houses and hotels, you will deploy these luxurious game pieces on the gold foil-stamped game path of the Monopoly Luxury Edition. Astute wannabe-tycoons who have acquired properties around the gorgeous game board will then draw their title deeds from a faux leather wrapped title deed card holder.
---