---
Style / World of Watches (WOW)
Urwerk Releases the CC1 Black Cobra
Urwerk have unleashed the "Black Cobra," the newest model of the CC1 series. Urwerk's "Black Cobra" gets its name from "shedding" of its grey gold case into something a little darker and a whole lot more menacing. Urwerk achieved this artistic transformation by treating the grey gold with Aluminum Titane Nitride (AlTiN). Urwerk shows the […]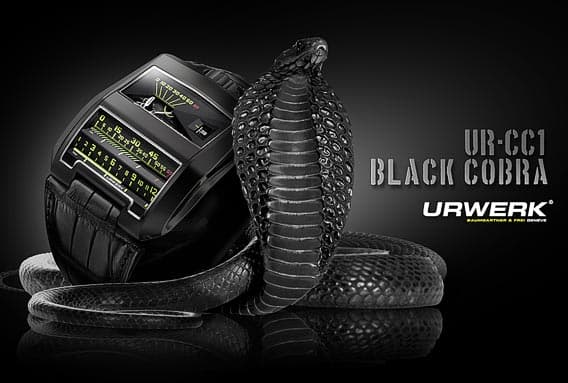 Urwerk have unleashed the "Black Cobra," the newest model of the CC1 series.
Urwerk's "Black Cobra" gets its name from "shedding" of its grey gold case into something a little darker and a whole lot more menacing.
Urwerk achieved this artistic transformation by treating the grey gold with Aluminum Titane Nitride (AlTiN).
Urwerk shows the time on two separate horizontal lines–one for the hour and the other for the minute.

The seconds, located near the top of the face, are displayed both linearly and digitally–a world first.
The hour and minute scales "jump" back to their starting positions when they reach the end of the line.
This dynamic watch features a toothed rack that is visible through a side display panel and transfers energy from the movement to the minute cylinder.
The energy in turn, is released by the retrograde mechanism, recovered, and used to power the rotation of the jumping hour cylinder.
The well over $100,000 Urwerk UR-CC1 Black Cobra watch will be limited to just 25 pieces.
---