---
Style / World of Watches (WOW)
On Newsstands: WOW Summer 2020
Issue 57 of WOW Singapore deals directly with the ongoing impact of global events on the novelties of 2020. Unsurprisingly, there are more questions than answers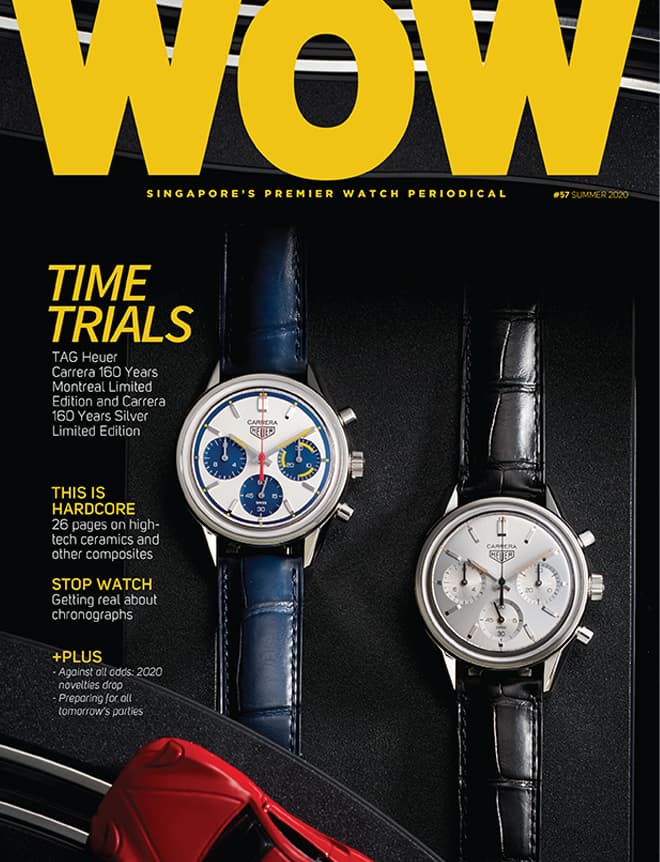 What's the right watch for our unique moment in history? With issue #57 of WOW Singapore, the team makes a few suggestions that the magazine will be exploring for years to come. One easy way to commemorate the year is with one of the cover stars, both limited editions honouring the 160th anniversary of TAG Heuer. The WOW team was privileged to be amongst the first to have a chance to feature both watches – even the press images do not show the vintage-inspired Carrera chronographs together. The resulting cover marks the first time WOW Singapore has showcased more than one watch in at least seven years.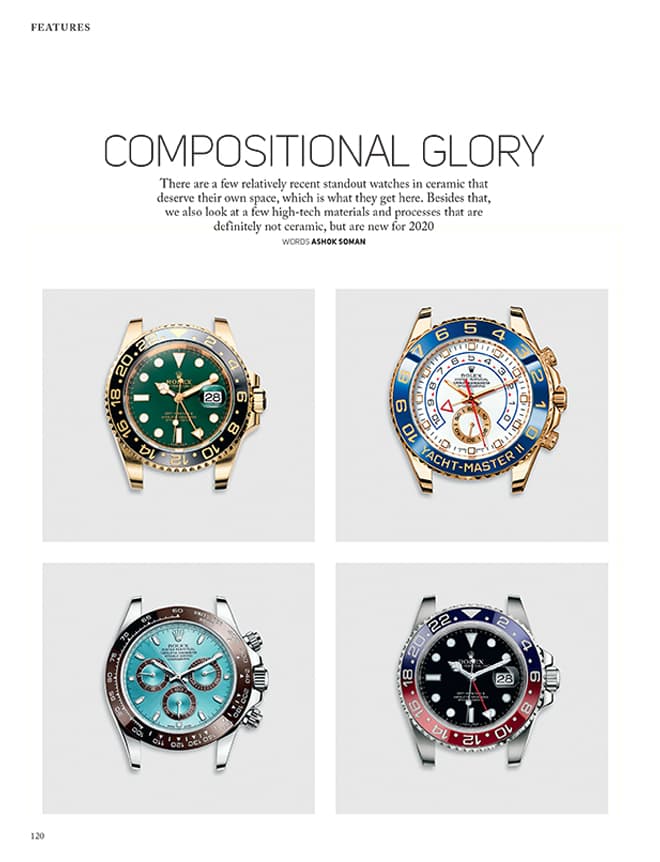 Issue #56 continues the long-established trend of WOW editors looking at material innovations in the world of timepieces. Four years ago, it was gold, and last year it was bronze. The editors confidently proclaim that advanced ceramic is the material of choice for a new generation of watch lovers. This is especially true if they are sure to be washing their hands more fastidiously than previous generations. Anticipating this, the magazine dedicates more than 20 pages to exploring the ins and outs of all types of this timeless material. Future issues will also return to this subject as the editors continue to discover what the new watches of 2020 have in store for the world.
Recently, we all received the news that Patek Philippe and Tudor had new watches – some of these appear in our pages this issue, and online on Luxuo.com. This was a remarkable reversal, given that the major news of the day at one point was that there would be no new watches from these two brands. Rolex is now the only one that has yet to reveal its plans for 2020, although there are rumblings from other markets that this will be changing soon. The WOW team is certain that there will be something more substantial to discuss in the coming Fall issue.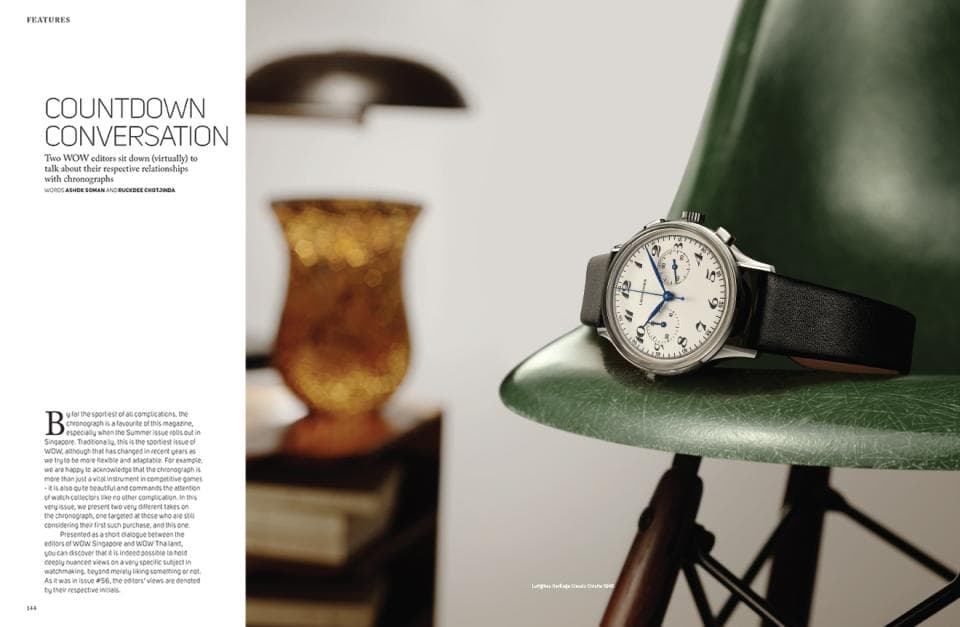 If ceramic forms the heart of issue #56, the chronograph is the connective tissue. From the cover to news reports and feature stories right up to the spreads, the chronograph makes its presence felt. In keeping with the sporty theme of the cover, the issue is littered with discussions on this complication, alongside plenty of fine examples of the same.
Of course, the WOW team spends quite a bit of time examining the situation in the world, as it relates to wristwatches. "It might seem odd to focus on watches while the world is in such a state, but I believe timepieces are symbols of perseverance, among other things," said WOW Editor-in-Chief Ashok Soman. "This is one of the reasons we are pouring so many resources into stories about bracelets and materials such as ceramic. If nothing else, we have taken the time with the Summer issue to do some intense thinking about what we do – something I promised in our Spring issue. Hopefully you'll enjoy what we have come up with so far."
---