---
Style / World of Watches (WOW)
Building Mountains: Ben Küffer, CEO of Norqain
Ben Küffer, CEO of Norqain, tells us about how he and his team started, and the path they have charted to the peak of Swiss watchmaking — while keeping things accessible.
In covering watches, we often circle around the same topics and the same people. Indeed, we have even written those words before — or words to that effect. It is thus a pleasure to discover for ourselves the wonderful world of Norqain watches, and meet the strikingly upbeat CEO Ben Küffer. A youthful 34 years of age, Küffer is nevertheless a veteran of the watch industry, in the sense that he was previously at Breitling, before the CVC buyout, and his father is the founder of private label watchmaking firm Roventa-Henex. The elder Küffer is also the chairman of the Norqain board, and the firm is blessed by the faith of star shareholders such as Mark Streit and Ted Schneider. Streit is an ice hockey player while the name Schneider might ring some bells for watchmaking enthusiasts. Indeed, Ted is the son of the former Breitling owner, and worked with Ben Küffer at the Grenchen-based watchmaker.
If nothing else, this tells us that Küffer knows that one of the most important ingredients in making a standout watchmaking brand is getting the right people on your team — not as hires but as stakeholders. Admittedly, it is a little like the story of Max Busser at MB&F but the parallels are superficial because the watches are worlds apart. The watches are, of course, the other key ingredient in creating a successful watchmaking brand. In this regard, another superficial parallel emerges, and that is with Breitling. EuropaStar cited the Freedom 60 Chrono as Norqain's best selling model in a 2020 report, yet, as chronographs go, it has as much in common with TAG Heuer chronographs as it does with Breitling models. Norqain certainly makes a pitch for the sporty and outdoorsy crowd, but so do plenty of brands.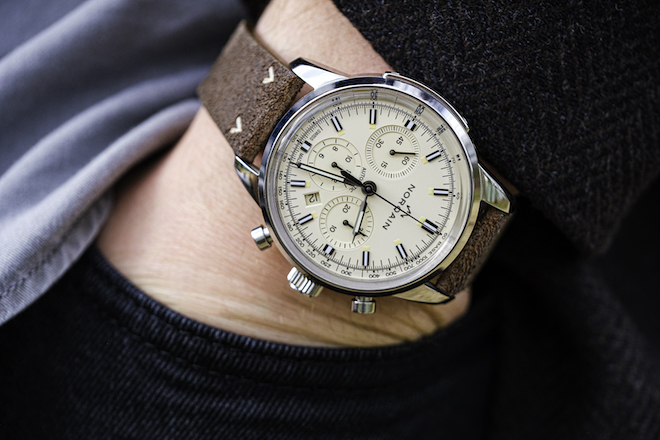 Of course, this begs the question of why exactly it is that Norqain, established just four years ago, already has global reach. Significantly, this is not about the Internet because Norqain has more than 100 points of sale around the world (Gnomon watches in Singapore, one of 18 countries that sell Norqain watches) at press time in March, and e-commerce is just one part of its offering. This growth is remarkable, considering that Küffer told Revolution in November last year that it was in 14 countries with close to 100 points of sale. We suspect this success has something to do with Norqain's clever pricing strategy, leaning into opportunities below CHF5,000, which many Swiss brands have abandoned in the premiumisation wave. Küffer confirmed this in our conversation with him recently, although we have no doubt that it is the calibre of the Norqain team that makes this work. The homonym of that word, calibre, also says something about quality at Norqain.
While new brands emerge all the time, and plenty of kickstarter brands are still trying to show which of them will go the distance, it is quite unheard of for such a brand to secure a deal with an exclusive movement maker. ETA and Selita are one thing, but for Kenissi to agree to supply movements to Norqain is incredible. Established to create movements for Tudor, Kenissi currently makes the NN20/1 (time-only with three hands) and NN20/2 (GMT) calibres for Norqain. This puts Norqain in an exclusive club that includes just Tudor, Breitling and Chanel. How is that for good company…
The x-factor, if you will, here is Küffer's charm and unrelenting passion for independent watchmaking. He represents a new generation in watchmaking who are more open and flexible, willing even to include the community of Norqain watch owners into the fold. A Norqainer, he explains, is both someone who works at the company as well as someone who wears a Norqain, and a brand ambassador. It seems Küffer has picked up a thing or two from industry veterans about the importance of building up a community of enthusiasts, but he is also keen to hit a certain level of production and stay there. Küffer's goal is to make and sell 10,000 watches a year, and stay that way.
In the end, or perhaps just the middle of the beginning, Küffer has also learned what not to do. He wanted Norqain to be on the right side of the climate and sustainability conversation, from the start. The company's efforts to stand against animal cruelty and thus do away with leather straps, and its Neverest programme to provide educational support to the Nepalese children have been applauded, but Küffer concedes that this is only part of the picture. He explained all of this to us in a video call earlier this year.
Congratulations on the opening of the Zermatt boutique! Norqain might be new to our readers so tell us a little about the brand.
We're super happy! You know the first boutique is very special. The (clientele) is very international and this has been very interesting for us, as a young brand… that we are able to sell to customers who know us here in Switzerland, and to international customers who don't know us. In fact, we sold a couple of watches to a Singaporean group.
Really? In Zermatt? Did they already know the brand?
This particular group did not know our brand. I was there when they came in. They really felt our mountaineering spirit, the outdoors spirit…(the sense of) adventure of our brand. We explained that we are an independent Swiss family-owned brand, and in the end (the Singaporean group of customers) left as fans. They contacted us in Singapore when they returned (which the local representatives, sitting in on this call, confirmed).
I guess that is the elevator pitch for the brand! Tell us a little more about how Norqain came to be.
We are the younger generation in watchmaking and we noticed that many independent brands had been sold to big groups. For us, it was important to keep the independent spirit (going) and the big passion for mechanical watchmaking (alive) in a small company. We wanted to show that we still have passion and know-how in the young generation of Swiss watchmaking. That was our goal in 2018, and we never expected to have this much support.
We knew we wanted the brand to be about the things we liked — being outdoors in the Swiss mountains, having adventures. Some people were buying sleeping brands and reviving them but we knew we didn't want to do that. So the 'Nor' part of Norqain sounds Nordic, the 'q' stands for quality, 'a' is adventure and 'i' is independence (we presume the 'n' is simply derived from independence too – Ed). Today we're happy that many people love the brand and the name, especially the logo which is in the form of a double N (denoting) two Swiss mountains.
It is a great logo, and I'm sure we will see more of this motif! You've already told us a bit about your founding team but tell us about the opportunity you recognised for Norqain watches.
It was important to have a strong team from the start. It was Ted (Schneider) who saw the opportunity in accessible independent watchmaking. As you know, there are a number of (strong) independents in Swiss watchmaking but none who offer something for under CHF5,000. We wanted to bring this quality, and this spirit of independence below CHF5,000.
Did you recognise this price segment as a key niche?
Spot on! There are many challenges but you have to be conscious of the opportunities, otherwise you won't do anything. We recognised that many brands that were very strong in this (more modest) price segment had left it. We believed that we had to be in this price range, considering that even though we (would be new in 2018) we would be trying to reach these customers, especially because we were going to be communicating with younger people (who are the people most likely to be interested in the under CHF5,000 category – Ed). It proved to be a great strategy for us and we managed to get people to buy our watches because they realised that the quality was good — even though Norqain is totally new. This is the hardest part — to get the customer to decide that they have enough trust to be part of the Norqain community.
This is also impressive because the sports watch segment is crowded, yet there is overwhelming demand. How is Norqain coping?
What's really amazing is that this situation has been reinforced during the pandemic! In the beginning, everyone (all brands, not only Norqain) was very worried. We see now that things have become much more digital, in terms of reaching the customer, and our valued retail partners have also had a lot of digital learnings. So I think the whole watch industry has grown stronger during the pandemic, and we are now in a period where interest in the sports watch is really exploding! Of course, these things go in a cycle (sports to dress to sports etc) so one has to be ready to adapt. When everybody is going in one direction, it is often when there is something developing in the opposite direction.
I think the popularity of the sports watch has to do with how we dress. Already before the pandemic, people were wearing suit jackets with sneakers. With the pandemic, things became even more casual, and we see sports watches becoming even more attractive — you can wear this type of watch with a t-shirt or a shirt. There are also all sorts of price point options for the sports watch. The success of brands with this type of watch pulls all the other brands with such watches along with them.
Norqain operates in a crowded segment as far as Swiss watchmaking goes. How do you make it stand out?
We have a clear strategy on this point. We are building the Norqain brand like a mountain. We have our base watches, powered by ETA and Selita movements. Next, we introduced in 2020 the Kenissi movements, the next summit for our brand. These are exclusive movements. We also tried with these watches to be a little bit more daring, a little more different. This year we are attacking a new summit, which is new materials. We are going into designs that are quite unique. It is about building different segments — we need to find ways to stand out, and we did that already with the Kenissi movements, which saw us grow by 50 per cent.
We were particularly impressed with the Kenissi news, and the new movements last year. You've called this a partnership so please tell us more about it.
We knew we had to have a movement strategy. In order to be independent in the long term, we had to have a manufacture calibre, meaning a movement that is not accessible to everyone. That we can link with our brand. We went to visit Kenissi and it was an amazing meeting — you must imagine that we were not even in the market then. They told us that they believe in young entrepreneurs like us, and in (independent) Swiss watchmaking, and that they agree to supply movements to us starting from 2020!
I'll probably look back in 30 years and remember the meeting in Geneva. It was really a sign of people who believed in us, and in the younger generation doing their own thing.
Having a movement strategy helps with dealing with the current supply problems. Tell us how you are handling this issue in general.
The supply problem is a big issue in our industry, as you say. I don't think things will get better in the short term… the supply chain is my biggest current concern. For example, right now, I have three watchmakers down with Covid and for a company of our size, being down three watchmakers is a big problem. The whole US shipment will be delayed as a result, and this is just a limited example.
I think exclusivity is great, it's a part of luxury, but it shouldn't become frustrating. I don't think we should refuse people. I think we should be innovative to offer exclusivity, like NFTs and other (digital) things which can all be interesting for customers. But I think we have to try to have things to sell at the boutiques. Like you said, people buy a watch because maybe they saw it in an advertisement (but now they frequently cannot buy whatever is advertised). It's our job to make the standard products — the ones that are not dropped — just as attractive. To explain what goes into making the watches that are displayed, because those are just as (painstaking) to produce as the limited models. I think our challenge, across the industry, is to make the standard production models attractive, not just a few models.
Some industry observers say this is the era of the independent watch brand, small and large. Being independent is clearly important to Norqain. Tell us why, and tell us if you think the Norqain customer also appreciates this aspect of the brand.
Independents are really having a moment! You really see it with Max Busser (MB&F) and Eduoard Meylan (H. Moser & Cie) and others (in getting in front of collectors with their personalities). I've been doing talks with our collectors and the community, and collectors are really getting into it. And then they go to our stores and see the watches for real — you know that you must experience a watch in the metal to really get it — and then they understand the quality. (Overall) people are really interested in independent, family-owned businesses.
You can feel it — the sympathy for independent businesses in a world that feels like it (is full of giants). It is nice to interact with smaller organisations. The community part is a huge part of the brand. We really pushed it in 2019 and today what's great is that we don't have to push it anymore because everyone is really using the Norqainer hashtag on social media now. It's become a great thing for us. We also have some amazing community oriented projects, where we offer special access to some special experiences and that is going to be a big step for us.
For more watch reads, click here.
---