---
Style
The $10K Dunhill Mechanical Alligator Belt
Alfred Dunhill have commissioned Swiss inventor Roland Iten to create a unique belt highlighting Dunhill's commitment to motor-sports. The Alfred Dunhill Mechanical Belt Buckle by Roland Iten is the result of countless hours of research to create a belt buckle which is made with the same skills used in the creation of Swiss watches. The […]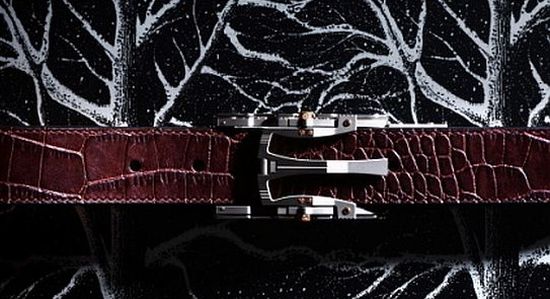 Alfred Dunhill have commissioned Swiss inventor Roland Iten to create a unique belt highlighting Dunhill's commitment to motor-sports.
The Alfred Dunhill Mechanical Belt Buckle by Roland Iten is the result of countless hours of research to create a belt buckle which is made with the same skills used in the creation of Swiss watches.
The Mechanical Belt is designed for ultra-precise adjustments of exactly 35mm – the "two thumb" measurement a tailor will traditionally build into a custom made suit for added comfort.

Believe it or not the five-axel buckle contains a patented system of over 108 movable, mechanical parts that include roller bearings, plates and levers.
And you can operate them only with one hand!
Hand finished by skilled artisans, the belt has stainless steel and 18 carat rose gold as the main components ornamented with two diamonds.
The belt will be available only at select stores in London, New York, Shanghai and Tokyo, with only a handful of pieces to be sold at each one.
Only 25 pieces will be offered for sale worldwide, with each costing $10,600.
Source : Luxist
---