---
Style / Fashion
3 Fashion Designers to Follow in 2016
Take a look at the designers and creative directors who will shape the fashion world next year.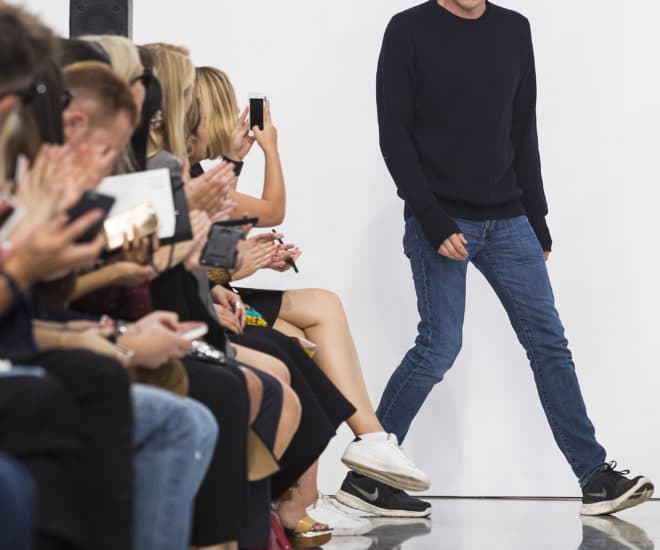 While 2015 is still on its last legs, the fashion industry has already turned its attention to 2016 and the next season's runway shows which, in Paris, will start with menswear on January 20. This gives us an opportunity to start from scratch, and take a look at the designers and creative directors who will shape the fashion world next year.
Jonathan William Anderson
Jonathan Anderson or J.W. Anderson, who won the menswear and womenswear designer prizes at the most recent British Fashion Awards, has unquestionably been the designer of the last few seasons. At the head of his own brand J.W. Anderson (menswear and womenswear), but also as the creative director for Loewe, this Northern Ireland-born designer has already worked with the biggest luxury houses and ready-to-wear brands, including collaborations with Versus Versace and Topshop.
Nothing has been confirmed, but Jonathan Anderson could turn a new page in 2016, as his name was among the first mentioned as a replacement for Raf Simons at Christian Dior, along with Riccardo Tisci and Phoebe Philo. And even if that doesn't happen, there is no doubt that the British designer will continue his dazzling ascent next year.
Sébastien Meyer and Arnaud Vaillant
There is likely to be a lot of talk about this designer duo in 2016. As artistic directors for the Courrèges women's ready-to-wear collections, Sébastien Meyer and Arnaud Vaillant delivered a successful first offering in September, at the Spring-Summer 2016 collections, but expectations about them will remain high at the next Fashion Week. This will give them an opportunity to show the direction in which they intend to take the brand (which was created in 1961), after an initial flirtation between tradition and modernity. It will be a real challenge for the duo, who have decided to devote themselves fully to Courrèges, leaving their own Coperni brand on stand-by.
Alber Elbaz
This Israeli-American designer already had a major impact in 2015 and could do so again in 2016. Having spent 14 years at Lanvin, Alber Elbaz stepped down as the brand's creative director at the end of October 2015, causing an earthquake in the fashion world as well as at Lanvin itself. It remains to be seen what the future holds for this famous designer who has received many awards for his work. For now, the latest news has it that a French court has ruled somewhat in favor of Elbaz' supporters in the ever escalating row.
Rumors quickly surfaced of a move to Christian Dior, but this has not been confirmed by Elbaz or the French fashion house, and other names such as the designer Jonathan Anderson have been cited as a possible replacement for Raf Simons. In any case, Alber Elbaz is not likely to be inactive for long. The bets are on.
---