---
Properties / Interiors & Decor
Kirei Studio Transforms Aspen Log House to Villa
The interior design firm lends its midas touch to the massive estate, transforming it into a contemporary chalet.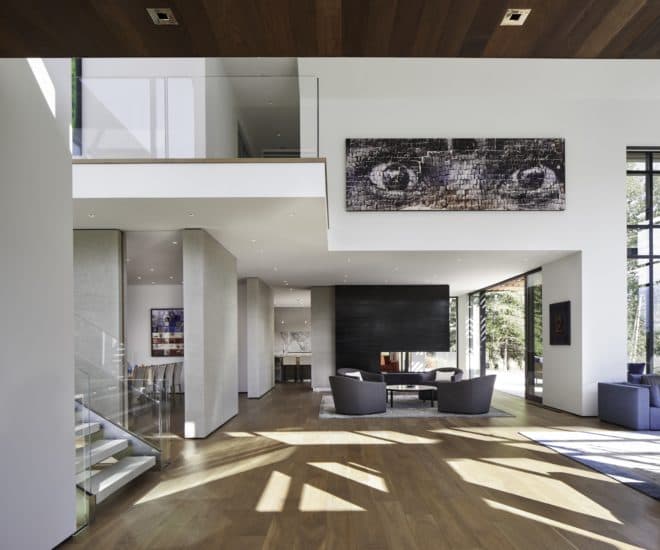 "To create a concept for a residence is to understand your client: their life, their values and what they want when they're at home and when they entertain," says Nathalie Ryan, founder of Kirei Studio, who spearheaded the interior design of a residential project in Aspen, Colorado. "Each client is different depending on their culture and lifestyle."
Aspen is an exclusive mountain resort in the mountains of Colorado, home to a high-end clientele, expensive private clubs, restaurants and hotels. Residential properties in the area are mostly on a large scale, very luxurious and well designed.
"This house was originally a classic 15,000-square-foot log house that we transformed into a contemporary chalet à la 'Mies Van der Rohe'—with transparent views from the interior to exterior. Now, it is a villa where contemporary art finds its place with studied perspectives between each room and material contrasts between wood, leather, cashmere, silk and a subtle lighting scenario."
Even from the outside, it is evident that the house was given a luxurious treatment. The walls are made of natural Spanish limestone, azul bateig, mounted on stone panels. The vintage steel roof is from Steelscape, and the lumber is exotic ipe wood. Next to the entrance is Marianna, a sculpture by Jaume Plensa.
Bateig stone is also used in the entrance hall, where it is paired with the blackwood stone on the fireplace. To achieve a balance, a lighter hued walnut in natural oil finish is used on the floor.
Luxurious details such as closets inspired by the codes of Hermès using leather stitching and Sycamore wood details, cashmere walls in the bedrooms, a Calacatta marble island in the kitchen, and back walls with intricate details of stainless steel and leather have been incorporated throughout. A state of the art staircase with floating walls connects the lower and upper floors of the house.
---