---
Properties / Hotels
Hotel suite for Jaguar lovers to open in London
It's a suite that may appeal to only the most die-hard of fans — but one London hotel reckons it can cash in on love for Jaguar cars with a dedicated 'Jaguar suite'. The Jaguar Suite at Taj Hotels 51 Buckingham Gate is a canny arrangement between the two companies, both of whom are owned […]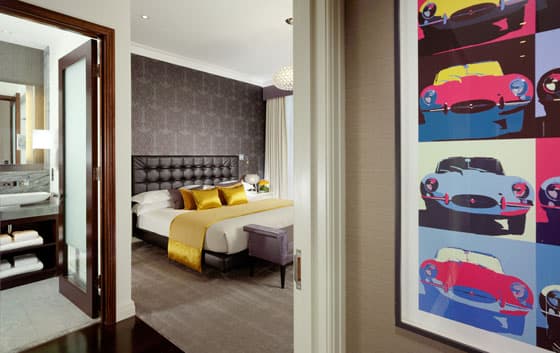 It's a suite that may appeal to only the most die-hard of fans — but one London hotel reckons it can cash in on love for Jaguar cars with a dedicated 'Jaguar suite'.
The Jaguar Suite at Taj Hotels 51 Buckingham Gate is a canny arrangement between the two companies, both of whom are owned by Indian giant Tata.
Measuring 170 square meters, the suite contains two bedrooms with en-suite bathrooms, a kitchen and living and dining areas, but for fans, the abundance of Jaguar paraphernalia is sure to be the highlight.

Overseen by Jaguar's design director Ian Callum, the entire space has been decked out as a 'Jaguar experience', using materials taken from the cars and custom-made Jaguar wallpaper.
Walls are adorned with pictures, models and items of Jaguar history, while a line of the brand's iconic badges are also on display, amid the wood-panelling and Jaguar damask.
However, 51 Buckingham Gate isn't the only place in London that fans of luxury cars can relax in style.
The Bentley Room at Mosimann's also received a spruce-up last week, giving sponsored dining space (one of seven sponsored rooms at the prestigious Belgravia club) an ' inimitably British blend of style and tradition'.
The walls have been decorated with photographs of racing moments and Bentley's, while new wall units use Mulsanne handles for drawer handles and mirrors and doorframes have been finished in Bentley's hide and stitching.
Residents of The Jaguar Suite will enjoy the services of a chauffeur-driven Jaguar for airport transfers and transportation within London, 24-hour private butler service and daily breakfast.
Source: AFPrelaxnews
---