---
Motoring / Yachts
Superyacht Chef: Thess Hookway Lives Culinary Dream in Europe
Manila-born Thess Hookway was in her mid-30s when she began a culinary journey that led to her new life as a superyacht chef in Europe.
From being a housewife with two beautiful children, I decided a few years ago to go 'back to school' and study to be a chef. Today, I'm proud to call myself a superyacht chef and am spending much of my time in the south of France, starting to learn French.
I was born and raised in Manila to parents of Spanish and Chinese descent. As a young kid,
I was always a dreamer. My mum remains one of my inspirations, as she was the one always telling me to dream big – after all, it's free!
I was married at 21, then supported my husband's career and didn't work myself. We are blessed with two beautiful girls – both now teenagers – and I was a hands-on mum. Like me, they enjoy sports. We moved to Thailand about 13 years ago because of my husband's work and I still do Muay Thai and go to the gym.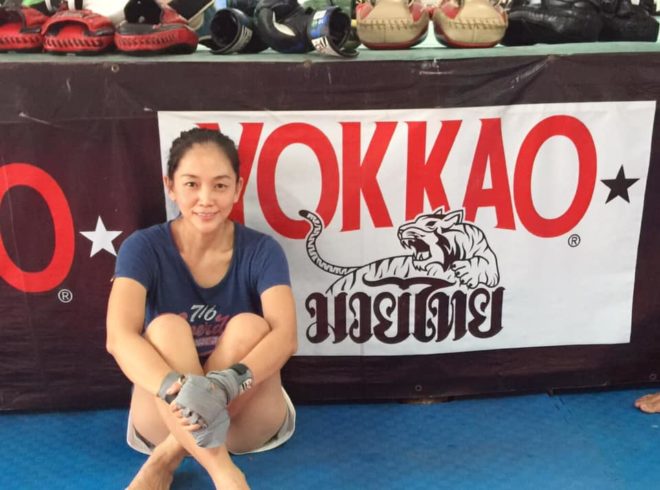 I was 34 when I decided to go to Luzern in Switzerland for culinary school. Everybody around me said I was too old to study again and be a chef. None of these comments stopped me believing in my new journey, although it wasn't easy.
I went there in the winter, in January 2014, and completed my Diploma in International Culinary Arts at IMI by the summer. I was happy to return to Thailand to see my family. From a comfortable life, I had changed my passion to my profession and my children were proud of me.
In 2015, I completed my internship at five-star hotels in Hong Kong and Thailand. It was a new environment for me. A chef works long hours and it's a very tiring job, but I believed my new path and never thought of giving up. I kept telling myself, 'if not now, it will never happen'. Time is gold and we have to use it wisely.
I wanted to become a pastry chef and specialise in patisserie. I had thought of going to London to study designing cakes, but instead I found online classes and by the end of the year, I finished almost 50 classes, a combination of pastry, bakery and general cuisine.
I learned a lot of my bakery skills during my time at JW Marriott Bangkok, as my Executive Pastry Chef also sent me to local seminars, trainings and demos. I had a good connection with our suppliers and later worked with a few of them. I was very pleased with my progress, practised a lot in my own kitchen and tested recipes by myself. I kept learning and challenging myself.
I've always loved backpacking. I've travelled a lot across Asia and Europe, as well as Australia. I update my culinary skills each time as I always visit local markets and try the famous dishes of every city I visit.
We moved to the UK in 2018, and in May 2019 I decided to try to work on yachts. I even went to Palma de Mallorca to complete an STCW safety training course to be able to work on boats.
I wasn't sure I could make it as a superyacht chef. After all, I'm Asian and was in France, where there are so many great chefs. I just tried my luck and applied for any vacancies I could see online.
It took me less than a week to find work on my first boat. It was a 19m catamaran owned by a Brit, with a French Captain and South African stewardess. I joined the boat in Perpignan.
Within a week of leaving that boat, I applied for a job as a superyacht chef on a 25m Princess motor yacht. The owner and the Captain were both from Israel and I had to do a 'demo' because of the diet restrictions. The owners were Jewish, so no pork, the Captain was 100 per cent vegan and one of the children was a vegan, so it was mostly vegetarian dishes. The owner was very happy with my food and I got the job.
I was actually both Stewardess and Chef, and performing both roles was a bit of a challenge. However, I was pleased with my cooking as they would often come into the galley and tell me how good the food was, which made me happy after all the effort I was putting in. He asked me to cook salt-crusted sea bass at least twice a week.
My Captain jokingly told me not to cook too much good food because the owners didn't want to eat out any more! It was great to hear that. It was a short-term contract, nearly two months.
I later moved to a 55m sailing yacht and was Executive Chef for one month while the owner from Saudi Arabia was on board. It was a big family of eight. I only cooked for the guests as we had a separate crew cook on board. My meal plan was mainly Halal, with a lot of tagine and Arabic stew.
I also had a few days working as a superyacht chef on a 40m motoryacht for a German family, with mainly French crew. Today, I mix my work as a superyacht chef with private chef jobs. It's still just the start of my new career, but I hope it shows it's never too late to follow your dream.
Thess Hookway cooks many cuisines including Mediterranean, Italian, French, Arabic, Asian and Asian fusion. She specialises in baking and pastry, and can prepare meal plans for gluten-free, vegan, vegetarian and healthy diets.

www.instagram.com/cuisineandmoi

The original article appears in Yacht Style Issue 51. Email subscribe@lux-inc.com for print subscription enquiries or subscribe to the Magzter version at: www.magzter.com/SG/Lux-Inc-Media/Yacht-Style/Fashion/
---