---
Motoring / Yachts
Riva, an icon of Italian luxury design
A crane gingerly lifts a 13-metre Riva into Lake Iseo after the last coat of varnish has dried on its mahogany finish. The speedboat, an icon of "Made in Italy" luxury design, is going for a final spin before a potential buyer checks it out. "Tradition and innovation, that's what drives us," said Paola Procopio […]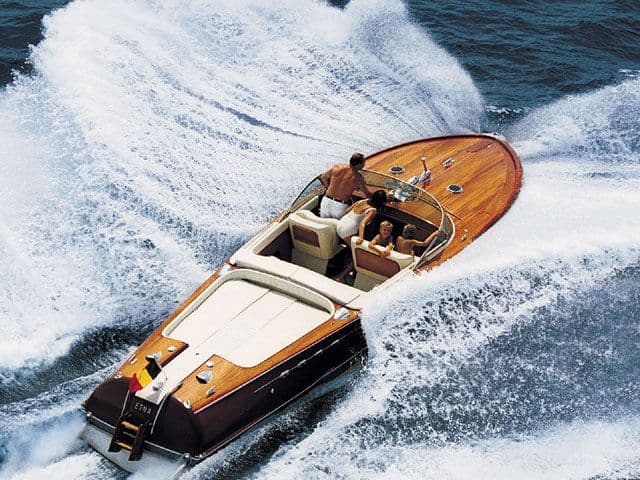 A crane gingerly lifts a 13-metre Riva into Lake Iseo after the last coat of varnish has dried on its mahogany finish.
The speedboat, an icon of "Made in Italy" luxury design, is going for a final spin before a potential buyer checks it out.
"Tradition and innovation, that's what drives us," said Paola Procopio at the shipyard.
Like many symbols of La Dolce Vita, Riva started as a family venture in 1842.

Pietro Riva first came to Lake Iseo from his hometown in nearby Como to help repair boats that were damaged in a storm, then decided to stay and go into the shipbuilding business.
But it was under the stewardship of his great grandson Carlo in the 1950s and 1960s that the brand became a "luxury icon" with speedboats in varnished mahogany and that still crisscross the canals of Venice today, Procopio said.
His idea, innovative at the time, was to transfer automotive technology to boats.
"All the celebrities of the time wanted a Riva, from Brigitte Bardot with her Florida, to King Hussein of Jordan and his Aquarama to Elizabeth Taylor and Richard Burton with their Tritone," she added.
Riva would not tolerate the slightest defect. "Carlo Riva came to check the quality of the boats, and if there was something that was not to his liking, he took an axe and destroyed the boat," Procopio said.
Yacht builder Ferretti bought the company in 2000, bringing it home to Italy after it was owned by a series of foreign firms since the Riva family sold it in 1969.
Modernity has since found its place and the boats are technological jewels, with hulls made of resin and fibreglass, the last entirely wooden boat having been built in 1996.
Ferretti has also increased the range, which now runs from 10 metres (33 feet) to 35 metres, priced between 500,000 euros and 12 million euros (14.8 million dollars).
But in a nod to tradition, "little" Rivas — Aquariva, the 10-metre descendant of the mythical Aquarama, and the 13-metre Rivarama — are still finished with mahogany, with no fewer than 20 coats of varnish, meticulously applied by hand.
Fabrizio Sonzogni, a former restorer of religious furniture, is quite proud of this labour. "I have always loved working with wood, and I have always been fascinated by the Riva name," he told AFP. "It's work that fills me with emotion."
The Riva remains a limited series of from 60 to 80 boats a year — the smallest involving 1,000 hours of work — and clients can ask for customised details to satisfy their every whim.
One Scandinavian customer required that his Riva be painted the precise metallic blue of his Bentley.
As with any purveyor of luxury, Riva has not been spared by the global economic downturn and has had to impose temporary layoffs on its 200 employees, Procopio said, while declining to provide specific figures.
But "the fact that Riva is an icon has been an advantage. When people want a Riva, they want this boat alone," she said.
Business has picked up, with orders coming in twice as fast as last year, she said. "There will be more not-so-easy years, but we will emerge with our heads held high and the future will be rosy."
Riva, whose main customer base has been the jet sets of Italy, France and Monaco, representing about 40 percent of sales, has begun targetting emerging markets in the Middle East — notably the Emirates — and Latin America.
Source: AFP
---