---
Motoring / Cars and Bikes
Smart ForVision Electric Concept Car
Smart has unveiled a new lightweight concept electric vehicle, set to debut at the Frankfurt Motor Show later this month. The Smart Forvision, developed in conjunction with BASF, is designed to showcase the materials that could be used to make electric cars more efficient in the future. One of the most striking features is a […]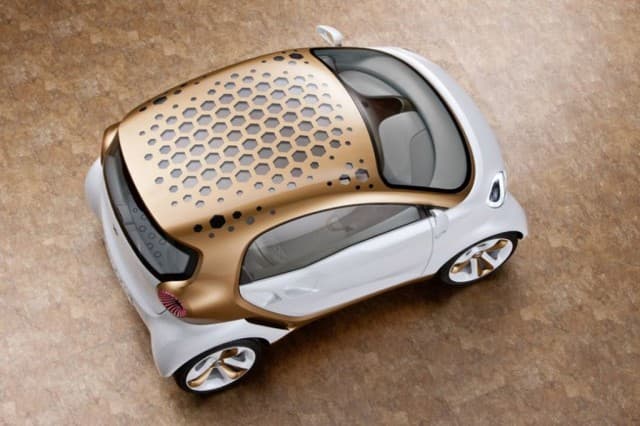 Smart has unveiled a new lightweight concept electric vehicle, set to debut at the Frankfurt Motor Show later this month.
The Smart Forvision, developed in conjunction with BASF, is designed to showcase the materials that could be used to make electric cars more efficient in the future.
One of the most striking features is a roof formed of transparent solar cells, which allows the car to generate enough energy from daylight to power the multimedia components and climate control fans inside the vehicle.

Uniquely, the roof also uses transparent light-emitting diodes underneath the cells, which means it appears as a glass roof during the day but glows gently to illuminate the interior at night.
Instead of traditional vehicle heating, Smart has opted to cover the seats in 'e-textiles' — fabrics that heat up — to ensure that they directly heat the passenger in the most efficient contact points such as the middle and lower back area.
In the summer sun however, the car should stay cool, as it's coated in an infra-red paint and window film developed by BASF to keep the heat from reaching the interior.
Many of the innovations are based on nanotechnology, which Smart describes as key to the development of the sustainable solutions of the future.
"Cars of the future need materials and technologies which reduce energy consumption whilst also increasing the range and level of comfort."
"Our innovations make a decisive contribution to this. Together we are presenting a pioneering vehicle which is without parallel," said BASF's Dr. Christian Fischer.
Visitors will be able to make that decision for themselves at the Frankfurt Motor Show, which runs September 15-25 in Frankfurt, Germany.
---