---
Lifestyle / Gastronomy
Domino's plans pizza on the Moon
The pizza restaurant chain Domino's has claimed that it intends to sell its pizzas by opening a store on the moon. Domino's Japan President, Scott K. Oelkers states this outer-space program needs an estimate of 1.6 trillion yen ($21 billion). Around Y560bn will be need to carry 70 tonnes of construction materials and pizza-making equipment […]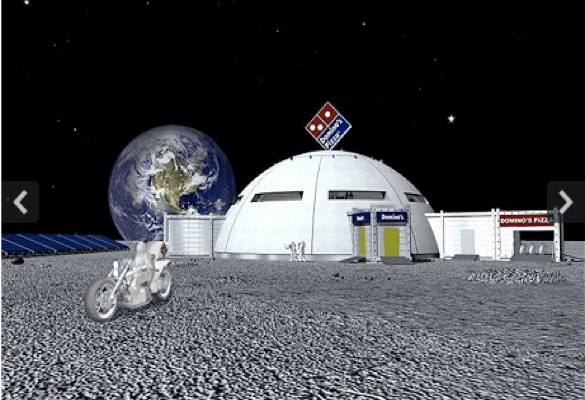 The pizza restaurant chain Domino's has claimed that it intends to sell its pizzas by opening a store on the moon.
Domino's Japan President, Scott K. Oelkers states this outer-space program needs an estimate of 1.6 trillion yen ($21 billion).
Around Y560bn will be need to carry 70 tonnes of construction materials and pizza-making equipment to the moon aboard 15 rockets.

Keen to make the most of local resources, Domino's said it will keep costs down by using mineral deposits on the moon to make the concrete.
"In the future, we anticipate there will be many people living on the moon, astronauts who are working there and, in the future, citizens of the moon," said a Domino's representative.
"We started thinking about this project last year, although we have not yet determined when the restaurant might open."
Rival chain Pizza Hut set the bar high in 2001 by delivering a pizza to astronauts orbiting the Earth in the International Space Station.
The Daily Telegraph said that Domino's fought back last year in a series of events to mark the 25th anniversary of its arrival in Japan.
In December, the company paid one person Y2.5 million (£20,046) to work for one hour delivering pizzas.
---