---
Lifestyle / Gadgets
The Puma Phone
Sport lifestyle clothing label Puma is turning high-tech consumerism into a world of connected, eco-friendly and heavily branded communication experiences with its first entry into the world of mobile communications — the Puma phone. Smartphones have become a ubiquitous fashion accessory for technology-conscious consumers. Fashion houses like Dior, Dolce & Gabbana, Tag Heuer and Armani […]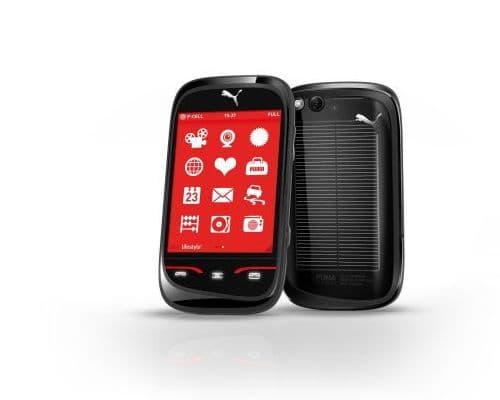 Sport lifestyle clothing label Puma is turning high-tech consumerism into a world of connected, eco-friendly and heavily branded communication experiences with its first entry into the world of mobile communications — the Puma phone.

Smartphones have become a ubiquitous fashion accessory for technology-conscious consumers.
Fashion houses like Dior, Dolce & Gabbana, Tag Heuer and Armani have collaborated with mobile handset makers to launch fashion-conscious phones that come complete with branded splash-screens, icons and exteriors.
Versace is also due to launch a new haute couture phone in spring 2010.
Puma have taken the branded mobile experience one step further, creating a mobile "Puma community" that is integrated into the everyday mobile experience.
"We want to engage with our community in a way that is consistent with everything Puma stands for. Blending together the influences of sport, lifestyle and fashion, the phone reflects the joy, spontaneity and individuality that the brand is known for," said Jochen Zeitz, CEO of – well – Puma.
The phone's (Puma-themed) carousel-based menu directs users to the Puma World and Puma-aggregated rich media content.
There are also direct links to the puma.com site, dedicated PUMA mobile applications, and, of course, Puma mobile commerce services where consumers can shop online for Puma products.
The stylish smartphone does pack in some innovative features, the most notable of which is an integrated solar cell for on-the-go charging.
There is also a pedometer, GPS tracker, compass and stopwatch for sports-conscious individuals and of course a 3.2 megapixel still and video camera with LED flash and x6 zoom, Bluetooth photo sharing, FM radio, 2.8″ touschscreen and open internet browsing with WAP Push for the technology minded.
The device will be available in April 2010. Pricing has not been announced.
---