---
Lifestyle / Gadgets
Amosu Diamond Blackberry
You wouldn't expect less from designer Alexander Amosu, than this stunning World's Most Expensive Diamond-Encrusted Blackberry. It took 350 hours of painstaking craftsmanship in solid 18 carat yellow gold, encrusted with 4,459 brilliant cut diamonds (weighing 28.43 carats). Each phone can be personalized with your name or company logo while featuring a 24-hour global concierge […]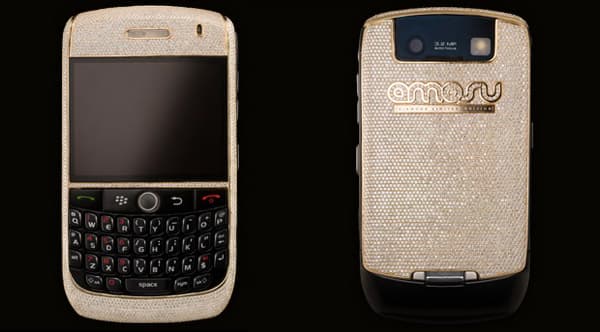 You wouldn't expect less from designer Alexander Amosu, than this stunning World's Most Expensive Diamond-Encrusted Blackberry.
It took 350 hours of painstaking craftsmanship in solid 18 carat yellow gold, encrusted with 4,459 brilliant cut diamonds (weighing 28.43 carats).
Each phone can be personalized with your name or company logo while featuring a 24-hour global concierge service focused on "accessing the inaccessible".


The handset cost £125,000 ($240,000) and one has already been sold to a client in the Middle East.
Only 3 diamond encrusted blackberry, one of the world's most prestigious luxury mobile phone at the moment, will ever be made, so, if you need one, hurry up!
---