---
Culture / Art Republik
Top 50 Chinese Artists By Auction Sales
Today sees the launch of the Hurun 2009 Art List, ranking China's top fifty living artists by the total volume of sales of their work at public auction in the year 2008. The list was produced for the second year ever by the chinese magazine "The Hurun Report", in partnership with Artron. The Hurun Art […]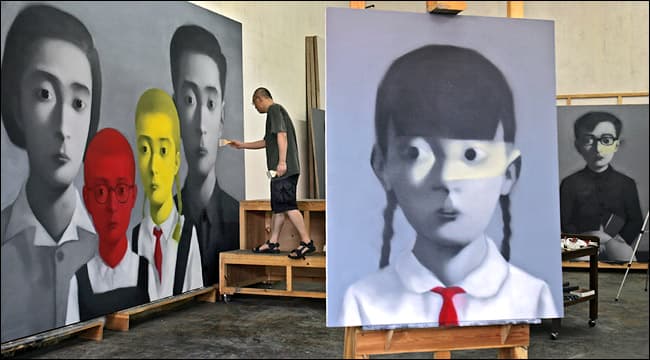 Today sees the launch of the Hurun 2009 Art List, ranking China's top fifty living artists by the total volume of sales of their work at public auction in the year 2008.
The list was produced for the second year ever by the chinese magazine "The Hurun Report", in partnership with Artron.
The Hurun Art List demonstrates that in 2008, collection of Chinese art remained stable and the interest of Chinese collectors in art assets grew.


"Despite a correction in the market for Chinese contemporary art, the overall market remained robust and even grew slightly," said Rupert Hoogewerf, publisher of The Hurun Report, the leading luxury business magazine in China,
Last year's list demonstrated that Chinese collectors had begun to take an interest in contemporary art, which was until then mostly of interest to foreigners.
This year's list shows that overall the demand for contemporary art softened in a year when, with the dramatic exception of Damian Hirst's solo auction at Sotheby's in September 2008, international sales were down across the board.
China's top artist now is 51-year old Zhang Xiaogang, whose paintings raised a total of US$44.1 million (up 4.5%), followed by 47-year old Yue Minjun at US$30.5 million (down 6.5%) and 45-year old Zeng Fanzhi at US$30.1 million (down 13.5%).
These three painters have achieved international critical recognition for their adoption of western artistic styles to depict the social and spiritual worries of post Cultural Revolution China.
While Zhang Xiaogang's famous "Bloodline" series uses old photographs of Chinese families traumatized by political turmoil, the slightly younger Yue Minjun and Zeng Fanzhi take a more ironic view of Chinese society as it has developed in the 30 years of Open Door policy.
---