---
Cars / Yachts
Yacht Style Issue 52: Asia's Top Builders, Reviews & More
Yacht Style Issue 52 profiles Asia's top builders and features Amels, Galeon, Burgess, Lady Azul, Lurssen, Fairline, Sunseeker and Bali.
Yacht Style has released Issue 52, our second bimonthly magazine of 2020 for March/April. Considering the effects of the coronavirus, this is a good time to get out of the city and enjoy yachting, and why we chose a cover photo of a Fairline F//Line 33 that captures the peace and serenity the sea can offer.
The issue is headlined by Yacht Style's annual special on Asia's Yacht Builders, highlighting some of the continent's leading yards and their latest designs and builds.
We also cover Burgess' impressive achievements in Asia in the past five years and remarkable success in the region of Amels and parent company Damen.
Enjoy an interview with Greg Tuszynski of Galeon, which has been among 
the world's fastest-growing and most innovative yacht builders of the last few years.
For those keen on style and innovations, check out reviews of Lurssen's 95m Madsummer, Fairline's flagship Squadron 68, Sunseeker's Predator 60 Evo and Bali's 4.3 MY powercat.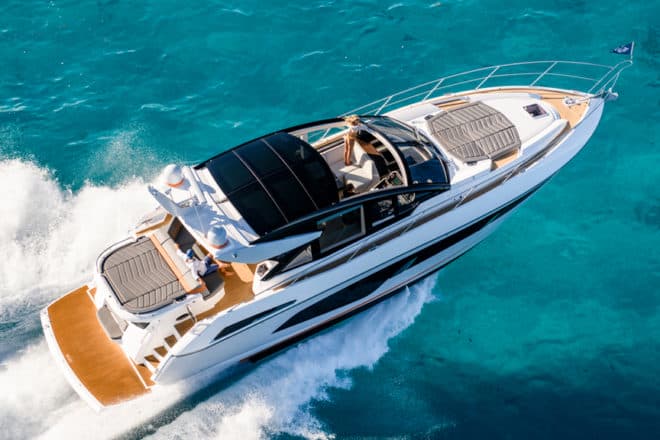 If you do need any inspiration for getting away from it all, we have an article on the new-look Lady Azul that's chartering across Asia, as well as the cruising possibilities all around Australia.
The coronavirus has affected different areas in different ways, but in much of Asia, most large-scale events have been pushed back or cancelled, including the boat shows in Japan, Dubai, Taiwan, Korea, Singapore and Hong Kong originally scheduled for March and April. Korea has rescheduled for June, Singapore for October and Dubai for November, but check updates on these and other events to know what's coming up in your area.
This year started brightly enough in Asia with the Thailand Yacht Show in Phuket, before successful editions of the first major boat shows of 2020, at Boot Dusseldorf in late January and the Miami Yacht Show in February. The majority of new models highlighted in this issue's YACHTS section were shown or publicised at these two shows.
The next big events on the calendar include Palm Beach in late March and the International Multihull Boat Show in southern France in April, but again, it's worth checking event status and travel arrangements before making plans.
You can enjoy reading Yacht Style in print (subscribe@lux-inc.com) or on Magzter: www.magzter.com/SG/Lux-Inc-Media/Yacht-Style/Fashion/
Please also follow our updates on: Luxuo.com / Instagram (yacht.style) / LinkedIn.
Stay positive and stay safe.
---