---
Cars
Silent 80 Tri-Deck in Demand
Austrian-owned Silent-Yachts has sold three units of its flagship Silent 80 Tri-Deck, while the first Silent 60 is close to launching in Thailand.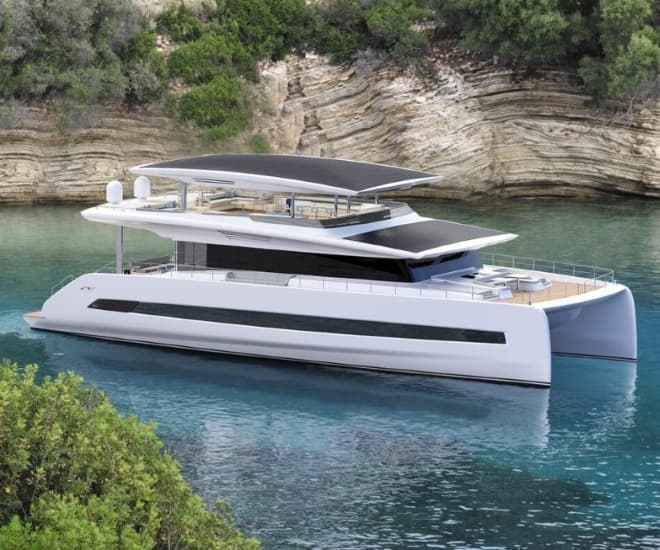 Silent-Yachts has confirmed the sale of the first three units of Silent 80 Tri-Deck, its most spacious solar-electric catamaran to date. The 79ft 9in (24.3m) model is an advanced version of the Silent 80 and the first three sales include a mix of both Open and Closed versions.
The first unit is a Closed version with the top deck used for the master suite, although the interior area of future units can be used as a sky lounge or other layouts. The Open version has 90sqm of covered living area. The top deck features solar panels forward and on the hardtop.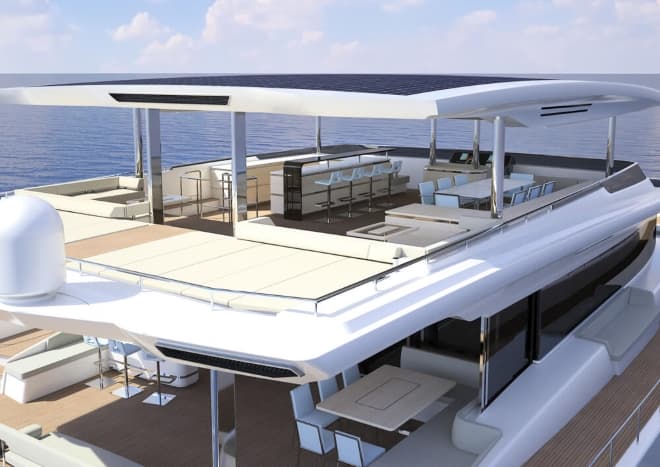 Designed and engineered by Marco Casali and MICAD, the Silent 80 Tri-Deck has a base price of €5.51 million (about US$6,700,000).
Michael Köhler, founder and CEO of Silent-Yachts, said: "We are happy that the interest in fully sustainable yachting keeps growing. Our latest orders are another confirmation of this trend for a much greener future."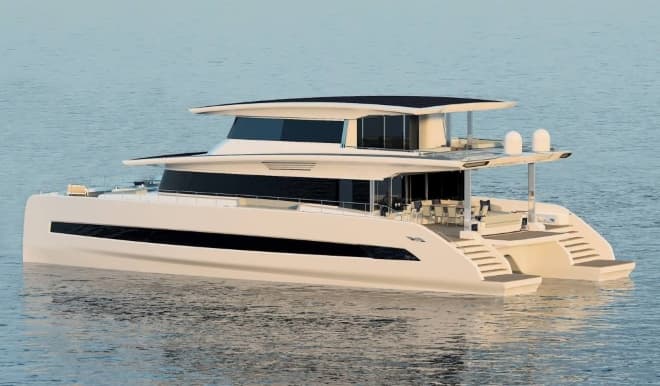 The main deck benefits from a 35ft 10in (10.95m) beam and has a 60sqm saloon with a galley, lounge and dining area. The main deck's exterior space covers 120sqm and includes an aft cockpit with a lounge area and a bar, while the solid foredeck has a sofa, sunpads, tables and open space.
The lower deck is fitted with four to six guest cabins with double or twin berths and ensuite bathrooms, as well as one or two crew cabins. Semi-custom layouts are available. Following Silent-Yachts' focus on being green and eco-friendly, the yacht is principally decorated with lightweight, recyclable and environmentally-friendly materials.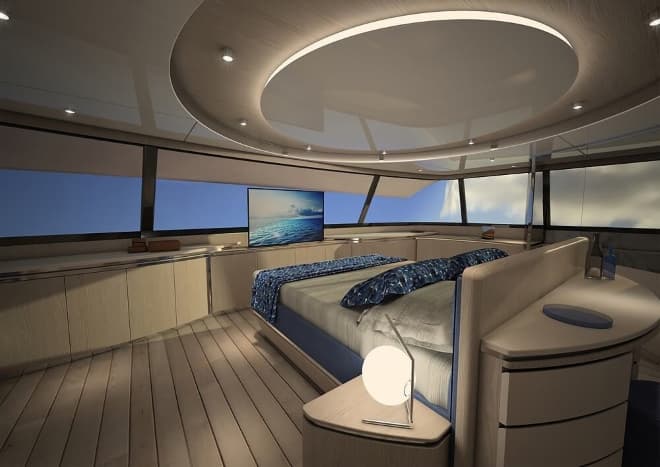 The solar-powered yacht has a large garage, taking advantage of the absence of a typical engine room. On port side, there is enough space for a 5.2m tender with an integrated lift and launching system or an amphibious vehicle. A gyrocopter on floats could potentially be placed on the hydraulic bathing platform.
The yacht is built using vacuum-bagged resin infusion to create a lightweight carbon-sandwich composite construction that has sound-and temperature-insulating qualities.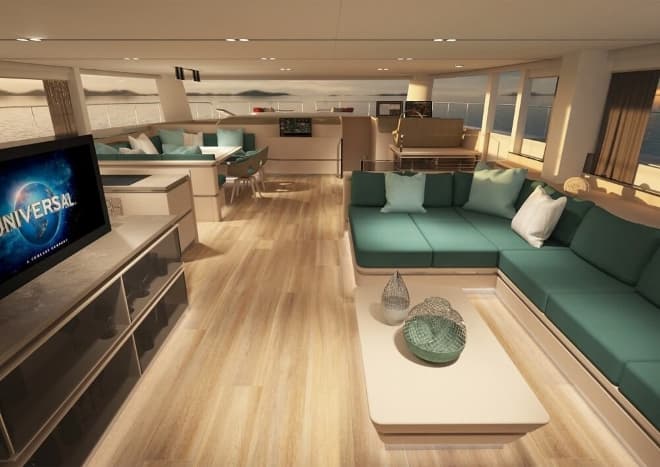 Like all models by Silent-Yachts, the Silent 80 Tri-Deck is self-sufficient, virtually maintenance-free and uses silent electric propulsion for unlimited range without noise or fumes and minimal vibration.
The options for electric engines range from 150kW each in the standard version up to 340kW each combined with high-efficiency carbon propellers. The model will be able to reach up to 20 knots with the most powerful e-motors combination and make up to 100nm a day at cruising speed without consuming any fuel.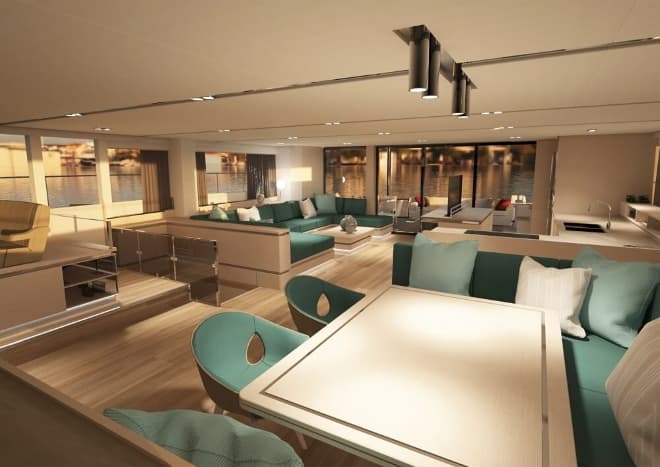 As with every Silent yacht, the 80 Tri-Deck is equipped with SunPower solar panels that produce up to 26kWp. The yacht uses maximum power point tracking (MPPT) solar charge regulators and high-end lithium batteries from Panasonic, which provide capacity for all-night cruising, while the inverter available with up to 50kW provides power for all household appliances.
The energy production and propulsion systems require hardly any maintenance and produce no fumes or noise. Because of that, the operational costs of the vessels are substantially lower, compared to power yachts using traditional propulsion systems.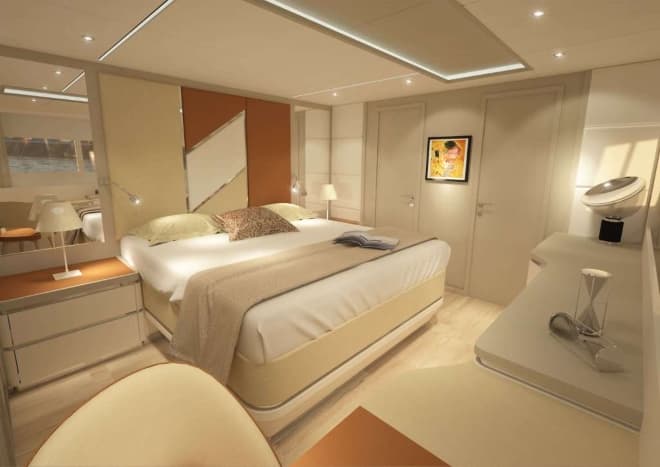 The Silent 80 Tri-Deck has a generator, which can be used to recharge the batteries in the rare case when higher speed is required for longer periods or if the weather is bad for several days.
The shipyard is currently developing an even bigger model and plans to release more information on this project later this year.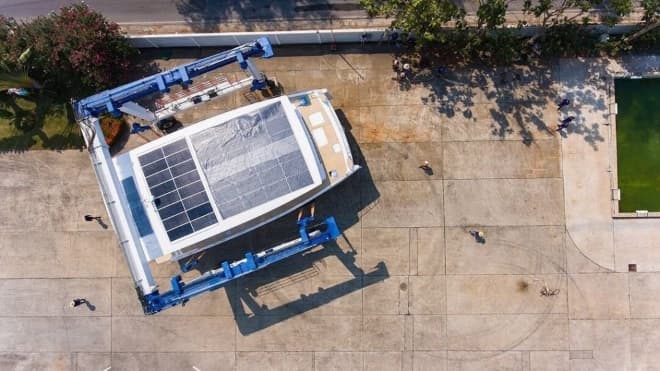 Meanwhile, the builder has revealed an image of the first Silent 60 outside the shed of the PMG Shipyard near Pattaya in Thailand. Following final installations, the yacht is expected to be launched into the water, with sea trials to follow.
www.silent-yachts.com
Building on the solar technology developed for Silent-Yachts catamarans, Silent Resorts is launching its first yacht-and-villa retreat in the Caribbean, while Asia is in the plans as the new company looks to grow a global network of exclusive, eco-friendly holiday destinations.
---