---
Culture / Celebrities
Tiger Woods Expresses Gratitude For The Support From The Golfing Community
The PGA Golfer made his first public statement, since the accident which left him hospitalised late last month. He expressed his gratitude for other golfers who wore his signature red shirt and black pants during a tournament.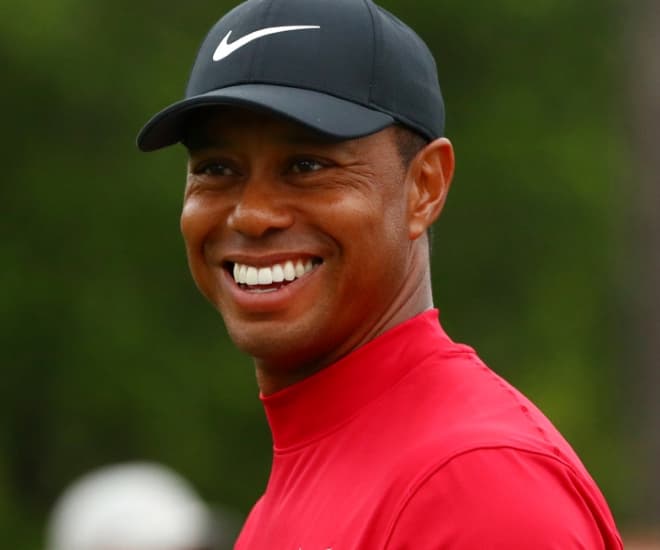 On 1 March, golfing billionaire Tiger Woods made his first public statement on Twitter since he was hospitalised following a solo rollover crash last month which left him with fractures in his leg and ankle. Following his surgery, he expressed his gratitude upon seeing fellow PGA Tour Golfers and fans wearing his signature red shirt and black pants in solidarity during the WGC-Workday Championship on Sunday.
Rolling Hills Rollover Crash
On the morning of 23 February, Woods was driving his Genesis SUV on Hawthorne Boulevard at Blackhorse Road in Los Angeles when he lost control of his vehicle and ended up in a rollover crash fracturing bones in both legs. At 7:12am (Pacific Time) that morning, the Los Angeles County Sheriff Department (LASD) responded to the incident. Deputy Carlos Gonzales, who was first on the scene, reported that Woods appeared "lucid and calm". Upon assessing the situation, they found that they lacked the technical skill and equipment to extricate Woods from his vehicle and called the Los Angeles County Fire Department (LACoFD) for assistance at 7:22am. Personnel from LACoFD arrived at 7:28am and extricated Woods from his vehicle before transporting him to Harbour-UCLA Medical Center to begin surgical procedures to repair fractures in his right leg and ankle.
The following day, a press release was posted on Tiger Wood's twitter profile. It stated that he had "undergone a long surgical procedure" and that he was "awake, responsive, and recovering in his hospital room".
Seeing Red
During the Workday Championship held in Florida on 1 March, a large number of golfers, many of them competitors of Woods, paid tribute to him in a crimson show of solidarity. Coverage of the tournament on Sunday showed many participants decked out in Wood's trademark red shirt and black pants. The list of golfers included prominent personalities such as Justin Thomas, Tony Finau, Rory McIlroy, and Jason Day.
In an interview with NPR, Rory McIlroy remarked, "at this stage I think everyone should just be grateful that he's here, that he's alive, that his kids haven't lost their dad. That's the most important thing. Golf is so far from the equation right now, it's not even on the map at this point."
At 8:45am (PT) on Sunday, Woods tweeted for the first time since the accident, thanking fellow golfers and fans for their support during this tough time.
Woods has since been transferred to Cedars-Sinai Medical Centre for "follow-up procedures on his injuries" on 27 February and is "recovering and in good spirits".
---