---
Cars / Cars and Bikes
Ferrari's first (and most powerful) Plug-in Hybrid—the SF 90 Stradale
Plug-in Hybirds may not have the oomph to its name, but Ferrari's new toy, the SF 90 Stradale, is about to set heads turning
"It (Ferrari SF 90 Stradale) is our first hybrid series production car to satisfy the demands of today's sustainable world." – Louis Camilleri, Ferrari CEO
Ferrari's first (and most powerful) Plug-in Hybrid—the SF 90 Stradale
Ferrari recently unveiled its most powerful car ever. When the Ferrari SF90 Stradale roars down the tarmac and reverberates at a stunning 986 HP, windswept onlookers are rendered open-mouthed adolescents. Accelerating from 0-62 mph in 2.5s and 0-124 mph at 6.7s, it is capable of peaking at 211 mph—a fantastic performance no doubt, but not entirely unrivalled. The Ferrari 812 Superfast similarly tops at 211 mph and flaunts a (0-62mph) acceleration time of 2.9 s. So, what's the deal?
Never say never
For a while, Ferrari had its heart set on being the last bastion of automotive masculinity powered by an octane driven throaty soundtrack. With that in mind, what will really raises eyebrows of supercar enthusiasts is that this Ferrari supercar, the fastest series production Ferrari, can also cruise in dead silence at 83 mph for 20 miles, fully powered by electricity. The Ferrari SF 90 Stradale is a plug-in hybrid (PHEV) fit with all-wheel drive and torque vectoring, ensuring the most nimble handling at the most challenging turns.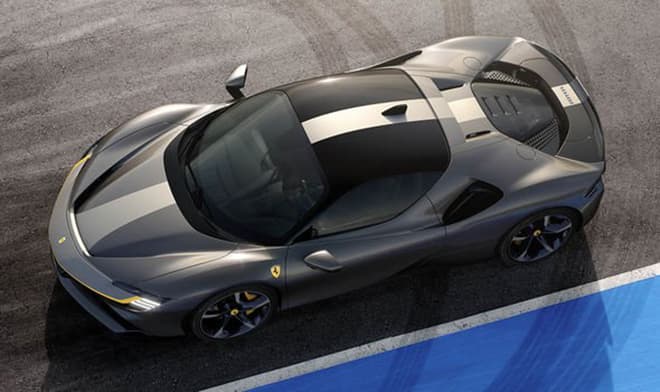 Unlike conventional hybrids which rely on petrol and regenerative braking to recharge its batteries, plug-in hybrids (PHEVs) use both electricity and gasoline—a three-way compromise between electric, hybrid and gasoline-powered vehicles. The SF90 Stradale comes with a 4-litres V8 turbo-charged engine producing 769 hp with 800Nm of torque—that alone already puts it on the pedestal as the king of V8-powered Ferrari to date. Coupled with three 7.9 kWh lithium-ion powered electrical motors—one on the rear axle, and two up front—adding another 217 hp, the hybrid powertrain delivers up to 986 hp.
Besides the eight-speed dual-clutch transmission, the electric power train spawns four new driving modes—eDrive, Hybrid, Performance, and Qualify. eDrive mode allows the supercar to be driven completely on the battery with pin-drop silence; Hybrid is the default mode whenever the engine is ignited, toggling between the internal combustion engine (ICE) and battery to optimise efficiency; Performance mode keeps the ICE running while recharging the battery through regenerative braking; and Qualify mode is what might guarantee you a pole lap at the commuter GP.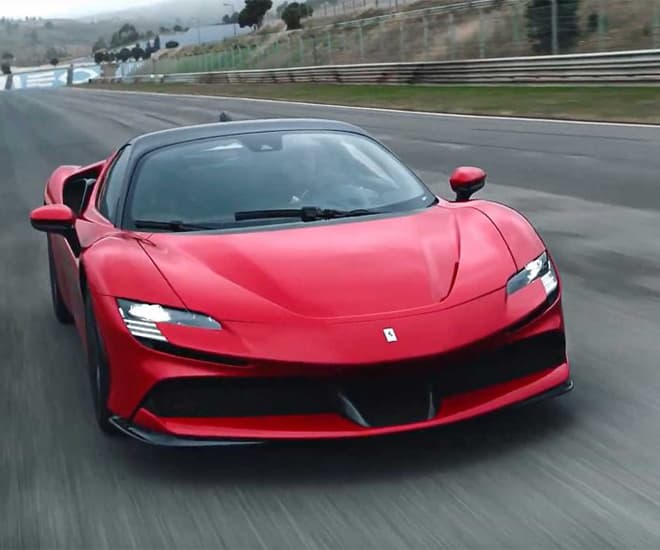 Ever keen to better themselves, Ferrari paid close attention to re-optimise the aerodynamics of the car. To generate 390 kg of downforce at 155 mph, the front end features Vortex generators, a wing-section front bumper and two diffuser; the rear-end is furnished with a suspended wing divided into two sections, the forward section of which can lower, acting as a gurney flap to increase downforce as required, or remain level to increase airflow and minimise drag. It even removed the doorhandles to enhance aerodynamics while giving it a more stylish keyless entry and exit.
Engineering a supercar with uncompromising performance and a conscience for the environment, Ferrari makes a specular jump on the eco-friendly bandwagon along with other big names like Porsche and BMW. With a respectable reduction in fuel consumption by 8%, Louis Camilleri, Ferrari's chief executive, told the press that the new plugin is the "first step" in a direction that Ferrari is determined to pursue. He adds, "It is our first hybrid series production car to satisfy the demands of today's sustainable world."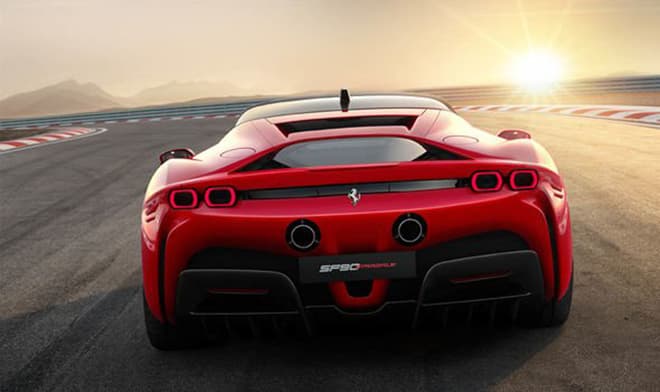 Indeed, Ferrari has made a powerful statement that the mitigation of environmental woes need not necessarily come at the expense of performance. Just look at the SF 90 Stradale sprinting down the street faster than ever, cleaner than ever.
Ferrari hasn't revealed much about the possible sales voulme and price but is rumoured to be upwards of £400,000.
---