---
Cars / Jets
The Boeing BBJ 777X Planes Will Connect All The Dots In The World
The Boeing company has launched the new BBJ 777X business jets that will be capable of the world's longest commercial flights from London to Sydney.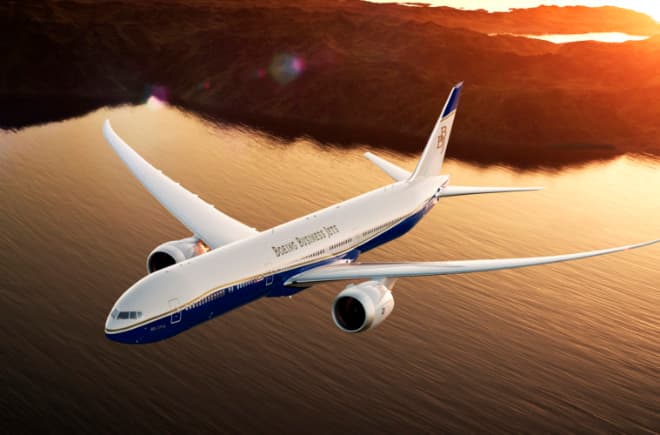 The Boeing Company launched the BBJ 777X in Dubai at the Middle East Business Aviation Association show to much fanfare. In response to Qantas airlines' ambitions to be "the antidote to the tyranny of distance", the new business jet will be capable of the longest commercial flight in the world. Indeed, direct flights from Western Australia to London will be a reality within the next few years.
The World Is Reaching Further, But Getting Closer.
Available in two versions, the first iteration, BBJ 777-8, will fly a range of 11,645 nautical miles (21,570 km) and accommodate up to 350 passengers in luxury. Proposed renderings of the private jet's interiors will boast deluxe lounges, a master suite, private guest bedrooms, and a game and cinema area.
The second version, BBJ 777-9, will fly a shorter range of 11,000 nautical miles (20,370 km)  but boasts a larger cabin. That means greater allowance for extravagance, as the Swiss interiors company Jet Aviation has suggested a luxurious Turkish-style steam bath right on board the planes, bidding well yet again for one's in-flight luxury fantasies.
The Airbus A350-900 ULR (ultra-long range) jets, capable of 9,000 nautical miles (16,700 km) currently reigns in the top realm of long-haul flights. Operated by Singapore Airlines, the 17-hour long ride takes one directly from Singapore to New York. This will pale in comparison to the upcoming 777X planes.
The 777X will change the world drastically as it "can fly more than halfway around the world without stopping", according to Boeing in a statement. In line with Quantas' plans to connect the world with direct flights from anywhere to, well, anywhere, the 777-8 will accomplish the likes of London/Paris – Sydney/Melbourne. By 2022, Cape Town, New York, and Rio de Janeiro are well likely to be plausible destinations from Australia too.
"Our most exclusive customers want to travel with the best space and comfort and fly directly to their destination. The new BBJ 777X will be able to do this like no other airplane before it, redefining ultra-long range VIP travel." – Greg Laxton, Head of Boeing Business Jets
Boeing is a leader in VIP jets, having delivered 185 VIP versions of the bestselling Boeing 737. Larger wide-body business jets are not as popular, with only 47 sold since 1996. However, it makes sense for the company to target the market of ultra-long haul flights as the world becomes increasingly fast-paced and globalised. Aviation consultancy Jetcraft predicts that the global fleet of large-cabin business planes will expand by some 68% over the next ten years. As businesses grow, business jets need to continue upsizing and upgrading to accommodate more passengers and fly longer distances.
Currently, the BBJ 777-8 and 777-9 are priced at US$442.8 million and US$453.6 million respectively, sans interior finishing, which sets buyers back an extra US$90 to US$175 million but surely goes the distance.
---