---
Business / Billionaires
$6.2M Birthday Party At French Ski Resort
Ukrainian billionaire Victor Pinchuk spent $6.2 million on Saturday night to entertain 300 guests at his 50th-birthday party in the posh French ski resort of Courchevel. He not only flew in Canada's Cirque du Soleil but also hired superchef Alain Ducasse to prepare the menu at one of Courchevel's 11 five-star hotels. But the steel […]
Ukrainian billionaire Victor Pinchuk spent $6.2 million on Saturday night to entertain 300 guests at his 50th-birthday party in the posh French ski resort of Courchevel.
He not only flew in Canada's Cirque du Soleil but also hired superchef Alain Ducasse to prepare the menu at one of Courchevel's 11 five-star hotels.
But the steel magnate's birthday blowout revolted many locals in an area tired of being a winter playground for the Eastern European jet set.

Mr Pinchuk, whose wife Elena is the daughter of Leonid Kutchma, the former Ukrainian president, is the world's 307th wealthiest person, according to Forbes.
He made his money in steel pipes after the collapse of the USSR, now owns five television stations and three newspapers, including the country's most popular title.
He and his wife bought what was the world's most expensive home in London for £80 million in 2008 – a five-storey Victorian house in Kensington complete with huge underground swimming pool, gym, sauna and cinema.
Sources: Telegraph – NY Post / Photos: Natalia Slipchuk – Guardian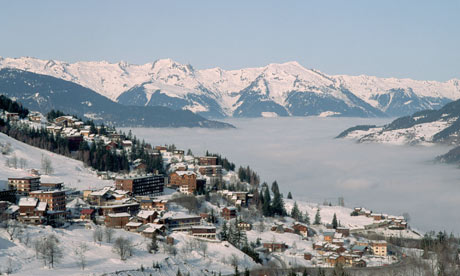 ---