---
Style / World of Watches (WOW)
Race to The Top: Roger Dubuis's Hyper Horology
In just 28 years, Roger Dubuis has sped to the forefront of collectors' minds when it comes to watches that are loud, fearless, and sometimes straight-up insane. We unpack what it means to embrace Hyper Horology.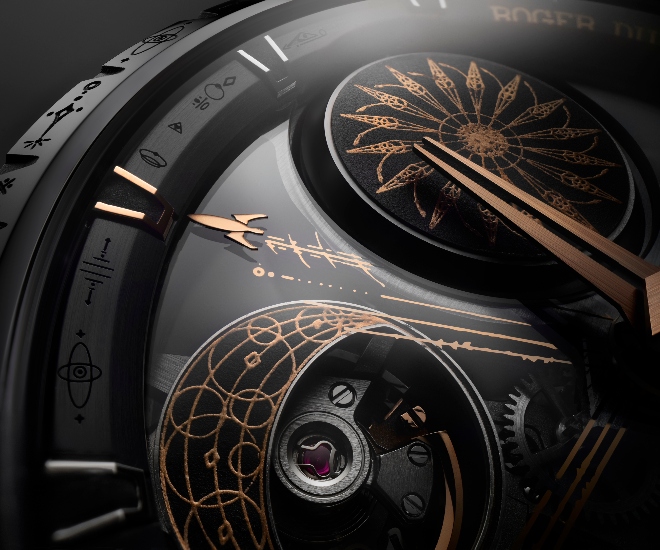 The world of luxury is often filled with superlatives, because it is not enough for something to be well-made, beautiful to look at, delectably rare and priced into the stratosphere — it also needs to have a good story to tell. But what happens when the same old story has been repeated by numerous brands for years innumerable? When high-end watchmakers are all pedalling history, craftsmanship and a seamless mix of tradition and innovation, what else is there left to say?
For Roger Dubuis, the answer was simple: turn everything people think they know about haute horlogerie on its head and create a brazen new philosophy by which to create the most outrageous of tickers. That doctrine is what the brand now calls "Hyper Horology", and it is as over-the-top and entertaining as it sounds.
Hyper horology is founded on the brand's values of "pleasure, freedom and madness". An obvious parallel would be to compare a supercar with a hypercar. The latter represents the haut de gamme of motoring, boasting cutting-edge technology, sensational design and performance that far exceeds the needs of the ordinary driver. Hyper Horology, as Roger Dubuis practises it, is much the same with horological innovations that push the boundaries of traditional watchmaking, devilishly bold aesthetics, unquestionable quality and chronometric performance.
In fact, the two worlds are so closely aligned in their values that Roger Dubuis' partnerships with Lamborghini Squadra Corse and tyre manufacturer Pirelli have resulted in an entire collection of motorsport watches. Models like the Excalibur Spider Huracan and Excalibur Spider Aventador are examples that were inspired by Lamborghini's iconic automobiles. Pirelli's influence is often seen in the watch straps, where the rubber inlays are taken from certified Pirelli winning tyres, though the Excalibur Spider Pirelli Monotourbillon (created for the tyre company's 150th anniversary) featured an easily swappable bezel, crown and strap inspired by the quick race pit stops of motor racing.
Another realm Roger Dubuis allies itself with in its expression of Hyper Horology is that of urban culture. Its "Urban Culture Tribe" includes disruptive creative minds like tattoo artist Dr. Woo, graffiti artist Gully, Chinese artist Liu Wei and Japanese illustrator Hajime Sorayama — all of whom have lent their radical styles to limited edition watches pulsating with attitude.
Even without input from its many collaborators, Roger Dubuis' own design team is trained in the art of spectacle. From the rotating minute counter of the RD780 calibre to the "floating" power reserve indicator of the new Monovortex Split-Seconds Chronograph, traditional watchmaking elements frequently take on exciting new forms.
These science fiction-worthy designs are regularly paired with high-tech materials. Not only was Roger Dubuis one of the pioneers in the use of composite materials in watchmaking, it has experimented with atypical case materials such as cobalt-chrome (a highly corrosion-resistant industrial alloy used to make everything from turbines to medical implants) and Mineral Composite Fibre (MCF) which is reported to be 13 per cent lighter than typical carbon composites and 2.5 times lighter than ceramic.
However, not all of its watches look like wearable Autobots. Roger Dubuis still treasures the beauty of metiers d'art, most recently demonstrated in the extravagant Knights of the Round Table Monotourbiillon in 2022. The collection's first tourbillon, the centrally mounted complication is surrounded by 12 knights serving as hour markers — each one hand-sculpted in pink gold and holding a different pose. The two gold markers that point to the rotating hours and minutes are mounted on a double-disc system decorated with pink and purple Murano glass blocks, creating a mesmerising interplay of colour and movement.
Roger Dubuis watches look like nothing else on the market, but even within the wildest collections, some truly radical ideas still manage to surprise. That same year, the watchmaker released the Excalibur Single Flying Tourbillon Glow Me Up which featured baguette diamonds set in grooves filled with multicoloured Super-Luminova such that the gems put on a light show in the dark — needless to say, that was a world first.
Part of the Hyper Horology circuit includes the relentless pursuit of such firsts. In 2020, it set three of them in a single watch, the Excalibur Twofold Double Flying Tourbillon. The first being the use of the aforementioned MFC for the case, followed by the development of a new way to apply Super-Luminova to the plates and bridges and lastly, a strap made of a rubber material called FKM that was infused with Super-Luminova and dubbed "LumiSuperBiwiNova" technology.
Naturally, the actual watchmaking follows the same manic ideology. Tourbillons – arguably the most animated of complications – and special escapement architectures dominate these collections. In 2013, Roger Dubuis released the Excalibur Quatuor featuring four sprung balances paired up and positioned at 90-degree angles to one another, linked by differentials to cancel out rate errors in the most spectacular style since Abraham-Louis Breguet invented the tourbillon. This tour de force was most decidedly not a tourbillon, however. The watch was cased in gold, but there was also a very special edition cased in silicon. As you may have guessed by now, this technical feat and its silicon case were both world premieres. To this day, we know of no other watchmaking brand that has tried to equal either feat.
Roger Dubuis also overachieves in the quality control department. The Poincon de Geneve, or Geneva Seal, is a legendary industry stamp of approval awarded only to watches that were entirely manufactured in Geneva and meet several stringent criteria related to the quality of finishing and materials. Of the 20 million watches produced in Switzerland every year, only about 24,000 of them bear the Seal. At Roger Dubuis, virtually all timepieces do.
It is hard to believe that the brand has achieved all this in under 30 years, but it looks geared to do much more. In recent years, the company has set up an incubator department called the "Q Lab" named after the fictional innovation laboratory in James Bond. There, all employees are free to dream and encouraged to pitch new case materials, complications, client experiences and more.
For clients, embracing Hyper Horology means embracing the essence of the "Hyper Life". Those who possess the means to own a Roger Dubuis timepiece likely already enjoy access to a multitude of experiences. However, what the brand uniquely accomplishes is immersing its customers even further in its captivating realms.
Exclusive VIP escapades at F1 races, the prestigious Geneva Motor Show and the illustrious Goodwood Festival of Speed (where Roger Dubuis proudly serves as the Official Timing Partner) merely scratch the surface of the extraordinary lifestyle the brand embodies. Moreover, the provision of bespoke customisation services exemplifies Roger Dubuis' take on savouring life in the fast lane.
The most extreme example of "hyper living" was when the owner of the Excalibur One-Off concept watch was treated to a different surprise every month for a year before the watch was delivered. These included a home visit by Product Strategy Director Gregory Bruttin, an exclusive visit to the manufacture and an individualised programme by Lamborghini.
Based on everything we have seen thus far and can expect to see in future, Roger Dubuis and its spirit of Hyper Horology has taught the watchmaking world that anything worth doing is worth overdoing.
For more watch stories, head over here.
---