---
Style
Girard-Perregaux Releases the New Tourbillon Three Flying Bridges Aston Martin Edition
The first watch to come from this partnership is a tastefully modern take on a classic timepiece, that highlights both brands' focus on stylish design.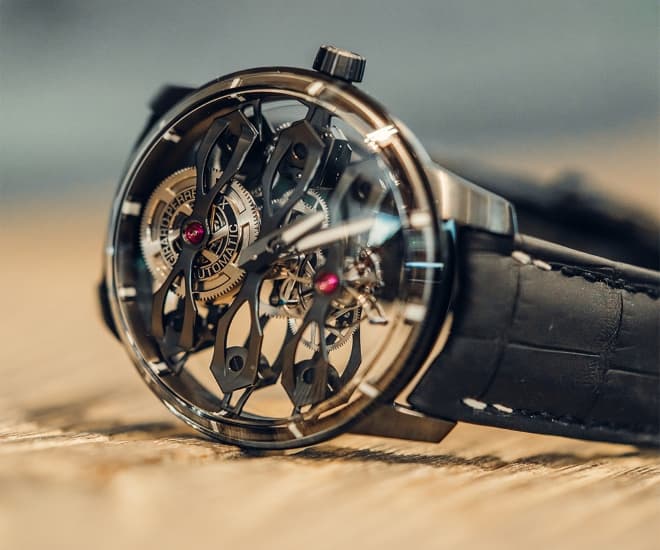 Since announcing their partnership in February 2021, all we've seen from the two brands were collaborations more focused on advertising and sponsorship. But finally, we have been rewarded with a more tangible result of this incredible partnership. The swiss watch manufacture just unveiled a new, limited edition timepiece designed in collaboration with the iconic British marque. The Tourbillon Three Flying Bridges Aston Martin Edition embodies the most significant quality of both brands, their design-focused approach to building watches and cars. And with such a strong heritage of crafting, elegantly stylish products, you can be sure that this wristwatch is nothing short of extraordinary.
The most striking feature of the new timepiece is the component from which its name is derived. We are of course referring to the three bridges, a strong visual signature synonymous with the Girard-Perregaux name and with a legacy stretching as far back as the 19th century. Apart from making a strong visual statement, it also plays a key structural role when working with Girard-Perregaux's architectural movement. If you look closely at the watch, you'll find that there isn't a dial, at least in the traditional sense. The three black PVD coated bridges essentially form the watch dial and serve as the main attachment point for the self-winding movement's components.
As with any skeletal watches, the movement is always a highlight and the GP09400-1683 automatic tourbillon movement is no different. Some notable appointments in the movement include the lightweight tourbillon, made up of 79 components and weighing in at only 0.25 grams, and its mainspring barrel located at the 12 o'clock position. The mainspring barrel acts as the watch's power source and with skeletal designs, they offer wearers and rare look into the beating heart of their timepiece. In addition to this, Girard-Perregaux included two more special elements. First of these is the integrated micro-rotor, located just beneath the barrel. It is made of white gold and is barely visible, giving the Tourbillon Three Flying Bridges Aston Martin Edition the benefits of an automatic movement but still retaining the see-through quality of a skeletal design. The second element is the Aston Martin signature, subtly etched into the micro-rotor's vertical flank and filled with white Super-LumiNova, making it pop at night while being harder to spot during the day.
The watch's dazzling movement is housed within a 44mm black DLC-coated Grade 5 titanium case. Known for its strength, hardness, and light weight, it's no surprise that it was chosen to be used in this automotive inspired build. Additionally, titanium was first discovered by the British in 1791, the same year Girard-Perregaux was founded, adding another layer of significance to the use of titanium here. The case of this Tourbillon Three Flying Bridges Aston Martin Edition takes inspiration from Girard-Perregaux's 19th century pocket watch of a similar name, the Three Bridges, paying tribute to this vintage design with its gently curved downturned lugs and flat-sided cylindrical mid-case.
Also, you'll notice upon closer inspection that it lacks a bezel just like the pocket watches of old. A bit of a quirky design choice for a modern watch, but Girard-Perregaux makes it work by using the hour markers to form a visual border for the dial. In conjunction with the tall sapphire box crystal, it highlights the unique creativity that the watch manufacture, and its automotive partner, are known for. In the rear, a matching box sapphire caseback rounds out the main body of the watch and allows the wearer to admire the intricacies if the in-house movement from any angle.
Last but not least, we come to the innovative strap which binds the timepiece to its wearer's wrist. The strap looks simple enough, being made of basic black calf leather but it has a cutting-edge secret. We are referring to the strap's "Rubber Alloy" central insert, made using a proprietary method that Girard-Perregaux is being rather hush-hush about. According to the few details provided, the insert combines rubber with injected white gold to create an insert which looks simple at first glance but reveals an interesting array of textures the longer you gaze upon it. If that strap is too science-y for you, a classic matte black alligator strap is also included with the watch.
On the subject of this partnership, Patrick Pruniaux, CEO of Girard-Perregaux, said, "We are delighted to partner with Aston Martin, entrusting their team with arguably our most iconic timepiece, delivering a fresh perspective on Haute Horlogerie. Rarely do we work with others to reinterpret the Three Bridges, however, on this occasion, we have made an exception, mindful of Aston Martin's prowess for design.
The Tourbillon Three Flying Bridges Aston Martin Edition is indeed a fitting tribute to Girard-Perregaux's watches of old, but taken to another level by adding the creative spirit of another design-focused brand like Aston Martin. This magnificent timepiece is available worldwide, if you want one, you'll have to be quick as there are only 18 pieces in existence.
For more information, head over to Girard-Perregaux's website now.
---