---
Style / World of Watches (WOW)
Blue Label: HYT H2 Tradition Watch
HYT enters uncharted waters with the H2 Tradition, which uses classical watch design elements it hasn't previously explored.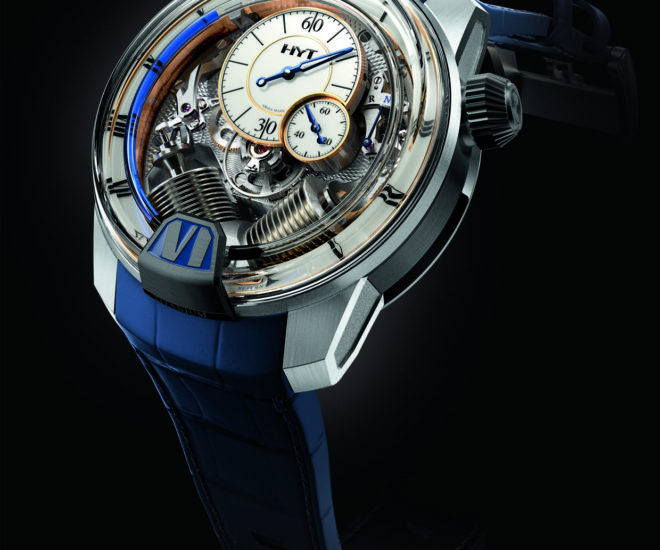 Gears, wheels, and liquids? Steampunk! If there's any watchmaker that can pull of a timepiece with such a theme, it's HYT. After all, no other brand out there tells the time using a liquid module that's completely integrated with a mechanical movement. The H2 Tradition was meant to be HYT's exercise in the design codes of traditional watchmaking. With the liquid module so prominently displayed on its dial, however, the timepiece also has an ultramodern dimension to it. Synthesize the two, and a work resembling something from the retrofuturism art movement emerges.
The H2 Tradition marks many firsts for the brand. It's the first HYT watch to be decorated with guillochage, the first to have lacquered dials, and the first to be fitted with blued hands (a more typical HYT watch is this). These details are apparent enough, but the timepiece wasn't merely the result of just changing a few components and slapping on a previously unused finishing technique. A quick comparison with previous H2 models will reveal that the minute indicator has been moved to a sub-dial at 12 o'clock, while the balance now nestles in the "V" formed by the bellows. This rearrangement has necessitated a redesign of the calibre, as the gear train has to accommodate its components' new positions.
For this, HYT looked to its partner, Audemars Piguet Renaud et Papi (APRP), to implement the changes. The decision to finish the mainplate with guilloché – both on the front and the back – was another technical detail that APRP had to work on. Since material was going to be removed, the mainplate needed to be thicker to maintain its integrity. This, in turn, affected the tolerances for the parts' dimensions and fitting, which had to be recalculated.
Major changes aside, it's also the minutiae on the H2 Tradition that gives the watch its classical slant. Note how the sub-dials and flange are outlined in gold, and the absence of a crown protector seen on the rest of the H2 models. The final touch is the judicious use of blue, beginning with blued hands that are matched with an alligator leather strap in the same color. The hour indicator also uses that color, for a timepiece that is literally blue-blooded.
Specs
Dimensions: 48.8mm
Functions: Hours, minutes, small seconds, power reserve indicator
Power Reserve: Eight days
Movement: Manual-winding HYT calibre with liquid module
Material: White gold and titanium
Water Resistance: 50 meters
Strap: Patent blue alligator leather with titanium deployant buckle
Story Credits
Text by Jamie Tan
This story was originally published in World of Watches Singapore
---