---
Style / Fashion
The Brand Collaborations Dominating the Fall Winter 2022 Runways
Fall Winter 2022 sees a return of collaborations between designers and artists alike. From Dior's high-tech partnership with D-AIR Lab to Gucci's athleisure-inspired collab with Adidas.
The Fall Winter 2022 season of shows has proven how internet-breaking collaborations continue to bring fashion to the forefront of popular culture, with Gucci x Adidas and MM6 Maison Margiela x Salomon flooding everyone's social media feeds.
The key to any brand's success is remaining relevant to the target consumer and resonating with them through culture and consumer needs. This has become more vital in today's heavily saturated world of media and in a time when consumer demands are amidst a shift as a result of the global pandemic. It could be why we've been seeing a surge in collaborations within the fashion industry.
It unlocked the ability to deliver a collection that is typically out of a brand's typical design, in a refreshing and different style. Below are some of the most iconic runway collaborations in this season's Fall Winter 2022.
Valentino x Pantone Colour Institute
For Valentino's Fall Winter 2022 collection, Pierpaolo Piccioli focuses on creating an 81-look collection nearly entirely in a single, shocking shade of hot pick, unveiled against a backdrop of the same hue. A shade, developed in collaboration with Pantone, so catchy and energetic that it deserves its own name, "Valentino Pink PP". He wanted to draw attention to the diverse silhouettes and details of a wardrobe that would transcend everyday needs and occasions. With this partnership, Pantone confirms that it is increasingly focused on establishing its hegemony over colour schemes, developing exclusive colours for companies and celebrities as a brand identity. Thus, Valentino moved from its signature red to pink.
Gucci x Adidas
Bringing together the emblems of the Italian luxury house and iconic sportswear brand is the much anticipated Gucci x Adidas collection. The collection is a result of Alessandro Michele's fascination with the old-school athleisure brand and the blend between the two powerhouses is shown clearly on the runway. With classic, athleisure silhouettes commonly associated with Adidas, as well as unconventional colour play and patterns quintessential to Gucci.
MM6 Maison Margiela x Salomon
With an elevated utilitarian aesthetic, the collection takes form in boxy suiting with strong shoulders, seamless wool pea-coats with exaggerated peak lapels and sculptural outerwear. The moody silhouettes of the collection were enhanced by colourful sneakers in collaboration with Salomon, lug-sole running shoes and MM6s heel ankle boot. By blending tailored, contemporary, sportswear and avant-garde styles, the collection epitomises transitional design.
Dior x D-AIR LAB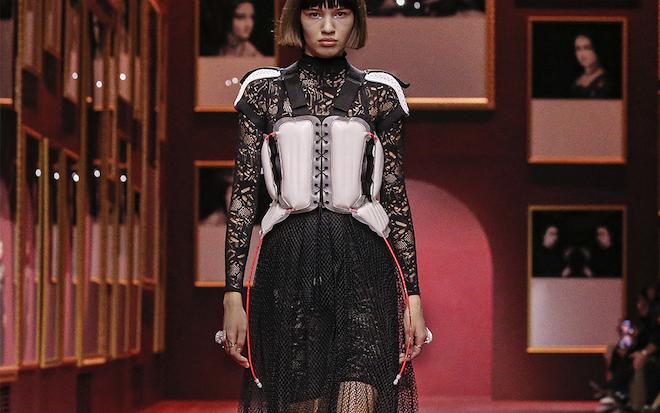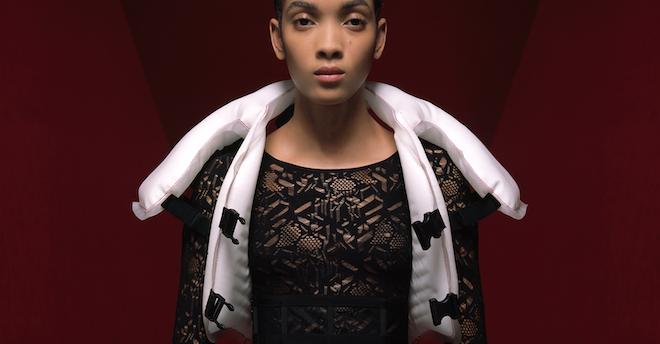 Dior's creative director, Maria Grazia Chiuri embraces the future of fashion through the collaboration with Italian-based brand, Dynamic Autonomy and Intelligent Robotics Lab (D-AIR Lab). The company is known for developing personal safety clothing that helps the wearer feel confident and protected in potential danger. For the runway, the garments struck a different level of confidence meant to give those who wear the pieces self-assurance. D-AIR Lab padding and materials are fused into corsetry and layered over artisanal dresses, which in a way is Dior's pièce de résistance in sparking confidence in women.
Stella McCartney x Frank Stella
Introduced as STELLA BY STELLA, the Fall Winter 2022 collection celebrated the iconic American artist Frank Stella — one of the most important painters and sculptors of his generation. Presented at the historic Centre Pompidou, modern staples became wearable art. "His more linear early work lends itself so well to tailoring, and I love how he spans minimalism and maximalism, which has such a parallel with our brand," said Stella McCartney. The playful garments are made with a colour palette and graphic prints that are an ode to Frank Stella's abstract artwork, with stripes and geometrical scenes paying a tribute to his earlier minimalist artworks.
Loewe x Anthea Hamilton
Like seasons gone by, Loewe Fall Winter 2022 promises to be a wonder-spectacle of dizzying proportions, wonderful details and the unexpected. The latest presentation from the Spanish-born fashion house comes directly from Paris Fashion Week, where artist Anthea Hamilton stages a series of sculptural pieces to accompany the runway. Just like Hamilton's huge melting pumpkin sculptures that dotted the show space, the collection is a creative play on the usage of materials. That which should be soft and malleable, like leather, wool and organza, are moulded, felted and starched. On the other hand, materials that should be solid become plush, giving rise to unexpected silhouettes
2022 has been a year of non-stop collaborations. Following the hype of 2021's collaboration frenzy — starting with Balenciaga and Gucci's "Hacker Project", and Fendi x Versace's "Fendace" — the slew of inter-brand projects seemed to be relentless, never-ending and highly engaging. Allowing for new silhouettes, innovative designs and artistic interpretations, it seems as if collaborations are here to stay.
For more fashion reads, click here.
---