---
Style / Fashion
Gucci x Adidas to Hit Stores on 7 June
The sporty collaboration makes the perfect summertime outfit choice, appealing to those who want a mix of maximalism and normcore.
When Gucci unveiled its collaboration with Adidas for Fall/Winter 2022, the fashion community went crazy with excitement. It won't be long before fans can get their hands on the highly-anticipated release. The date is set for 7 June, and the collection will be available at select stores and online.
Collaborations have been a mainstay within the fashion industry for years, and the culmination of this co-branded exercise was the Hacking Project Gucci did with Balenciaga for Fall 2021. It has proven to be an eye-catching stunt as sales for the fourth quarter of 2021 rose by 32 per cent. This is a strong signifier that customers are interested in such crossovers. For Adidas, its partnership with Prada was also well-received by fans and that propelled the sportswear brand to occupy the 17th position on the Q1 2022 Lyst Index.
Gucci's creative director Alessandro Michele drew on his fascination with the 70s sportswear advertisements for this new collection with Adidas. This aesthetic is captured by photographer Carlign Jacobs, where models posed against brightly coloured backdrops while wearing various pieces from the collection.
The coming together of these two heritage brands sees the melding of its iconic stripes. On the track pants, one leg features the Adidas Three Stripes, while the other leg is defined by the red and green Web of Gucci. Similar iterations are also seen on the shirtsleeves.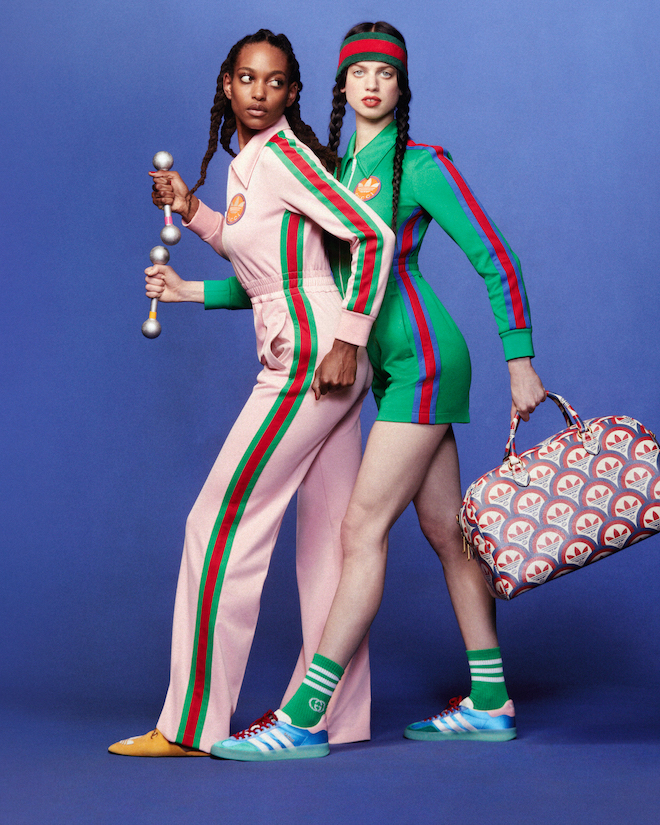 Adidas' Trefoil logo with Gucci's Interlocking GG motif is seen on knitted crop tops, bowling shirts, bomber jackets and shorts. The geometric pattern will surely delight those looking for more standout pieces. This new co-branded logo can also be seen on the various accessories like golf bags, bucket hats, and crossbody bags.
As a brand that prides itself on its sneakers, Michele's obsession with the famous Adidas Gazelle results in a new version of the much-loved sneakers. The Italian house's famous Horsebit loafers are now accented by the Adidas Trefoil and 'Gucci' lettering, and it comes in either leather or suede.
No doubt, this collection will be a hit. Michele's maximalist style comes through readily with popping colours and logos, but the pieces are also subtle enough to appeal to those who are into normcore. Perhaps, this is the point of this co-branding effort in the first place, which is to widen the brand's appeal. The recent financial report from Kering highlighted that despite registering a growth, Gucci's sales figures were decelerating, and the Gucci x Adidas collaboration could be the turning point it needs to sustain interest in the brand.
The Gucci x Adidas collection will launch on 7 June, and you can make your purchase here.
For more fashion reads, click here.
---