---
Style / Fashion
Spring Summer 2023 Men's Fashion Week: Trending Accessories
Stylise your summer wardrobe with these trending accessories, hot off the Spring Summer 2023 runways.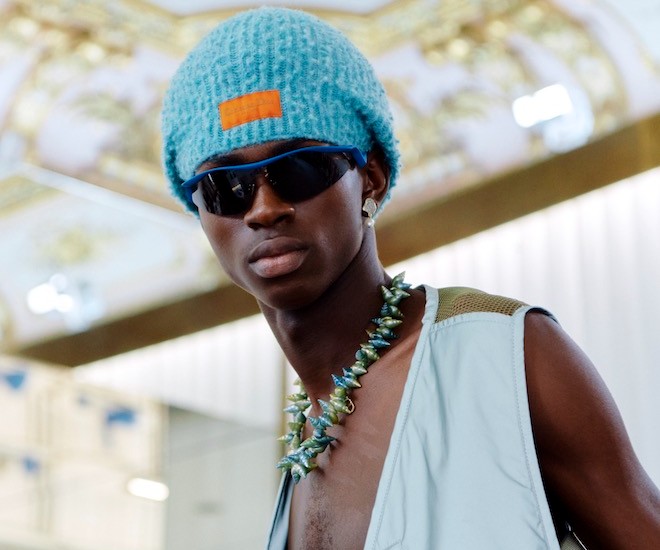 The menswear season concludes with the arrival of Paris Fashion Week, allowing brands to showcase their creativity and delve into thematic influences that allow accessories to bloom on the runway. From Dior Men redefining urban workwear through their footwear to Louis Vuitton painting the runway with bold coloured bags, there is no limit to the different accessories that fashion week has to offer.
Curious to see these trends and more in action? Read on for the top accessories from the men's Spring Summer 2023 collections.
Maximalism
Things to look out for:
Monochromatic sneakers
Statement belts
Pattern printed bags
Brightly coloured bucket hats
Maximalism rages on in the Spring Summer 2023 collections, bringing bolder hues and a splash of nostalgia. Mega fashion houses such as Louis Vuitton and Versace can be seen dominating the runway with extravagant pieces and accessories. Neon-coloured sneakers, charm-embellished belts and pattern-printed bags can be seen throughout the shows, making this one of the season's biggest trends. Louis Vuitton's Spring Summer 2023 collection leads the way, showcasing a playful ode to Virgil Abloh's debut for the house just four years ago. The collection presents Abloh's signature tropes of boyhood, freedom and joy, which are further accented through the accessories: novelty-shaped bags; colourful, logo-filled belts and brightly coloured boots.
Similarly, Versace's latest season is laden with contrasting, neon colours that show a certain playfulness. This gives the collection a sense of "youthful openness, optimism and energy", and features oversized silhouettes and archival prints alongside bright colours. Models are seen sporting miniature teacup adornments, saucer earrings and Medusa themed sunglasses. KidSuper, a streetwear-focused fashion house from New York, also embraces the maximalist trend. This year, they showcased monochromatic sneakers and funk-inspired sunglasses to pair with their brightly coloured suits.
Another brand that contributed to the rise of maximalism is Moschino, which delivers an ode to the late artist, Tony Viramontes with a bright and bold approach to the collection. Models don polychrome-treated blazers, suits, and topcoats with pattern-printed bags and trooper boots to match. Each look is accompanied by colourful, eccentric latex headwear and trilby hats, giving the collection aggressive and powerful energy.
The Great Outdoors
Things to look out for:
Soft utility boots
Stylised hiker-inspired sneakers
Oversized backpacks
Fashion houses such as Dior Men and Givenchy can be seen redefining urban workwear in this year's Spring Summer 23 collection. Elevated everyday essentials walked down the runways and into the trend boards; with soft utility boots, belt bags and covetable accessories turning workwear into a staple, standalone piece. When utility boots would only be seen as safety footwear in the past, brands such as Rick Owens, Dior Men and Givenchy have elevated its status to become one of the season's most covetable and fashionable items through colour manipulation and experimentation with print. Givenchy's Spring Summer 23 collection encompasses the great outdoors through its trademark looks, such as the iterations on the all-knitted TK-360 trainers, big backpacks and new angular sunglasses called "The G-cut".
Although the fashion sub-genre trended last year, Dior Men's summer show proves that #gorpcore isn't going away anytime soon. The streetwear trend — inspired by hiking and other nature-related activities — is encapsulated by the fashion house. The collection explores technical outdoor wear with functional backpacks, belt bags and more accompanying tailored garments dressed in pastel tones. Staying consistent with the "adventurous chic" theme, models sported wide-brimmed, 3D-printed gardener's hats, as well as caged footwear, hiker-inspired sneakers and camping backpacks with nylon straps.
Travel Chic
Things to look out for:
Open-toed sandals
Reimagined loafers
Brooches
Travel Bags
With summer comes a sense of freedom, relaxation and lightness. Fashion brands such as Hermès, Brioni and Fendi have all embraced the comfort and elegance of summer and translated it into chic, vacation accessories that are perfect for the holiday occasion. Barely-there sandals and flip flops can be seen walking down the runway at Fendi, Hèrmes and Dsquared², alongside beachy-bright cotton canvas bags and bucket hats that came in a rainbow of colours.
Following suit is Brioni's Spring Summer collection with its softly tailored silhouettes abound in summery, painterly hues. Its round-toe loafers pair perfectly with the brooch accessories in the latest collection, giving off a sophisticated, cultivated feel. Speaking of loafers, brands like Sacai and Ermenegildo Zegna have sent their models down the runway with a creative take on the classic shoes. Painting the footwear with soft, organic tones to create a cohesive monochromatic look, and straying away from the traditional look and experimenting with the sole's width to create a carefree, formal, lightness.
Vintage Revival
Things to look out for:
Cuban heeled boots
70s era sunglasses
Beaded statement necklaces
Designers at major fashion houses have long been inspired by their archives, often looking back at previous eras of fashion for inspiration. But this fashion season, there is a true vintage revival on the Spring Summer 23 runway. The collection presented by Alessandro Michele x Harry Styles for Gucci felt particularly nostalgic; the bohemian-styled tailoring and matching pyjamas suits covered in cherries, elephants and squirrels are playfully paired with retro-shaped sunglasses and white, Cuban-heeled boots, making it reminiscent of the 70s era.
On the other hand, Dsquared²'s collection showed a more relaxed and punk side of the 70s era. Paying homage to the late reggae icon Bob Marley, this season combined Rastafarian style with two starkly contrasting personas — the relaxed surfer and rebellious biker. Filled with 70s-inspired outerwear, models donned crochet knits and patch-worked leather jackets with layered, beaded necklaces and leather-ringgit sandals. The combination paired perfectly to showcase the essence of 70s-era Jamaica while combining Italian luxury and bohemia.
Metaverse Inspired
Things to look out for:
Thigh-high boots
Futuristic eyewear
Chunky silver jewellery
Crossbody micro bags
With the rise of technology and its inevitable fusion with fashion, brands are incorporating futuristic styles into the runway. Themes of military-inspired jackets, genderless clothing and accessories inspired by the digital world have all come up in this year's Spring Summer runways. Thigh-high boots can be seen stomping down the runway of VTMNT's latest show. The red and black leather boots pair with asymmetrical blazers and contemporary military bomber jackets. Its anti-uniform and non-gender-conforming angle appeal to those who want to present their truest selves through fashion.
Another trend in this year's collection is the vast array of chunky, silver jewellery strewn amongst the fashion houses. Givenchy took this opportunity to highlight its accessories line with its futuristic eyewear and layered silver necklaces, while fashion brand, Loewe, showcased its micro, cross-body bags.
Using the wide variety of these Spring Summer 2023 accessories, you can spice up your summer and express yourself to the fullest extent next year.
For more fashion reads, click here.
---