---
Style / Fashion
Gucci, OFF-WHITE, and Nike Dominate 2020's Top 10 List of Luxury Brands
Covid-19 has not only reset shopping patterns and habits, but accelerated the shift towards digital commerce – a reality that 2020's top 10 luxury brands have adapted to.
Established in 2010, Lyst is the world's largest fashion search platform with thousands of stores and 5 million products from 12,000 of the world's leading brands in its database. Tracking over 70 million shoppers from 120 countries, Lyst collects and converts data insight into informative posts, creating a unique platform for global fashion intelligence.
Since its inception in 2017, the Lyst list has retained 80% of the brands featured in the first edition, only making room for a handful of 25 new additions in total – an average of two new retailers joining each quarter. Of the 80%, Balenciaga and Gucci are amongst the few which consistently rank high in every quarter. Last year, the list ranked its top one to 20 brands in the following order; Gucci, Off-White, Nike, Prada, Balenciaga, Fendi, Versace, Saint Laurent, Bottega Veneta, Valentino, Jacquemus, Burberry, Moncler, Alexander McQueen, Loewe, Balmain, Adidas, Givenchy, Fear of God, and Marine Serre.
As the impact of coronavirus was felt sharply throughout the year, and calls for greater equality and racial justice swept the world following the death of George Floyd at the hands of US police officers, many brands and industries were challenged to adequately react and adapt to the changing landscape. The success of Nike in The Lyst Index thus reflects the way in which coronavirus has not only reset shopping patterns and habits, but accelerated the shift towards digital commerce. In fact, this rampant digitalisation is not just exclusive to sportswear and athleisure, but prevalent across the board. Even smaller and niche brands such as Brunello Cuccinelli and Loro Piana are turning towards e-commerce to reap the benefits of going digital. According to a report by Bain & Company in May 2020, online sales are expected to represent 30% of the luxury market by 2025.
The Top 10 Luxury Brands of 2020:
Gucci
Retaining its top spot for another consecutive year, Gucci proves its capability to weather any storm once again. Where early lockdown saw consumer confidence falter, and preferences pivot towards loungewear and activewear, the third quarter of the year painted a sunnier picture. Thriving on the reinvention of the Maison's distinctive personality coupled with a strong point of view through a robust approach to the digital sphere, Creative Director Alessandro Michele had successfully kept the brand on the tip of everyone's tongues.
Despite not making the list for a specific product offering, Gucci tackled the challenges of changing social norms head on. Through live streaming the Gucci Epilogue collection in July, the Maison reported a stunning 52% increase in online searches as worldwide views exceeded 35 million — making it the brand's most-watched digital event ever.
Going further, it was Gucci that revolutionised the use of Augmented Reality and social media in order to replicate the crucial and revered in-store service experience that all brand consumers and enthusiasts hold so dear. Dubbed 'Gucci Live', the video connected store staff with consumers via both mobile devices and online computers. Operating out of a dedicated set in a 2,300-square-metre Florence service centre, the Maison presented impeccably dressed representatives, warmly welcoming customers to the process of modern day remote clienteling. Created with a goal of providing "customers around the world with a direct connection to the Gucci community that is a seamless, always accessible, personalised experience", Gucci Live offered opportunities for online shoppers to have built-in access to personal video calls. The experience has been designed to feel similar to that of an in-person visit with additional features to promote enhanced privacy, security, and comfort.
With the inclusion of Augmented Reality filters, made available via Snapchat, the Kering-owned luxury brand, spared no expense in reaching consumers from every corner of the grid. Upon announcing the Maison's ongoing partnership with American camera and social media company, Snap Inc, consumers were granted the opportunity to virtually try on exclusive Gucci sneakers through the platform's in-built augmented reality technology. Complete with 'check-out' services, for a curated selection of four pairs — Gucci Ace, Gucci Rhyton, Gucci Tennis 1977, and Gucci Screener — it was able to reach at least 100 million people across the United States alone, alongside audiences in the United Kingdom, Italy, Saudi Arabia, UAE, Australia, and Japan.
Off-White
Deemed the 'hottest brand in the world' by sneakerheads and streetwear enthusiasts alike, the Italian luxury fashion label founded by American designer Virgil Abloh, certainly left no stone unturned in 2020. Kicking off the year with a "LUNAR NEW YEAR" collection inspired by the traditional Chinese calendar, Off-White dominated the industry with a series of collaborations, auctions, and charitable efforts.
Of their innumerable partnerships with Nike, Timberland, and Converse, the brand's most notable included an exclusive capsule with Moscow department store, Tsum. Having long carried the brand's mainline collections, the Off-White x Tsum capsule collection showcased an eclectic yet functional style, inspired by the '90s. Through blending elements of smart casual looks from luxury and vintage muses, the collection was characterised by an abundance of denim material and hues of black, navy blue and petrol green, with the inclusion of classic Off-White products, such as the "Jitney 2.8" bag, hiking boots, wallet and "ODSY-1000" sneakers.
View this post on Instagram
Partnering with Deviation and their Black Lives Matter fundraiser, Virgil Abloh auctioned off a signed pair of unreleased Off-White x Air Jordan 4s sneakers on 25th June 2020. Fetching an astronomical £150,100.00 (USD $187,775.10), the brand donated all proceeds from the sale to two organisations: The Black Curriculum, which tackles the lack of Black British history in the UK curriculum, and INQUEST, a charity organisation which supports families that have experienced state related deaths. In a post to Instagram in June, Abloh wrote: "got together with some friends, each of us contributing to the sustained support of the Black Lives Matter cause and I'm auctioning an unreleased signed pair of these (with your name not mine per se)."
Nike
Propelled by a 106% increase in demand for loungewear and activewear, as consumers sought comfortable clothes to wear at home in addition to clothes for exercise and outdoor activities, Nike surpassed all expectations in 2020. With another milestone under its belt, the brand has since set its sights for a new target of 50% digital sales in the near future.
With a sign-up list exceeding 5 million people and only 8,500 pairs available, resale demand for the Nike Air Jordan 1 High OG Dior sneakers is sky-high. Originally priced at $2,200, and with resellers asking up to 12 times more, these sneakers may be out of reach for many, but are easily one of 2020's most sought-after products.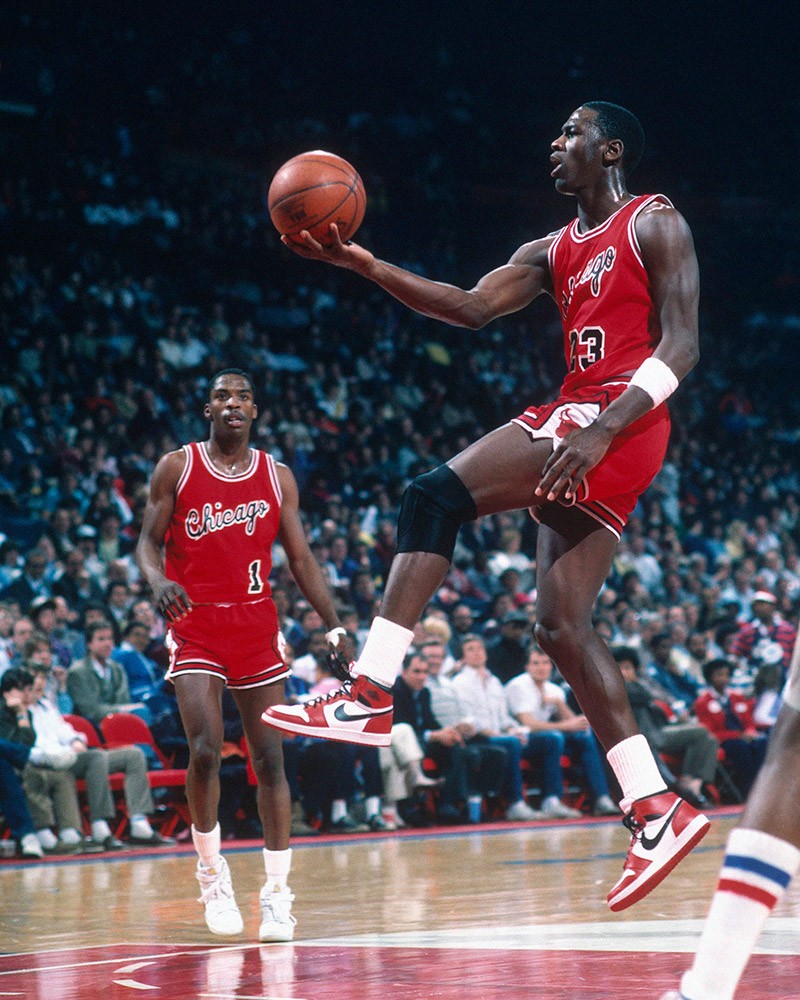 Following the release of Netflix's The Last Dance series, a 10-part docu-series revolving around the career of NBA star Michael Jordan, sneaker and basketball enthusiasts were quick to search for the Nike Air Jordan 4 retro flyknit sneakers – which resulted in a 36% overall increase in searches for Nike Air Jordan sneakers.
Showcasing regular collaborations with the world's top-selling designers and artists, including Virgil Abloh, Kim Jones, Travis Scott, and Shawn Stussy, amongst many others, Nike has perfected the art of scaling awareness and expanding their audience reach. Beyond setting trends, social responsibility and sustainability have become hallmarks of the Nike brand. In light of 2020's socio-political unrest in America, Nike rephrased its famous slogan to 'Don't Do It' to promote an anti-racism message, which received over 5 million likes on Instagram and was celebrated for its time-sensitive activism.
Prada
While there are no reliable statistics quantifying the number of K-pop fans, The Korea Foundation recently estimated Korean pop culture's following in general to be 89 million across 113 countries. Dabbling into the multi-million-dollar industry, is none other than the Italian luxury fashion house, Prada. Unveiling two all-new brand ambassadors in the early months of 2020, the Maison featured Red Velvet's Irene Bae and EXO's Chanyeol Park in their iconic Fall/Winter and Autumn/Winter 2020 collections.
Arguably all that Prada touched in 2020 turned to gold. Consistently creating buzz across social media, it was not long after New Year's that Prada made industry-breaking news once again, with the announcement that Miuccia Prada would share "creative input and decision making" with Raf Simons. Debuting Prada's first co-branded collection and ending with a lengthy interview, answering questions contributed by fashion enthusiasts and budding designers alike. Representing an immaculate merger of heritage with new and modern style cues, the Prada x Raf Simons Spring/Summer 2021 collection, showcased an ideal balance of comfort, quality, and unmistakable identity.
Putting sustainability into action, Prada was the first luxury brand to sign a €50m sustainability deal with financial services company Crédit Agricole Group, in 2019. The five-year sustainability loan, which is reportedly the first of its kind in the luxury industry, allows for the Italian fashion house to alter its interest rates on an annual basis if it achieves certain eco-friendly objectives. As a result of their earlier commitments, Prada has since laid the foundation to promote an increasingly circular industry and economy in 2020. Through pledging to substitute nylon with regenerated nylon in their future collections, the Maison has made sustainability more accessible and tangible to consumers, whilst their partnership with public figures, Oceanography experts, as well as the non-governmental agency UNESCO, has allowed consumers to organically engage in this topic, thus facilitating a long-term educational impact. Other efforts include, 'Your Prada Possible Conversations', a series of live talks between thinkers, cultural tastemakers, and fashion figures, in regards to the world's post-pandemic socio-cultural scene.
Balenciaga
There's not much 21st-century consumers love more than good music and fashion. Often enjoyed separately, Balenciaga has spent a significant portion of 2020 bridging the gap between the two industries with the launch of its own playlist on Apple Music. Streaming tracks from a variety of influential music personalities, including Rammstein, Marilyn Manson, Radiohead, and Kanye West, Creative Director Demna Gvasalia shared his career inspirations through songs and with a range of limited-edition fashion pieces inspired by concert merch.
Capitalising off musical influence, rapper Cardi B graced the side of the world's largest art museum by way of a giant Balenciaga billboard. Sporting a blunt black bob and a draped black asymmetrical gown, hand selected by Demna Gvasalia, Cardi B was the face of the brand's Fall/Winter 2020 campaign. Styled and photographed by Cardi herself in Los Angeles during the depths of lockdown, the campaign marked a continuation of the Maison's longstanding partnerships with influential public figures and its support for the arts.
Fendi
Much like their higher ranked counterparts on this list, the Italian luxury fashion house, Fendi established their fair-share of celebrity endorsement with sisters-turned-stage-partners Chloe and Halle Bailey, in the #MeAndMyPeekaboo campaign. Handing full creative control over to the duo, Chloe and Halle were tasked with assembling their own creative team and to come up with the concept. Much like one would expect from professional artists, the sisters did not disappoint. They put together a unique video compilation of them lounging around their backyard, going from the tennis courts, which have become the duo's go-to location for shoots. Not to mention performances during quarantine, to the pool, while donning different iterations of the Fendi Peekaboo bag. Directed by Andrew Makadsi, shot by Derek Milton, and styled by the duo's long-time stylist Zerina Akers — who is also responsible for some of Beyoncé's most notable looks — the campaign broadcast yet another Fendi It Bag, which is intrinsically feminine, and ideal for every occasion.
In no shortage of creative risks, Fendi's appointment of Kim Jones as Artistic Director of haute couture, ready-to-wear and fur collections for women, was quick to make headlines as well. Deemed the King of Collaboration, Kim Jones will join Silvia Venturini Fendi in creating the Maison's seasonal collections whilst maintaining his role as Artistic Director of Dior Men. Expected to debut during Milan Fashion Week in February 2021, the upcoming collection will not only mark Jones' first women's and first couture collection ever, but also Fendi's first spring couture collection.
Versace
Releasing products suited to an increasingly home-based lifestyle, Versace turned its attention away from the runway and in toward a collection of exceptional furniture that combines luxury and interior design. Encompassing extensive lines for every inch of your dwelling – from the bedroom, to the living room, dining room, library and office – the 2020 Versace Home collection was designed to exude refined glamour. Crafted from luxurious woods, marble, and leather, each element aimed to evoke feelings of carrying a coveted Virtus handbag, showcasing Barocco V hardware enriched with acanthus leaf accents, sleek lines, gold-tone accents, and plush upholstery. Complemented by a series of customisable Versace Baroque bathrobes, it's safe to say the brand nailed 2020, through awakening the vast majority's subconscious desires of luxurious living.
Returning to the runway just in time for Spring/Summer 2021, Chief creative officer Donatella Versace transported viewers underwater to unveil the new collection. Set in a utopian seabed settlement, populated by strong and confident men and women, the collection showcased a wave of bold colours and fantastic creatures. Representing the changes in us all as a result of Covid-19, the Versace Spring/Summer 2021 collection embodied the disruptive nature of a global pandemic whilst depicting a world where all beings coexist peacefully.
Saint Laurent
While most fashion brands and industries in general focus on sustainability and recycling, Saint Laurent sets itself apart with the process of upcycling – a process of creative reuse which transforms by-products, waste materials, useless, or unwanted products into new materials perceived to be of greater quality, artistic value or environmental value. In the brand's most recent example, Creative Director Anthony Vaccarello teamed up with elusive former fashion designer Helmut Lang, to present a new and invigorating vision for a post-pandemic fashion industry. Called 'Helmut Lang curated by Anthony Vaccarello', the project, displayed at Rive Droite Paris and Los Angeles, was part of a larger Saint Laurent Rive Droite project, where Anthony gives his creations to an artist in exchange for a set of unique sculptures.
With a knack for going against the grain, Saint Laurent's celebrity partnerships, ambassadors and endorsements have followed suit. Featuring the director, writer, actor, and artist of innumerable transgressive cult films like Pink Flamingos and Polyester, Creative Director Anthony Vaccarello and trusted photographer David Sims, crowned John Waters the new face of Saint Laurent in the brand's fall 2020 menswear ad campaign. Characterised by his judgmental sneer, deep gaze and signature skinny moustache, the distinguished gentleman was seen clad in a sleek black tuxedo with a polka-dot cravat – adding a touch of avant-garde mystery and humour to an already rebellious and unconventional label.
Bottega Veneta
In 2020, Creative Director of Bottega Veneta Daniel Lee created a short film to celebrate uniqueness, individuality, and the defining questions of masculinity in an age of "wokeness." Told through a cast of unique personalities who inspired him, the project dubbed 'Bottega Veneta: Men', represents an exploration of identity, masculinity and our relationship with clothing. Created in collaboration with acclaimed photographer Tyrone Lebon, the short film featured the likes of French-British rapper Octavian, Italian dancer Roberto Bolle, and Stockholm-born singer Neneh Cherry, sporting garments of exquisite tailoring with heavy platform soles, that chart a course between the heights of traditional elegance and the essence of underground cool.
Valentino
Shortly after clinching the Women's Designer of the Year at the CFDA Fashion Awards in 2020, Valentino continued to make a significant impact across the board. Signing a cheque for 1 million euros to the Policlinico Universitario Agostino Gemelli hospital in Rome, the Maison showed its support for the new Columbus Covid 2 unit, which was established by the nation's healthcare centre to treat COVID-19 patients.
---