---
Culture / Art Republik
Saint Laurent Luxury Upcycling – Helmut Lang Breathes New Life Into Anthony Vaccarello's Abandoned Ideas
The pioneer of artist-and-fashion-designer-led assignments, Helmut Lang makes a fashionable comeback for the Saint Laurent Rive Droite project.
Launching today, at the Saint Laurent flagship in the former Colette space on Rue St. Honoré, the much anticipated yet highly unexpected collaboration with elusive former fashion designer Helmut Lang, depicts a new and invigorating vision for a post-pandemic fashion industry. This special collaboration, dubbed "Helmut Lang curated by Anthony Vaccarello", is part of a larger Saint Laurent Rive Droite project, where Anthony gives his creations to an artist in exchange for a set of unique sculptures.
Artistic Upcycling: Helmut Lang Breathes New Life Into Anthony Vaccarello's Abandoned Ideas
Handpicked by the Creative Director himself, Helmut Lang – whose body of work in fashion reflect a strict construction that can only be seen as an underground influence upon Anthony's vision – has long grown into a deep source of inspiration and fascination, "For my generation, he is the ultimate designer of the '90s. I consider him at the same level as someone like Coco Chanel for the way he brought realness into fashion, something that everyone is still copying. Helmut was the first to stand up against artificial promotional messages, his vision and art direction brought everyone back to the real and meaningful essence of fashion." Regarded the ultimate embodiment of minimalism, modernity and restrained opulence, Helmut Lang's inventions, unorthodox way of life and mysterious charm, has earned him a reputation for being the person to always make unfailing decisions.
Paying careful attention to modern issues like sustainability, durability, lasting power of the ever-shifting nature of fashion collections and cycles, Anthony Vaccarello's collaboration with Helmut Lang presented the perfect opportunity to expand his perception of the designer. Straying away from Lang's common associations with denim and workwear clothing, Anthony finds that Lang is in fact an ideal interlocutor for a project that is also a dialogue.
Questioning the very definition of luxury and the meaning of the clothes' function, Helmut Lang has worked closely alongside artists such as, Louise Bourgeois and Jenny Holzer. Unable to help himself, Lang's one-off collaborations quickly turned into a habit during the 21st century, making him the pioneer of artist-and-fashion-designer-led assignments. These close links put new interrogations at the forefront of the ever-evolving fashion industry: fashion a form of applied art, the time-frame of fashion creations, and its more or less perennial impact on global culture, which are probably the only few that are still at the heart of today's discussions.
Unlike his other projects, the invitation to work with Saint Laurent seemed far too appealing to pass on, for a number of reasons. In an email interview with Business of Fashion, Helmut Lang, who is now a full-time artist since 2005, expressed his great honour and excitement, stating, "I always had the utmost respect for the work of Yves, and Anthony has created an unparalleled vision for YSL, furthering the house's legacy in a truly contemporary way. Anthony was the first person in fashion to engage in a collaboration focusing on my artwork. As I collaborated with artists in different ways throughout my time in fashion, it was intriguing to be in the reversed position."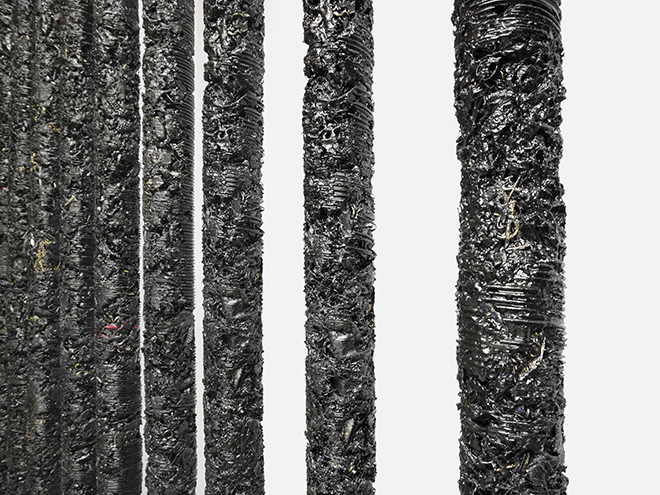 With a unique ability to turn items, either raw or discarded, into pieces of art, the "Helmut Lang curated by Anthony Vaccarello" collaboration is based off a selection of clothing and accessory prototypes, alongside garments and jewels left unfinished and deserted. Shredded, mixed with a pigmented resin to then be moulded in aluminium, these former fashion objects have become primal totems with unique textures reminiscing both, a precious past and a promising future, thus allowing the remaining testimonies of Anthony Vaccarello's creativity to be morphed into a new life. The finalised sculptures will be displayed at Rive Droite, first in Paris, then in Los Angeles, where the full collection will be available for sale.
---