---
Style / Beauty & Wellness
Le Rouge Collection N°1 Chanel Autumn 2016
The brand paints the town red with its new make-up collection for the new season.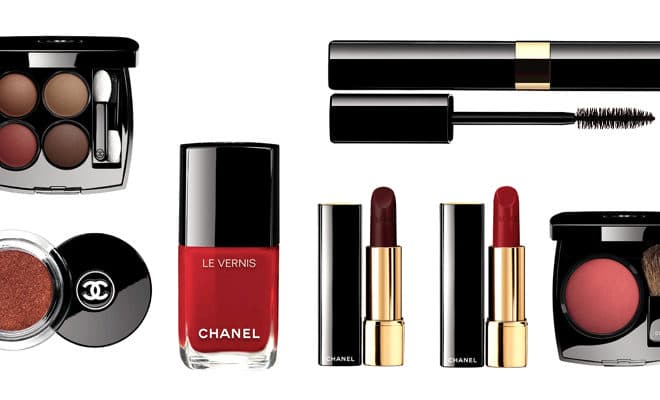 It is unsurprising of course that Chanel has incorporated red into its beauty collections for more than a decade; we imagine this is what every brand does, or even starts with! The word Rouge in the title should make things crystal clear, if the picture didn't give it away. No, we are not covering this just because red is newsworthy. The angle here is Lucia Pica. With its latest autumn 2016 collection called "Le Rouge. Collection N°1", Chanel collaborates once again with make-up artist Pica for a new range of beauty and nail products.
The brand first started its love affair with the shade associated with passion, and sensuality back in 1994 with its cult nail color "Rouge Noir". Pica a native of Naples is now reinterpreting the shade to reveal a new facet of the iconic shade. "In [the collection] there are also ideas of subversion and classicism. It is about the power of femininity but also the vulnerability. Red is intense, vulnerable, sexual and eternal," explains Pica.
For the nails, Chanel introduces two new colors. "Le Vernis Gloss Rouge Radical" is a bright red with an orange tint and a gel finish while "Le Vernis Longue Tenue Rouge Puissant" is a deep red; both shades add a touch of sophistication. For the cheeks, the French brand chose a brick-red powder blush called "Joues Contraste Rouge Profond" in a half matte, half-satin finish.
For the perfect femme fatale pout, Chanel provides sevan different shades to choose from. "Rouge Allure" lands in two shades for the season, with "Rouge Ingénue," a pinky beige, and "Rouge Tentation," an intense red. "Rouge Allure Velvet" comes in four shades, with "Rouge Charnel," a flamboyantly striking red, "Rouge Feu," a bright orange shade, "Rouge Vie," a crimson red, and "Rouge Audace," a burgundy hue with chocolate brown notes.
Not forgetting the eyes, the brand also brings the color of love to the iconic "Les 4 Ombres" eyeshadow palette with the warm brown and intense brick red shades with the "Candeur et Expérience". Chanel's "Illusion d'Ombre" and "Illusion d'Ombre Velvet" eyeshadows have also gained new red tones. "Illusion d'Ombre" comes in "Rouge Brûlé," a coppery orange to brighten eyes, while "Illusion d'Ombre Velvet" cream eye color comes in "Rouge Contraste," a matte chocolate brown. The two eye colors can be applied individually or together for different effects.To complete the look, Chanel finishes eyes with "Stylo Yeux Waterproof" in "Eros," a burgundy red, and "Agapé," a red-tinted warm brown, and with "Dimensions de Chanel" mascara in "Subversif," an eggplant-black shade.
The Chanel "Le Rouge. Collection N°1" will be available in August.
This story was written in-house, with many online sources, including a story from the AFP.
---