---
Style / Beauty & Wellness
Flower Power: Annick Goutal Rose Pompon EDT
Lilies, jasmines, and other blooms feature in the late perfumer Annick Goutal's fragrances. Her daughter Camille opens up about the brand's latest rose scent.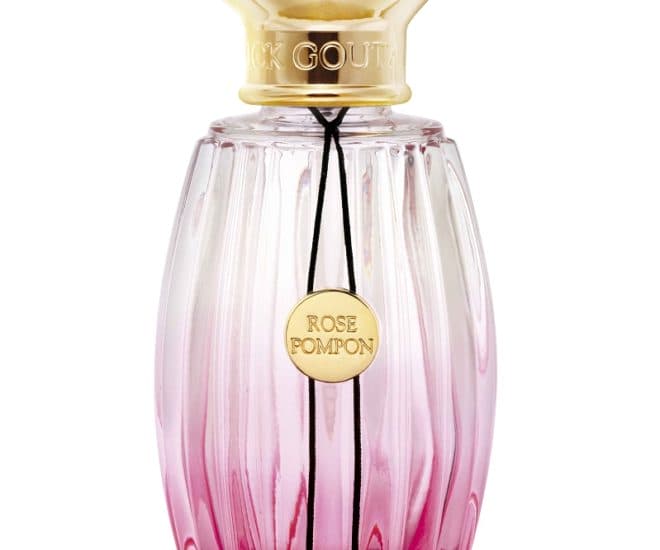 Even before you spritz or smell the Annick Goutal Rose Pompon EDT fragrance on yourself, you "hear" it first. The bottle comes with a black cord and a couple of tinkling charms around its neck.
Perfumer Camille Goutal, daughter of the late Annick who passed away from cancer in 1999, tells L'Officiel Singapore Contributing Editor Pearlyn Tham that the creation of Rose Pompon was inspired by the energy of youth. "I looked at my younger friends in their 20s and love how they have so much fun and how everything is possible when you are young," the 41-year-old said when she was in Singapore recently for the launch of the perfume.
To capture "the joyfulness and dynamism of young Parisian women out for drinks with friends", Camille bottled Rose Pompon in a sugary deep pink flacon (most of the brand's other fragrances come in clear glass bottles). She made the scent a fresh and playful rose – using Bulgarian rose essence – but added blackcurrant and raspberry to give it a more sparkling, fruity edge.
"Rose Pompon is more sugary but not too much," Camille added when asked to compare her concoction with the increasing number of rose-infused perfumes in the market.
The scent is light and breezy, more fruity than floral at first. But the initial zest soon settles down into something more feminine. Yet, it never becomes overpowering or too floral.
The secret, Camille shares, is in how the brand uses a lot of natural ingredients, not synthetic ones that can make perfumes smell too heady. "The quality of the ingredients is important. For instance, when one uses synthetic jasmine and not real jasmine, you can smell the difference even when you know nothing about fragrances."
In Singapore, it is available exclusively at Escentials Paragon and Escentials Tangs.
3 questions with Camille
What smells do you love most?
"The scent of my daughters' necks for sure. And also the smell of horses and the leather of their saddles. The smell of the leather drives me crazy! Maybe it reminds me of the freedom I experience when I'm horse-riding."
Which are your daughters' favorite Annick Goutal fragrances?

"They are 13 and 17, and love Rose Absolue and also La Violette, which is popular among French women."
And yours?
"Songes, which I created for myself. The formula is very complex with a lot of spices and frangipani, and the name means 'to daydream'."
Story Credits
Text by Pearlyn Tham
This article was originally published in L'Officiel Singapore
---